Refined Sugar-free Strawberry Sauce.
I hate to start this blog post by telling you how awesomely fantastic homemade food is, but yes, I AM TELLING YOU that homemade food is the BEST! For instance, when you make your own strawberry sauce, you have plenty of choices. First, you can make it sugar-free, aka this super tasty, and easy to make sugar-free strawberry sauce. This recipe is insanely delicious, and you will not miss the refined sugar! Second, you can choose to puree it or not. Personally, I love to see and feel strawberry chunks in my mouth when I eat this! But remember, you are in control. Third, you decide the amount of cornstarch you wish to add or even, no cornstarch at all depending on how thick you want this fruity sauce to be! Not to mention that this sauce is my family's favorite for eating Greek Yogurt pancakes.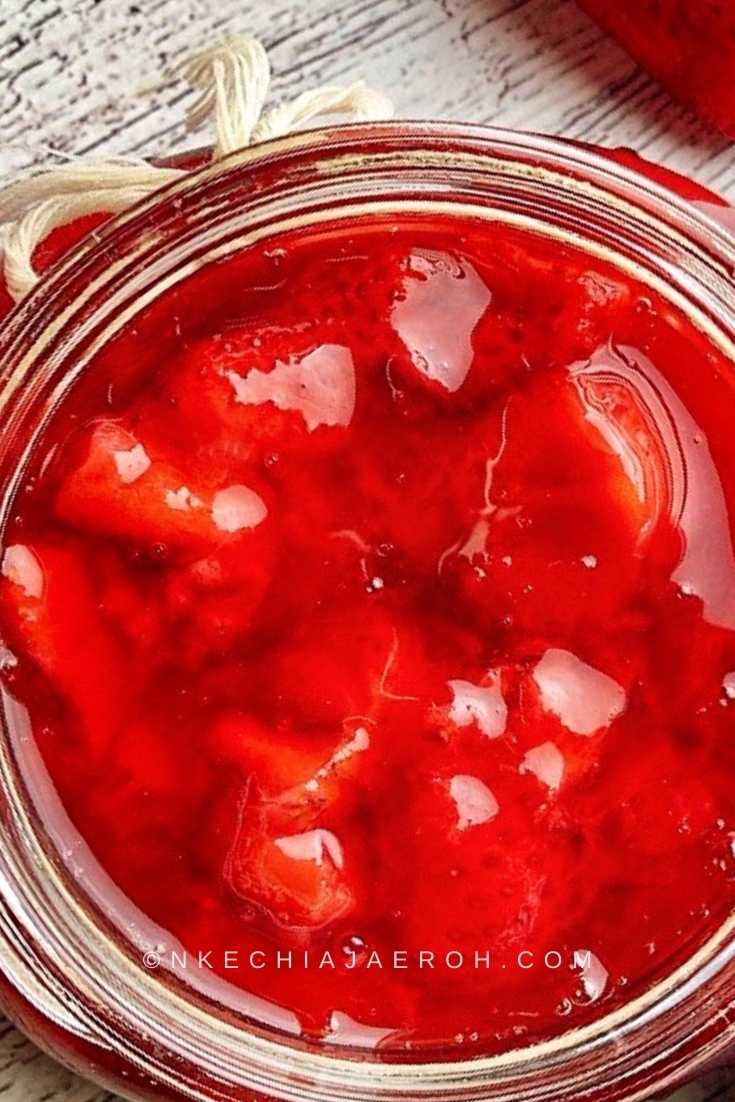 Strawberry Sauce Makes Everything Better.
Whether you intend to spread some of this strawberry sauce on biscuits, waffles, pancakes like we do here, or just use as dessert toppings, it sure makes everything tastes better! Not to mention when you add a dollop of this goodness…
Click To Tweet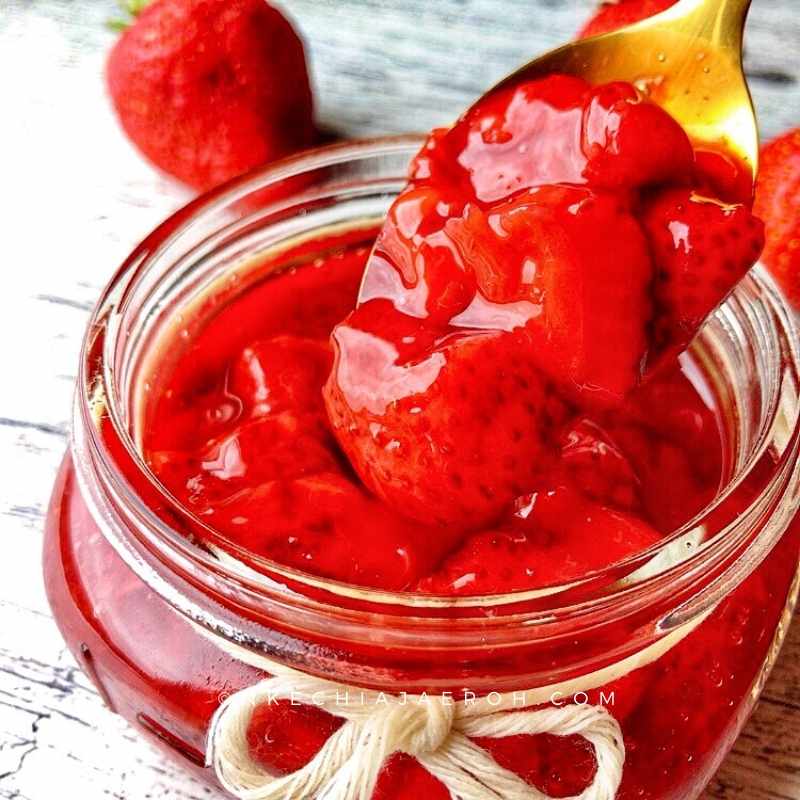 Best Sugar-free Strawberry Sauce? YES!
The best part is that this refined sugar-free strawberry sauce has no added refined sugar! In other words, I replaced the 3/4 cup of sugar that this recipe called for with ¼ cup of original maple syrup. Trust me, you will not miss anything, and in the long run, eliminating refined sugar is great for the body.

Benefits of Strawberry Fruits.
Generally speaking, strawberries are freaking ah-mazing to the body. Annnnnnnnnnnd, without question, I love with this tasty strawberry sauce, but the fruit is yummy too.
Overall, strawberries can improve health, and they are mostly low calories, which makes them ideal for all those thinking of losing weight.
Heart-healthy, strawberries are excellent for the heart, and as well as for managing the blood sugar, lowering cholesterol, and controlling the blood pressure.
For one thing, eating immune-boosting foods are more than ever necessary (because of COVID-19), and strawberries have abundant vitamin C that is sure to help your body's immune system.
Notable among the several benefits of strawberry is that it can improve eye health.
I remember my doctor encouraging me to eat more strawberries when I was pregnant because it has the right amount of folate. Not to mention that strawberries are tasty and enjoyable in salads – strawberries fruits are a great addition to anything. When you make this refined sugar-free strawberry sauce, they become more versatile in usage. For example, you can use them for yours pancakes, waffles, as well as toppings for oatmeal, yogurt, and desserts!
Alongside fresh strawberries, you will need fresh lemon (both the zest and juice), original maple syrup. Make to look at the ingredients, and it should say only one ingredient – Maple syrup. And finally, cornstarch.

How to make this Sauce.
This is the easiest thing to cook; fortunately, you need no cooking skill to make this homemade strawberry sauce.
First, get your hands on fresh strawberries. Second, wash, cut/quarter them, and add into a clean pan.

I love  to add a good amount of lemon zest, as well. This is totally optional.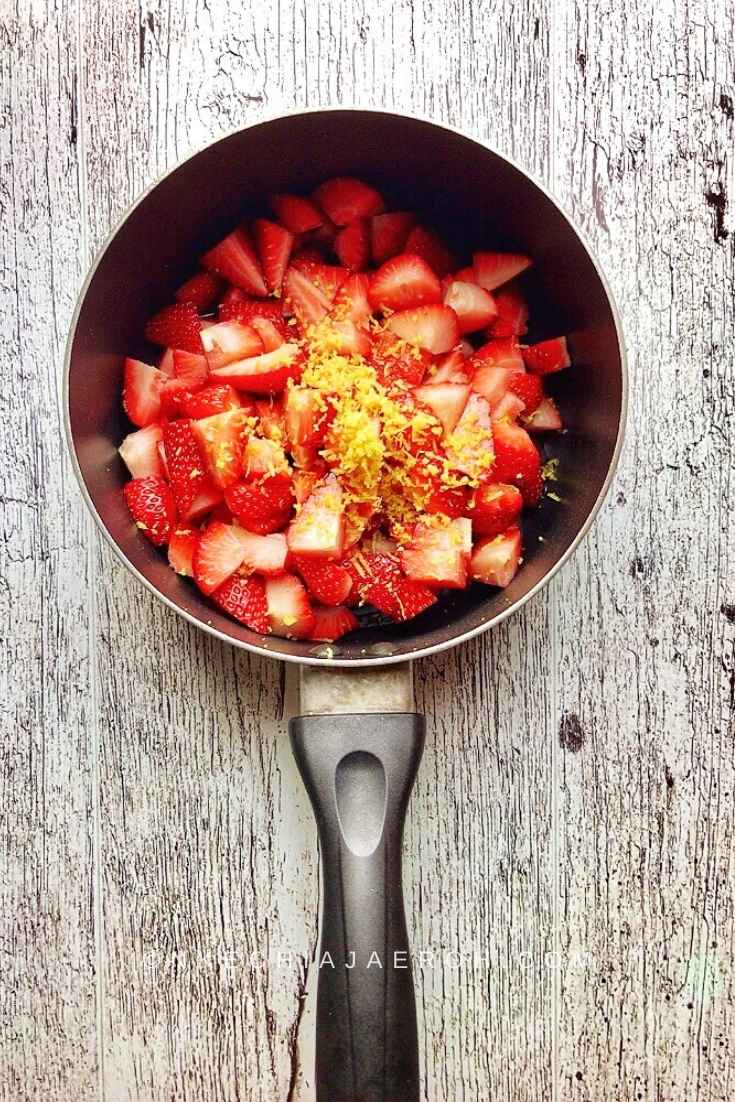 Third, cook, and enjoy warm or cold. I love them warm.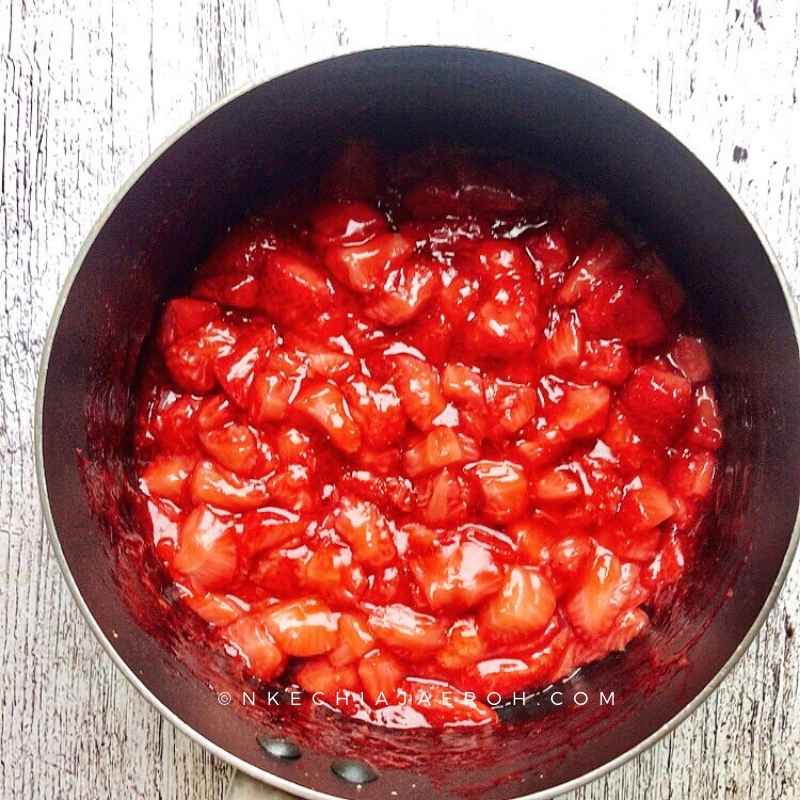 Pairing this Sugar-free Strawberry Sauce.
Scoop a spoonful and eat as so; in other words, you will be tempted to finish this delicious strawberry sauce jar, lol!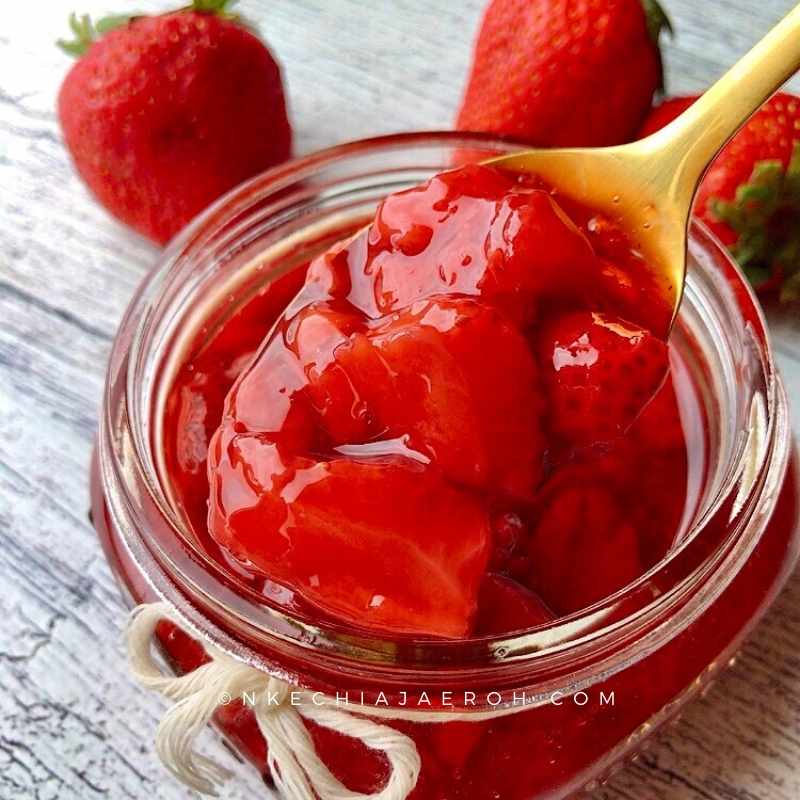 Accordingly, this refined sugar-free strawberry sauce is perfect for warm biscuits. Literally, the best on biscuits.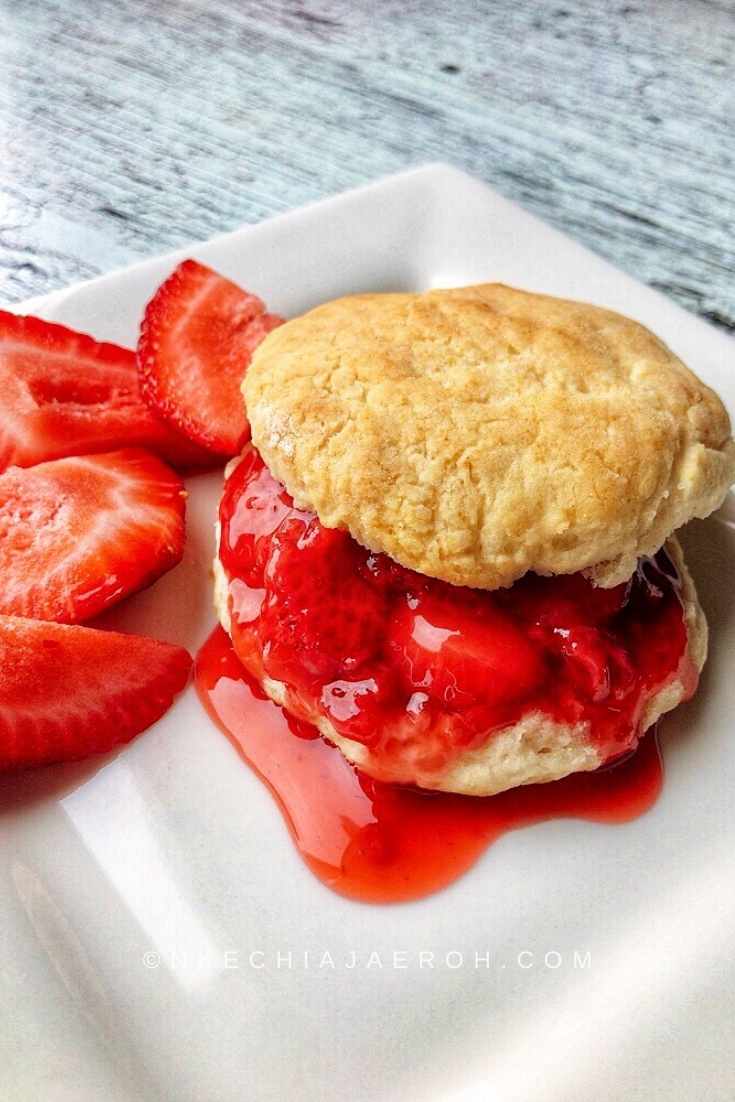 Not to mention that my kids go crazy with this sauce over my one and only Healthy Greek Yogurt Pancakes!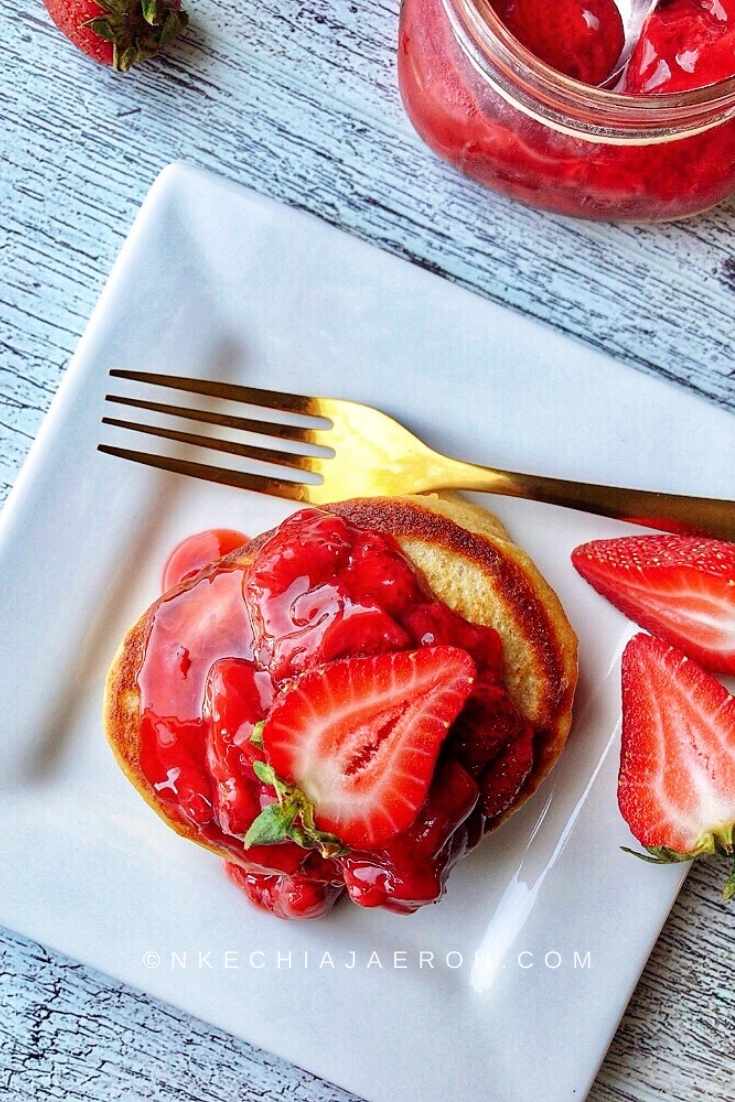 Use this sauce to make strawberry bars or strawberry crisp. Last time I made these bars, they were so good!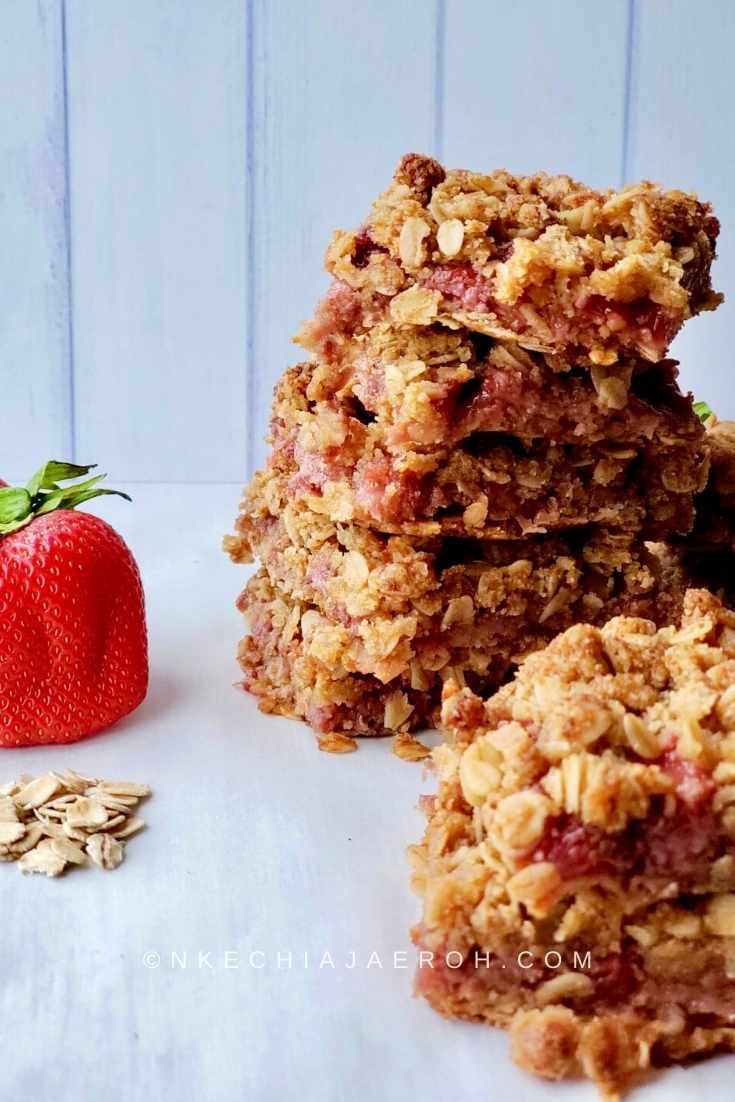 This insanely delicious sugar-free strawberry sauce will make you happy! And if you are ready, here's how to make it.
Print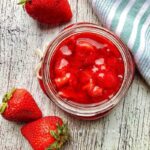 Sugar-free Strawberry Sauce for Pancakes and Toppings
---
Description
This healthy refined sugar-free strawberry sauce is insanely tasty, nutritious, versatile! This is currently our family's go-to breakfast and dessert sauces/toppings; it makes my Greek yogurt pancakes, yummier, and my warm biscuits comforting, and richer. I hope you will like it as we do.
---
1 lb. fresh strawberry
¼ cup of original maple syrup
1 – 2 teaspoons of corn starch
1 tablespoon freshly squeezed lemon juice
1 teaspoon freshly grated lemon zest (optional)
---
Instructions
Wash and cut strawberries, and add to a clean pot
Add the maple syrup into the same pot
Add lemon zest
Sir in the corn starch, and lemon juice, use a spoon or spatula to stir/combine. Alternatively, you can add lemon juice to the cornstarch stir together, and then pour on the berries. Make sure to mix well using a spatula.
Place the lid loosely and keep stirring as soon as the strawberries start simmering.
Cook on low, and until the strawberries soften, and sauce thickens. It could take up to 15 – 20 minutes (or less), you could add a little more corn starch if you desire a thicker consistency. Remember that this sauce will thicken even more after it has completely cooled down, avoid making it unnecessarily very thick!
You can blend it as soon as you remove it from the stove if you desire a smooth strawberry sauce purée. I prefer to see strawberry chunks, but do you, and enjoy!
Serve on biscuits, pancakes, or eat it like that for pure joy!
Notes
If you ever use store-bought jams and fruit sauce, then this is a great alternative. Your body will love this better.
I usually make this recipe with fresh strawberries to make this sauce. I am not sure how frozen strawberry will affect the taste, will definitely give that a try soon. We are currently in strawberry season (summer), and fresh strawberries are very affordable.
You may choose not to use cornstarch, but that would make a watery strawberry sauce. But more importantly, you can manage the amount of cornstarch you want to add. Some people add up to 2 tablespoons, but I choose to add a maximum of 2 teaspoons. The cornstarch helps this strawberry sauce to thicken. And by the time you make this first, second, and third time, you will realize what works best for you!
Please do not make this sauce too thick while it is still cooking, because it thickens even more after it has cooled down. Take a look at how this strawberry sauce looks on my biscuits, and pancakes, I don't want them thicker than that.
If you prefer puréed sauces, then blend after cooking. Enjoy!
Prep Time:

10

Cook Time:

20

Category:

Sauce

Method:

Stove top

Cuisine:

American
Keywords: Sauce, Strawberry Recipe, Strawberry sauce recipe, Sugar-free strawberry sauce, Low carb strawberry sauce, Strawberry sauce for pancakes, Healthy refined sugar-free strawberry sauce, Healthy fruit sauces, Healthy and refined Sugar-free strawberry sauce for dessert toppings, homemade strawberry sauce recipe, Strawberry side dish, Thanksgiving strawberry sauce, Christmas side dish, Christmas strawberry sauce.
Recipe Card powered by
SHARE THIS POST. If you like this delicious healthy sugar-free strawberry sauce, then am sure you will enjoy:
At the same time, I want to invite you to join my healthy lifestyle online Community, find out more about it here!
Finally, I will like for us to connect on Instagram, and Facebook and Twitter lol, let's connect everywhere!
Finally, do not forget to share this recipe post with people you love.
Stay well, and safe. ❤️