Graduation Glory
Here are my graduation glory story and some valuable lessons I learned along the way. On Saturday the 19th of May 2018, I finally walked the stage to receive my Master's degree in Public health.
First of all, I was overjoyed. Finally, I did this. It happened.
My intention when I started my Master's degree in Public health a couple of years ago was to finish it within two years and a half on the maximum. Don't get me wrong this is pretty doable with a good plan. However, for one thing, I was prepared, for other things such as the challenges that I encountered on my way, I wasn't prepared at all. Please give me a moment to enumerate what I mean here: simply put I am a very enthusiastic student (person), always willing to go the extra mile to get my class assignments done. But unfortunately, there are many unforeseen circumstances that enthusiasm cannot solve or resolve. Such challenges as securing a place of internship, for a whole two years this kept me away from graduation. I completed all coursework by 2016 and couldn't secure an internship placement until fall 2017. This made me a little sad from time to time. And it will be wrong for me to blame it on one incident because a couple of factors contributed. Anyways, it eventually worked out in due time.
As I celebrate, I want to share some of the lessons I learned from this life-changing journey.
5 Ways to finish graduate school on time
Be proactive with your game plan:
If you are currently in graduate school now or even in any school at all, please have a plan of action. When you do, it will help you to stay on track if and when you face challenges. In the long run whatever you plan is what you are likely to achieve. If Internship is part of your requirement think of it ahead of time. I was kind of freestyling as I go without a solid plan of where to do my internship nor even a plan-B if plan-A fails.
Stay Committed to your connection:
Generally speaking, life is all about relationship, right? The people you meet in school or at work, sometimes are the same people that will connect you to what you need most dearly. This period of doing my graduate degree has further reaffirmed to me that fact that people are the resource we need to get ahead. Be grateful for the people God has placed in your life.
Look ahead no matter what is in front of you:
Oh Lordie, I almost lost the sight of the future. I almost gave up. Am thankful I didn't. Remember that no matter how long the night is surely the day must come (African proverb). In other words, keep your graduate goals right in front of you. Sooner or later you will celebrate the graduation glory.
Ask for help because you will need it:
It is wrong to think that you can do it all by yourself. It is harder when you have kids, husband, and a regular job in addition to pursuing your graduate degree. Don't be ashamed to ask family members to watch your kids while you go to the library. And don't ashamed to use student-tutoring services such as Tutor dot COM if such service is available through your school.
"If you don't sacrifice for what you want what you want becomes the sacrifice." – Unknown.
For whatever you want there is a certain price to pay, no other way. There no nothing like overnight success I know about overnight oats. Sacrifice is essential to success. If you don't make the necessary sacrifice, whatever is it that you want could become the sacrifice.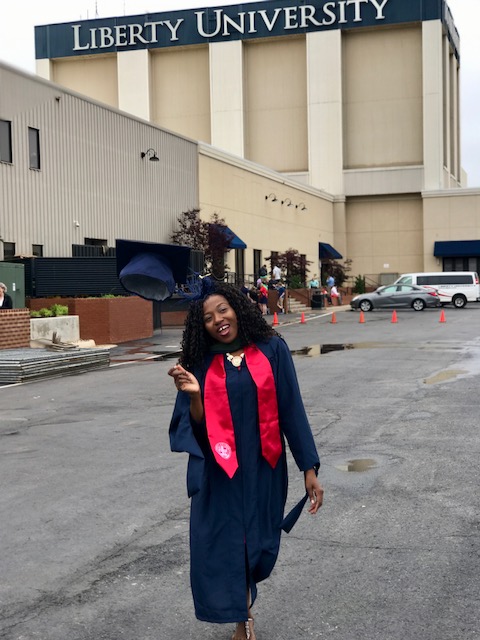 I feel my graduation glory wouldn't be complete without this story. Indeed there are tons of lessons as I soak up in this amazing blessing, but I hope the above five helps you to go for gold.
Please share and leave me a comment I want to know if you can relate to any of the above lessons.
With love,