Homemade Carrot Juice Recipe
Easy and refreshing homemade carrot juice recipe made with fresh carrots, ginger, lemon, and apple is loaded with nutrients and excellent for the body! Sometimes I also add orange to this carrot juice recipe. First of all, let's talk about this incredible vegetable, shall we? Carrot is a root vegetable and a good source of Vitamin C and beta carotene, two powerful antioxidants. Second, carrots come in different colors, such as orange (the most popular color), white, purple, yellow, and red. Finally, carrots contain numerous minerals and vitamins and are great for health! If you are looking to improve your health, eating or juicing carrots would be a welcome development! And the best part about this is that carrots are cheap and readily available.
You can make this homemade carrot juice recipe using the juicer or the blender; whatever you have would work! However, you will require more ingredients (when using the juicer) to get the same amount of juice.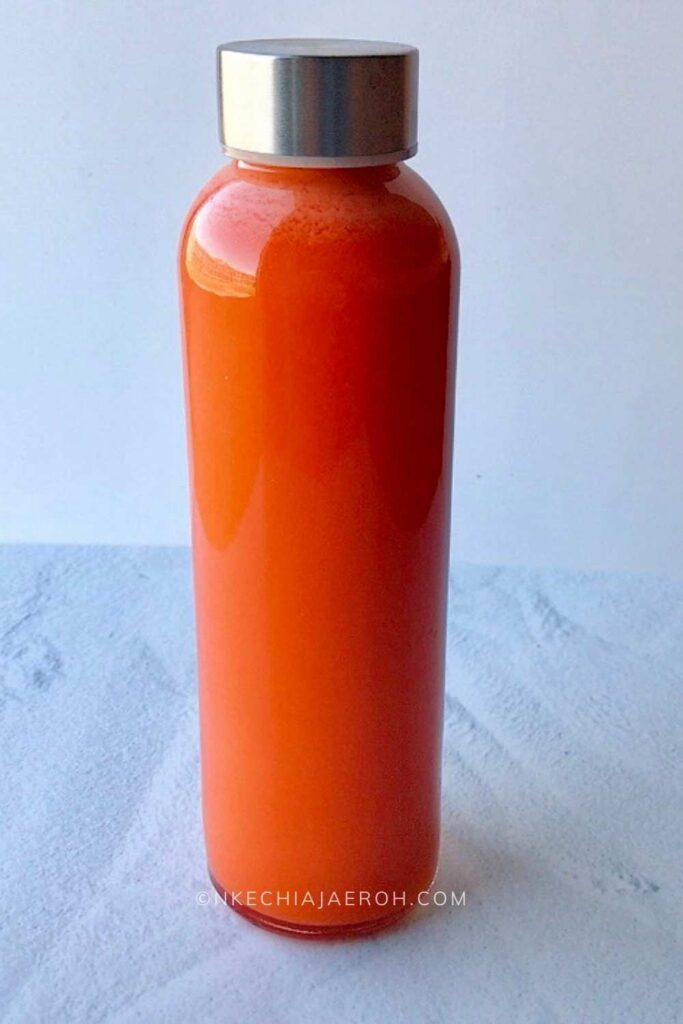 Benefits of Juicing:
Like their sister, smoothie, juicing has several health benefits; I went into detail about individual juices. For instance, in my Celery juice post, I shared so much information and the benefits of drinking celery juice. The same goes with pineapple cucumber juice, homemade grapefruit juice, beet juice, pomegranate juice, watermelon lemonade, etc.! Though smoothies have more fiber and are typically more filling, healthy homemade juices like this carrot juice recipe are equally health-improving!
Health Benefits of Carrot Juice:
Improves Skin: carrot juice or carrot diet may protect the skin again the UV (ultraviolet) damage. The beta carotene in carrots is said to improve skin health.
Vitamin C: notably, a cup of carrot juice provides a good amount of vitamin C, which equally keeps the skin nourished and looking younger
Boosts the Immune System: carrot juice may boost immunity and protect the body from free radical damage because of its high vitamin C and A content! Personally, I make more of this juice during the cold and flu season!
Relatively, carrot juice is heart-healthy; I am all in for anything that can help decrease any instances of cardiovascular diseases. If you care about heart health, then make this recipe, and share it with everyone who needs it.
Eye Health: thankfully, carrot juice has a good amount of Vitamin A that is incredibly excellent for our eyes. Additionally, carrots contain lutein and zeaxanthin, both of which protect the eye from damage.
To recap, when you juice carrots following my carrot juice recipe, you gain not only the benefits of carrots but also those of lemon, ginger, apple, and orange!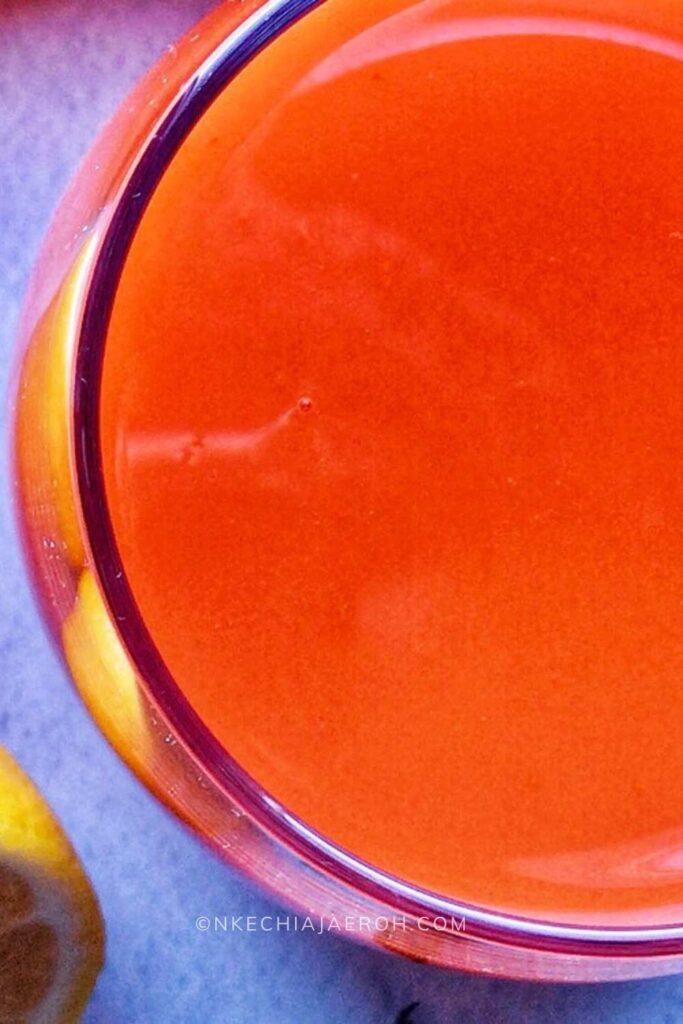 Carrot Juice Recipe Ingredients:
The ingredients for making this homemade carrot juice are easy, and as I mentioned before, all of them are readily available! I typically use carrots, ginger, lemon, apple, and orange, which is optional.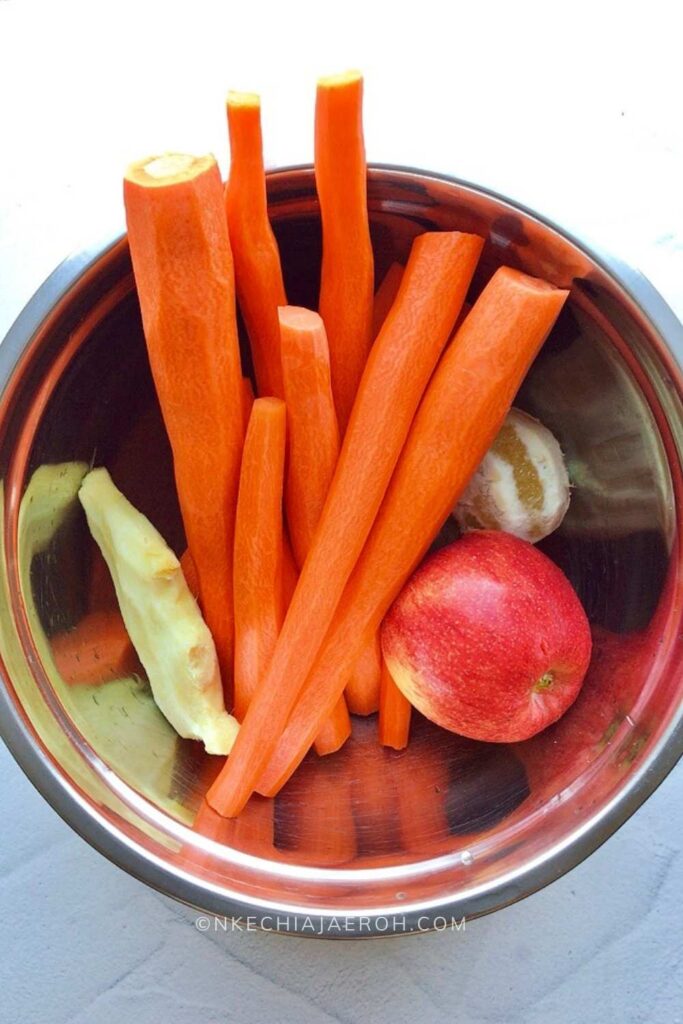 Tools you will Need:
Blender: Carrots are hard, so I highly recommend a high-speed blender. I use this Oster blender; I love it!
Mesh strainer or Nut Milk Bag: if making this juice in the blender, you will need a mesh sieve or a nut milk bag!
Juicer: The best juicer for making carrot juice is a slow Masticating juicer because it makes pressed juices! I love and use my big masticating juicer – Breville, and the small one – Aicok. Buying any of these juicers is an investment that you will be proud you made!
HOW TO MAKE CARROT JUICE AT HOME:
How to make Carrot Juice in a Juicer:
Making carrot juice in a juicer is easy! As a rule, I always wash and scrape off the skins of my carrots before juicing them! Depending on the size of the juicer, you may choose to cut the carrots or leave them whole! Whenever I use my big juicer, I usually leave them whole; on the other hand, I cut the carrots when I juice them in my small juicer.
After juicing, allow it to chill and enjoy! It is important to realize that the juice from the juicer will be more concentrated than the one you made in a blender. And at the same time, it will have more calories!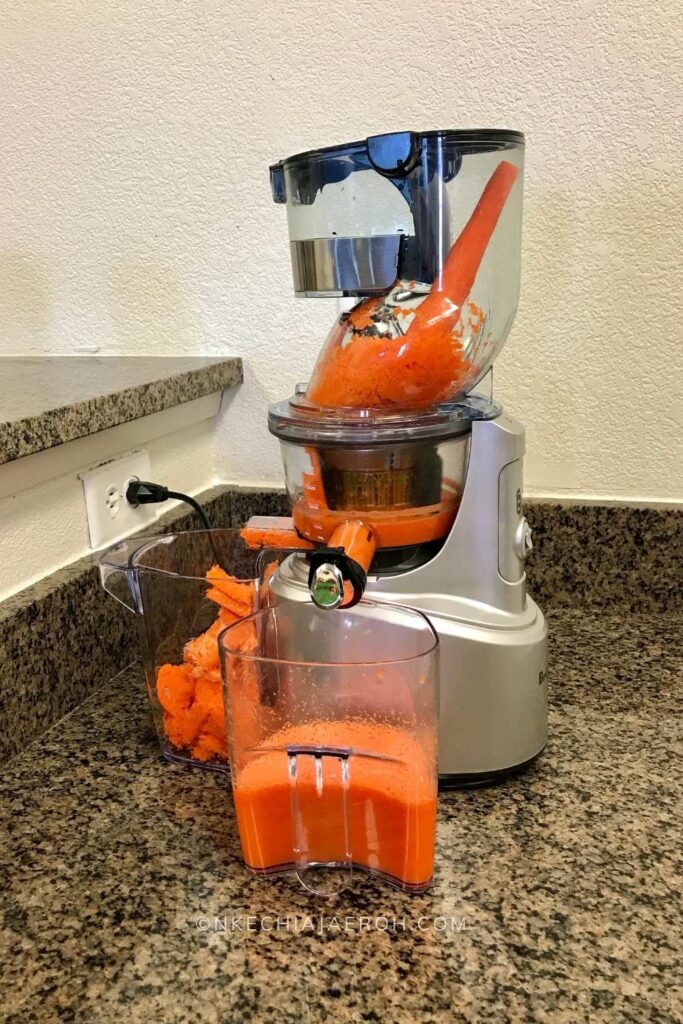 How to Make Carrot Juice with a Blender:
Making carrot juice with a blender is easy peasy, so do not fret if you do not have a juicer! First, gather all the ingredients, wash, scrape, and cut accordingly. Then add blend until smooth and sieve using a mesh strainer or nut milk bag. Chill, and serve!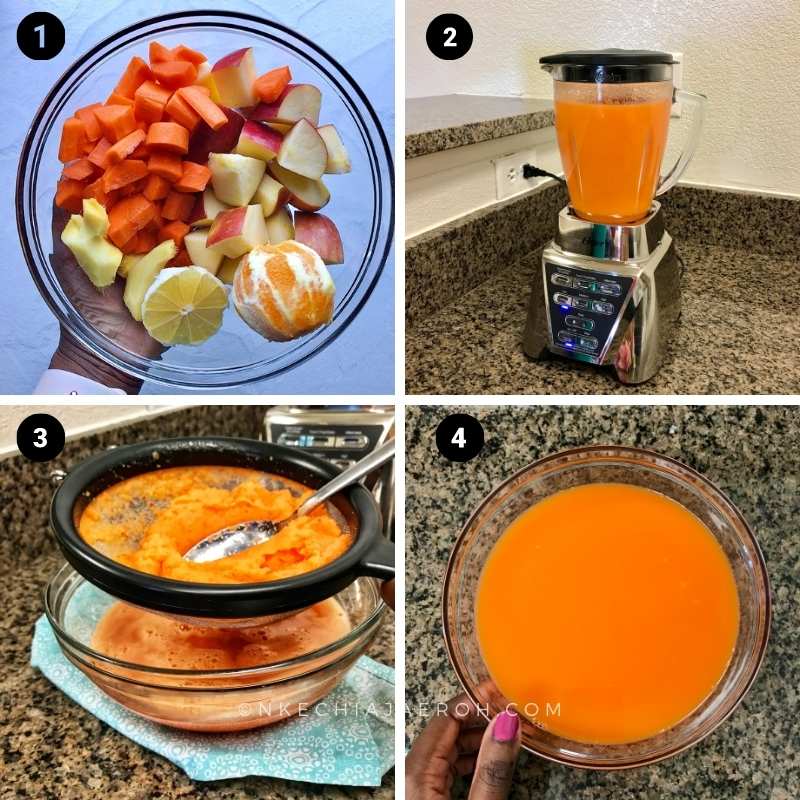 FAQs:
Is Juicing Healthy?
Homemade juicing is healthy because you get all the nutrients and micronutrients of those fruits and vegetables. Obviously, you lose some fiber in the process of juicing, yet, it remains an incredible way to nourish the body! Check out some of my healthy smoothie recipes here. 
Is this carrot juice recipe great for weight loss?
There are plenty of benefits of carrot juice; if your goal is to lose weight, I am sure you can include carrot juice as part of a healthy weight loss diet! Always check with your healthcare provider for the best health advice!
How do you make Carrot Juice in the Blender?
The best way to make carrot juice in the blender is by using a high-speed blender. A Vitamix is perfect; however, I usually use my Oster blender. It's cheaper than Vitamix and gets the job done just like Vitamix!
Can Carrot Juice Turn your body yellow-orange?
Carotenemia is a situation whereby someone turns yellow-orange due to way too many blood levels of beta carotene. Never see anyone it has happened, but it is undoubtedly a thing!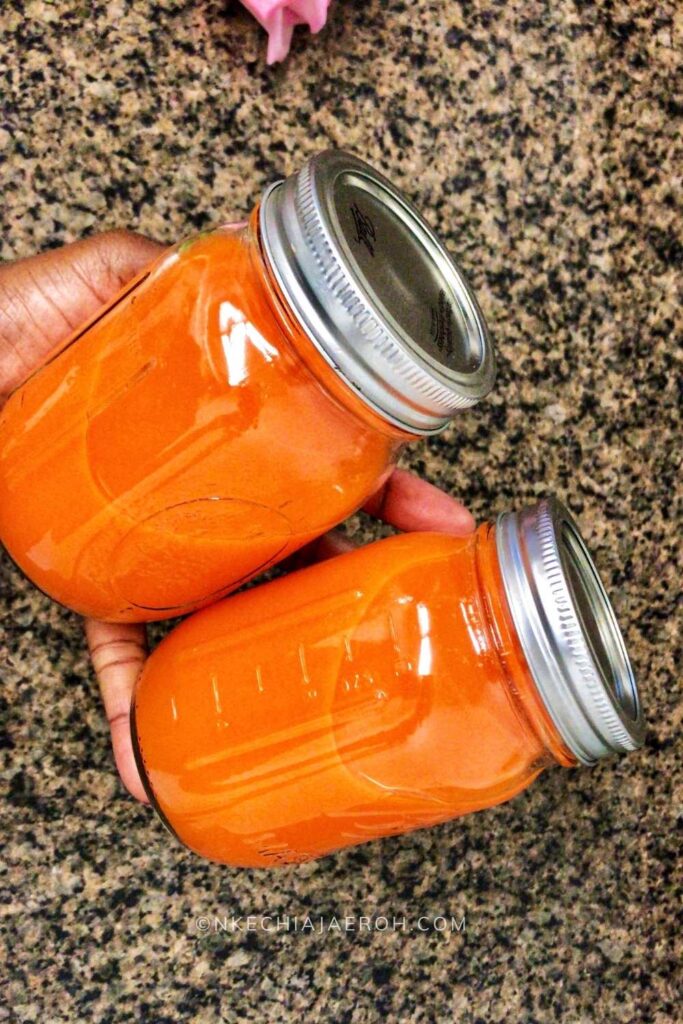 Best Carrot Juice Recipe EVER!
I am partial to this carrot juice recipe because I created it! To be honest, I love this juice because of all the ingredients and their benefits I earlier enumerated.
Homemade carrot juice recipe is immune-boosting, heart-healthy, fantastic for the skin, eyes, and overall health-improving! This healthy non-alcoholic beverage does not require refined sugar or honey!
Click To Tweet
SOME FUN VARIATIONS TO TRY:
Minty Carrot, watermelon and Cucumber Juice is always my first variation. I added fresh mint leaves, cucumber, watermelon and it was so good, (as it should)! My brood and I love it!
Make carrot ginger turmeric juice by easily adding turmeric to the ingredients I used today. The color may slightly change due to the addition of turmeric!
Ever tried carrot and celery juice? Apparently, this is a thing! I have never tried it either, but my friend tells me that this is a great combo. If you already celery juice, then feel free to add a couple of stalks to your carrot juice next time!
My kids and husband love LOVEE pineapple carrot juice. The sweetness and freshness of the pineapple compliment the earthiness of the carrots. And the color of this combination is just beautiful!
I love orange carrot juice; that's one of my favorite combos. This carrot juice combination is incredible for glowing skin! You will notice that I mentioned that I do add freshly squeezed orange juice from time to time!
Relatively, you can keep this recipe short and simple by using only two Ingredients – carrots and ginger! Carrot ginger juice is terrific for the body!
Finally, but definitely not the least, apple carrot juice gives you the sweet carrot drink everyone enjoys. And on the other hand, it is equally nutritious!
The bottom line is that any fruit can go well with carrots! Feel recipe to experiment and discover the next best carrot juice recipe! Yippee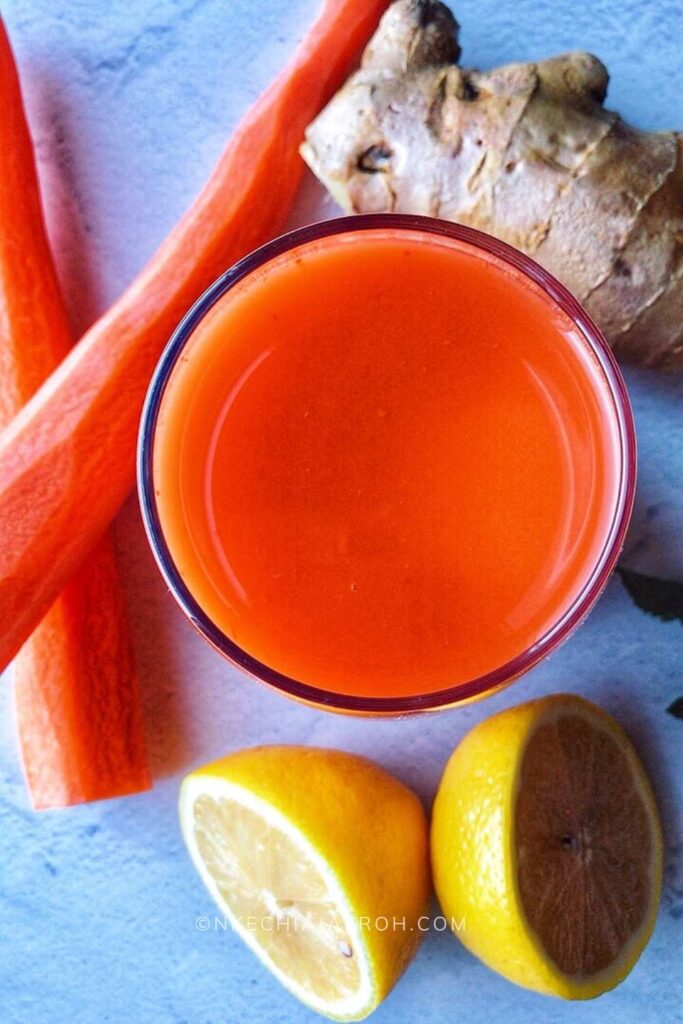 PRECAUTIONS:
Do not indulge in unpasteurized fresh carrot juice if you are pregnant or have a compromised immune system.
Going overboard with beta carotene has a downside; Carotenemia is indeed real. Just like with any food, moderation is the watchword!
Too much juice can spike high blood sugar; this isn't particular with carrot juice. Do not drink way too much of any juice, whether homemade or store-bought!
Print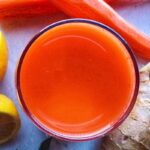 Carrot Juice Recipe (For Good Health)
---
Description
Easy and refreshing homemade carrot juice recipe made with fresh carrots, ginger, lemon, and apple is loaded with nutrients and excellent for the body! Sometimes I also add orange to this carrot juice recipe. 
Surprisingly (well, not), carrots taste great by themselves; however, to make it taste even better, I love to add an apple to it. This way it does not require any refined sugar or honey!
---
For the Blender:
2 Big raw carrots. 
1 Apple
1 – 2 Big thumb of ginger 
½ of lemon
1 orange (optional)
2 cups of water or 500ml
For the Juicer:
6 – 7 Raw carrots (or more)
1 – 2 Apples (add to suit your desired taste)
1 – 3 Big thumbs of ginger 
1 whole lemon
1 orange (optional)
---
Instructions
Instructions for the Blender:
Wash and peel all the vegetables (I don't usually peel the apple).
Cut the vegetables and fruits accordingly.
Add all the vegetables to the blender, add water.
Blend until smooth
Sieve with a mesh strainer. 
Chill in the fridge and enjoy. This recipe makes about 3 cups; serves three people.
Instructions for the Juicer:
Wash all the ingredients, and peel; I don't peel apples).
Cut or leave the vegetables and fruits whole depending on your Juicer's size.
Juice all the fruits and vegetables using the juicer according to the manufacturer's manual. 
Chill in the fridge and enjoy.
See the video below for the full blender/juicer tutorial.
Notes
Make sure to take a look at the precautions just if you are pregnant or have a compromised immune system.
Expect to use more fruits and vegetables if you are using a juicer and want to make up 3 cups of juice that I made using the blender.
Make it your way; check out the fun variations.
Prep Time:

15 minutes

Category:

Snack

Method:

Juicing

Cuisine:

Universal
Keywords: Carrot, Carrots, Carrot recipe, Juicing, Healthy juice, Carrot juice,
Recipe Card powered by
WANT MORE HEALTHY JUICES? CHECK 'EM OUT:
HEALTHY SALADS YOU WILL LOVE:
THIS POST CONTAINS AFFILIATE LINKS, you are not charged more for using these links, but I make little coins when you do.
Finally, let's connect on social media, am on Pinterest, Facebook, Instagram, and Twitter. Share this recipe post, and SAVE/PIN THIS IMAGE ON PINTEREST! ⤵️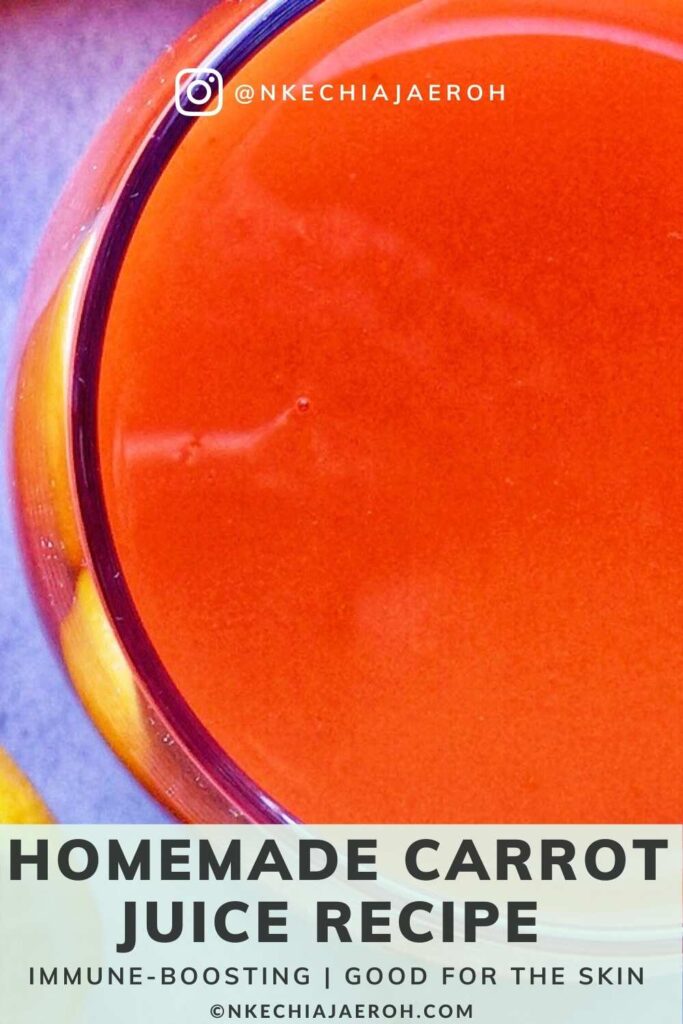 Thanks for stopping by! Please share this post with your family and friends! And don't forget to let me know when you make this recipe!
Kechi.