Healthy Zucchini and Cashew Nut Bites.
These zucchini and cashew nut bites are the ultimate healthy snack for everyone, and I mean it with all my heart. My kids, husband, and I were sold on this snack for the very first time we tried this. Here's a little background story to this yummy deliciousness, My kids use to love zucchini fritters until they got tired of it. And I decided to get a little creative, and I made these yummy bites that are between chicken nuggets and zucchini fritters. They called this "chicken nuggets" after they tasted it the very first. Between I and them, it is chicken nuggets, even after the 5th time! The cashews add enough texture to make these meaty, so I don't blame the kids for thinking that these zucchini bits are indeed chicken nuggets. 😂

The Best Zucchini and Cashew Nut Bites.
These are not Zucchini fritters but can also fit in that shoe, while also serving as chicken nuggets. Uniquely, these healthy vegetable snacks are insanely delicious and satisfying, these bites are flavorful and finger-licking good,…
Click To Tweet

Spice Makes Life Better.
One of the things I know that enhances the taste and flavor of any given food is a spice. In the previous month, I discovered Spice Tribe and their array of beautiful spices, and I will love for you to experience the spices from Spice Tribe as well. As a rule, I promise only to share the products that I genuinely like and use. While we continue to eat healthier, it is essential to make our foods flavorful and yummy. I used only a teaspoon of the all-Purpose Chile Blend, and it catapulted the flavor of these zucchini and cashew nut bites to another level.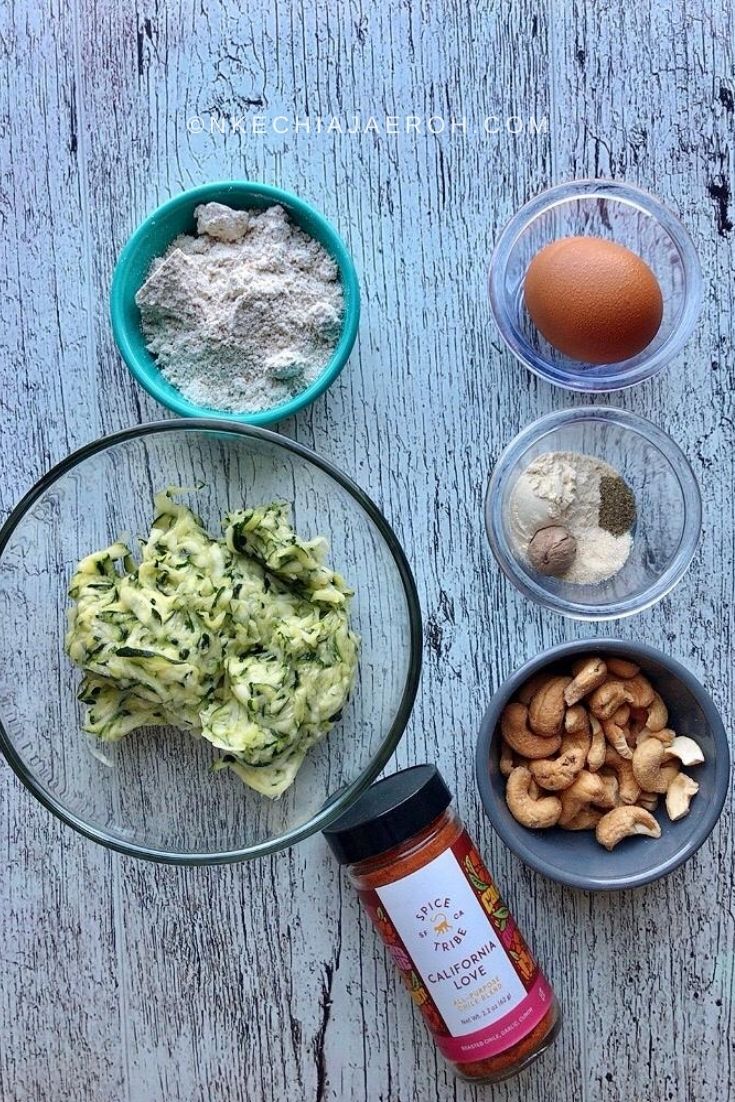 Making Zucchini and Cashew Nut Bites.
Step 1: Wash and shred the Zucchinis.

Step 2: Process all the ingredients to get a paste-like mixture. Then mold into bits, and fry; use your preferred oil to fry. First photo shows all ingredients in the food processor. The next photo is after the process. ⤵️

If you are ready let's make some yummy zucchini cashew nut bites!
Print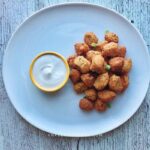 Zucchini and Cashew Nut Bites: Healthy Vegetable Snack
---
Description
If you are looking for a healthy, nutritious, delicious, and kid-friendly vegetable snack, then this Zucchini and Cashew Nut Bites will make you happy. This snack would suit your craving for zucchini fritters and chicken nuggets, and it is absolutely perfect for every family member!
---
2 small/medium size zucchinis
1/2 cup of oats flour (I blended some old-fashioned oats and used it)
1/4 almond flour
1/3 cup of toasted cashew nuts
2 teaspoons onions powder
1/2 teaspoons garlic powder
1 teaspoon salt
Pepper to taste
1 teaspoon California Love Spice Tribe all-purpose Chile blend
1 egg
Vegetable oil (to fry the bites; I used peanut oil)
Ingredients for Greek Yogurt Dip/Sauce:
2 tablespoons Plain Greek Yogurt
2 tablespoons Light Sour Cream
2 teaspoons honey (or little more according to your taste)
Juice from 1/2 a lemon
Salt and pepper to taste
---
Instructions
Shred zucchini with a box shredder, and add to a bowl.
Add salt to zucchini and allow it to sit for about 10 minutes or a little more; this way, the zucchini wilts, and excess moisture is removed from it.
Then use your clean hands to squeeze all the water/moisture from the zucchini. Throw away the water.
In a food processor, add the cashew nuts; process roughly. These cashews would end up giving these bites a meaty texture, so do not process to become very smooth or ground.
While the cashews are in the food processor, add zucchini, oats flour, almond flour, egg, California love seasoning, pepper, garlic, and onions powder. Then gently process to combine. This paste should appear a bit soft but moldable.
Set a clean pan on the stove, and add frying oil. Allow to heat up but do not overheat.
Use a teaspoon measure to scoop dough/paste and use your clean hands to form it into a small ball. The shape won't be perfect but will be ok in the oil.
Drop one bite into the hot oil to see if it is hot enough. Fry until it turns golden (or light brown) and a little crunchy, keep eyes on these as they can quickly burn.
Fry all the bites and serve with Greek yogurt sauce. You may likely not need the sauce, this is just a pick and go kind of snack.
Instructions for the Greek Yogurt Dip/Sauce
Add all the ingredients into a small clean bowl
Use a fork to mix
Taste and adjust flavors, enjoy!
Notes
I partnered with Spice Tribe to create this recipe, so it is also available on their website.
The calorie calculation does not include the dip. Most times, we eat these without any dip or sauce.
I usually fry with peanut oil but can fry with your best frying oil.
The video tutorial just above this note will show you exactly how to make this Zucchini and cashew nut bites!
Prep Time:

15 minutes

Cook Time:

15 minutes

Category:

Snack

Method:

Stovetop

Cuisine:

American
Keywords: Gluten free snack, Healthy Snack recipe, vegetable snack , Zucchini snack, Vegetarian snack, Zucchini, Zucchini recipe, Fried Zucchini bites, Zucchini fritters, Zucchini nuggets,
Recipe Card powered by
First of all, PLEASE SHARE THIS POST. And, if you like this healthy and insanely delicious snack, then check out these other recipes:
Also, some of our trending summer Smoothies, that are incredible for breakfast:
Finally, I will like for us to connect on Instagram, Pinterest, Facebook and Twitter lol, let's connect everywhere!🙌🏾
Remember to share this recipe post with people you love. Also, SHARE/SAVE THIS IMAGE ON PINTEREST under "healthy snacking Foods." ⤵️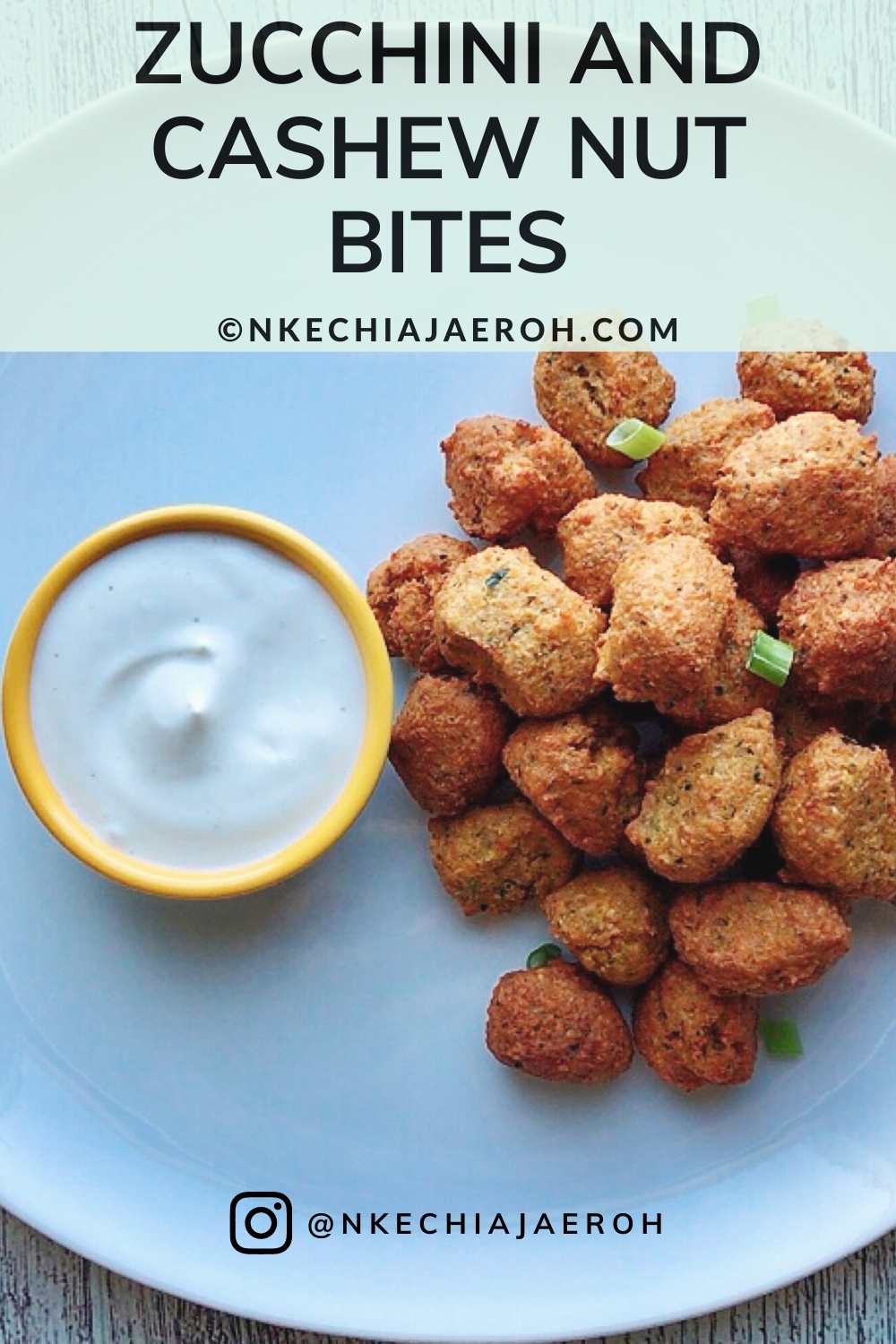 Stay well and safe.