Frozen Yogurt-Oat Bars? YES!!!
These frozen Yogurt bars are what summer is made of and I am in! Well, then, say hello to this easy-to-make, healthy, hearty, mouthwatering, and yummy cooling treat. These frozen yogurt-oat bars are E V E R Y T H I N G! Not only is this exquisite treat delicious, but it is also nutritious and full of naturally healthy ingredients that will do your body good. And of course without the things you do not need, like:
Refined sugar.
Preservatives.
Artificial flavors and colors.
These yogurt-oat bars are made of of all-natural ingredients that are great for you – yogurt, oats, dates, almond butter, flaxseed, cinnamon, etc.,  Haha, but, this is also addicting, YIKES!

Whether you are looking for a unique treat to quench the summer heat or just a suitable replacement for your ice cream craving, these frozen yogurt-oat bars will do it for you! Luckily it doesn't take as long as cake or ice cream…
Click To Tweet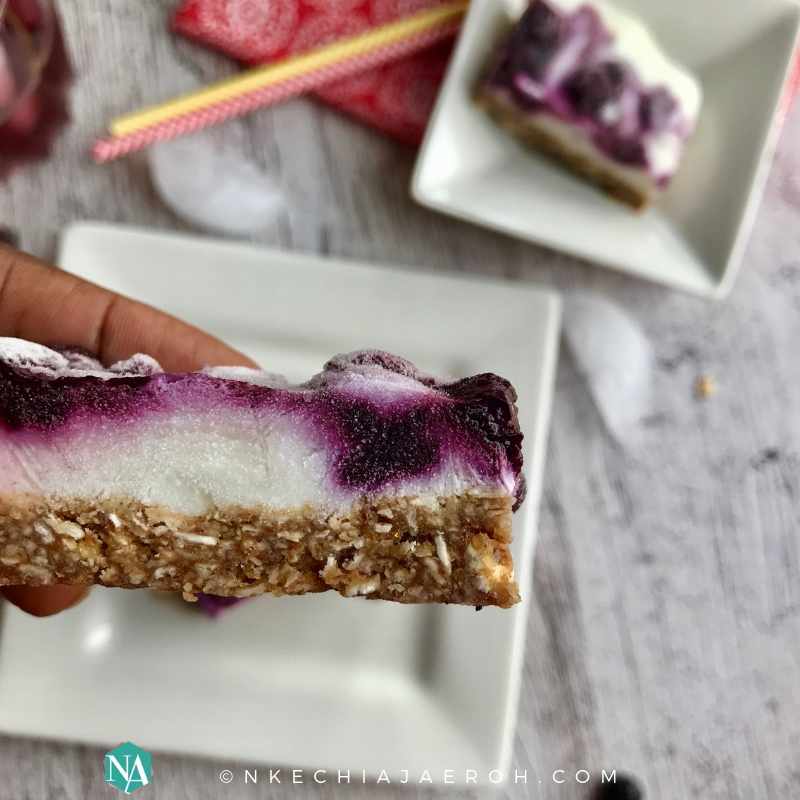 Perfect Yogurt Bark.
One of the reasons why I love cooking is that it allows me the freedom of making food my way. Don't worry if you don't like blueberry or can't find it; you can use any other berry or even mango. Yes, you heard me, some mango puree is good enough for the topping! Additionally, you can either use full-fat yogurt or less fat; likewise regular (dairy) yogurt or dairy-free yogurt. The choices/swaps are endless.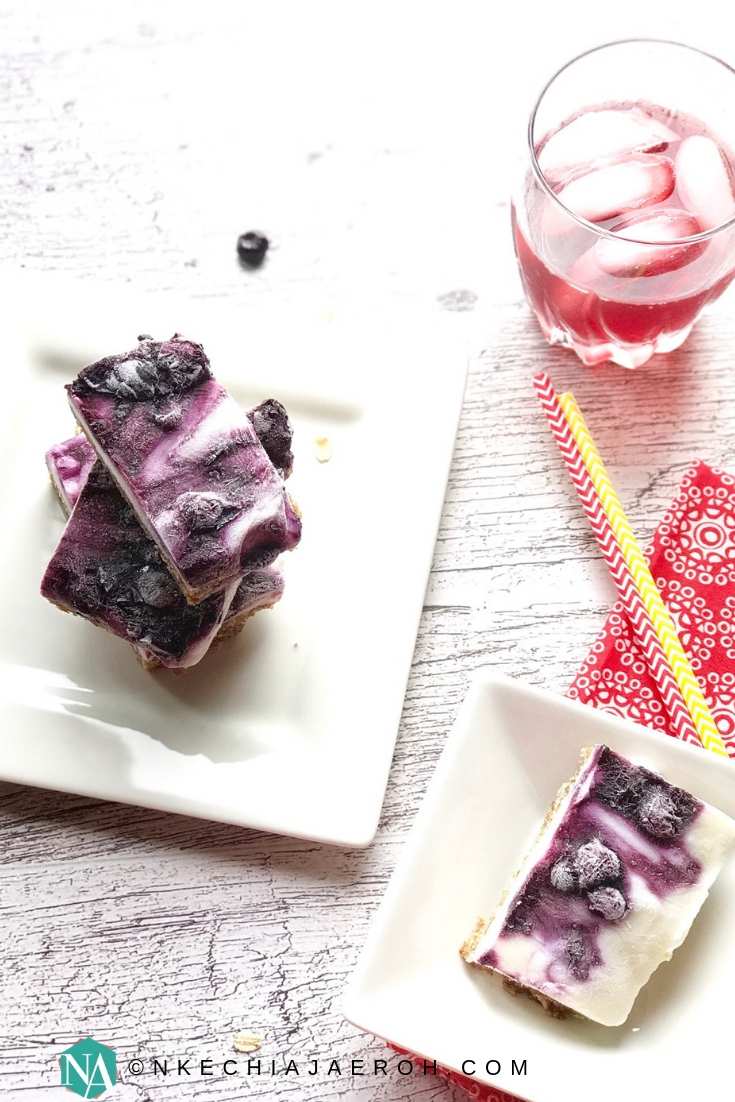 The Best Frozen Yogurt- Oat Bars.
To make this frozen yogurt-oat bars here are some of the things you will need:
Yogurt: you are free to go totally vegan with this treat by using plant-based yogurt alternative (aka dairy-free yogurt). Personally, I have made this treat with regular dairy yogurt, and have also made it with coconut yogurt alternative, and it rocked.
Oats: I refer to oats as one of those gifts that keep giving. What else can I say? You can use oats for several things, including a solid based to this awesome treat.
Dates: if you are looking to eat healthier, one of the foods to decrease or completely eradicate is refined sugar. And for these frozen yogurt-oat bars, we are swapping refined sugar with dates. I think that dates are sweeter, and adds amazing texture. You will love it!
Blueberry: as you may already know blueberry is a superfood. This food can literally lift your mood, and it has terrific brain function. My little ones like blueberries, so for this recipe, I decided to use only blueberry. I have also used mixed berries, and it worked well.
Now if you are ready to let's get making.
Print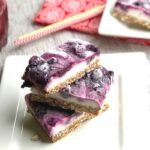 Healthy Frozen Yogurt-Oat Bars with Blueberry Swirl
---
Author:

Nkechi Ajaeroh

Total Time:

30 minutes

Yield:

1

0

1

x

Diet:

Vegetarian
Description
This frozen yogurt- oat bars are exceptionally yummy; kids love them, and adults love them as well. Also, they are easy to make, look no further for the cold treat your entire family will love. It is right here!
These are perfect for summer, and will keep you and your family refreshed!
---
9

pitted soft dates

2 cups

old-fashioned oats

½ cup

almond butter

¼ cup

ground flaxseed

1 tsp

. ground cinnamon

¼ tsp

. salt

1 tablespoon

of maple syrup

2 cups

of yogurt

1

–

1½

cups frozen berries or fresh fruit, stewed
---
Instructions
Add frozen or fresh blueberries in a pan, heat up to stew, cook until they pop and become like a syrup/stew. Set aside to cool to be used later.
Add all the ingredients in a food processor, start with the dates first. Blend dates until smooth or near smooth, then add the other ingredients, which includes oats, almond butter or any other nut butter. I like cashew butter too. Then add flaxseed (ground), cinnamon, nutmeg, vanilla, maple syrup, and, a dash of salt, especially if using unsalted almond butter.
As you process/blend, you may need to use a spatula to push down the ingredients in other to combine well. Process until all ingredients are mixed in well. I would usually taste to adjust flavors before transferring the mix to a parchment-paper-lined baking dish.
Time for the best part: gently turn over the entire mix into the already lined baking pan. Using your power (lol) press the mix to the base of the baking pan. I would wear gloves and use both hands to give an excellent press. Sometimes I ask the kiddies to help out too (of course with gloves on.)
OPTIONAL STEP: bake this in 350 preheated oven for only 10 minutes. Wait until it completely cools before the next step. (I have made this several times without baking the oat base and it turns out excellent. I guess I bake it because I like the extra work. Lol, but baking the oat base is optional.
Pour your choice of yogurt on the oat base, ensuring to cover all of it.
Sparingly sprinkle the already cooled berries syrup. Use a stick/skewer to make a swirl. I let my kids do this! (Fun work.)
Now place this entire creation in the freezer for about 3 – 4 hours or until frozen. Then, this goodness is ready whenever you are!
Notes
Very addictive, for real!
Ensure to use original maple syrup or any other natural sweetener in its original form.
Also, use almond butter that has only one ingredient – almond.
When it comes to yogurt; dairy or dairy free works just fine. I have used both in the past. To make this vegan, stick with plant-based yogurt.
Depending on your freezer power, the freezing may only take 1 – 2 hours.
You may allow thawing for a minute or so before cutting or just cutting immediately. Enjoy!
Prep Time:

10 minutes

Cook Time:

20 minutes

Category:

appetizer/snacks

Method:

Freezing

Cuisine:

Universal
Keywords: Yogurt Recipe, Frozen yogurt, frozen Yogurt bars, oat bars, healthy treats, summer treats, yogurt bark, healthy yogurt dessert
Recipe Card powered by
Quick question: do you like frozen treats? When do you intend to make this? Please remember to rate, and let me know what you think about this recipe.
If you like this healthy frozen treat, then be sure to check out my other healthy and yummy recipes.
And some healthy lunches and dinner  as well:
Finally, let's connect on social media, am on Pinterest, Facebook, Instagram, and Twitter. Share this recipe post, and SAVE/PIN THIS IMAGE ON PINTEREST. ⤵️

With love,