Quick & Healthy Oatmeal Breakfast Idea
I am unequivocally stating that healthy oatmeal is typically part of most breakfast ideas, if not as porridge (as I will be sharing today), then baked or used to make pancakes/waffles. Oats always find their way to our breakfast table, and our hearts. And today, I am excited to share another go-to oatmeal recipe – Chocolate Oatmeal Porridge! If you enjoyed my coconut milk oatmeal with stewed cherries, you would love this even more! Learn how to make this satisfying chocolate oatmeal porridge recipe. This recipe is healthy, nutritious and can quench your chocolate craving. Trust me when I say this oatmeal porridge recipe deserves a place in your home. Click To Tweet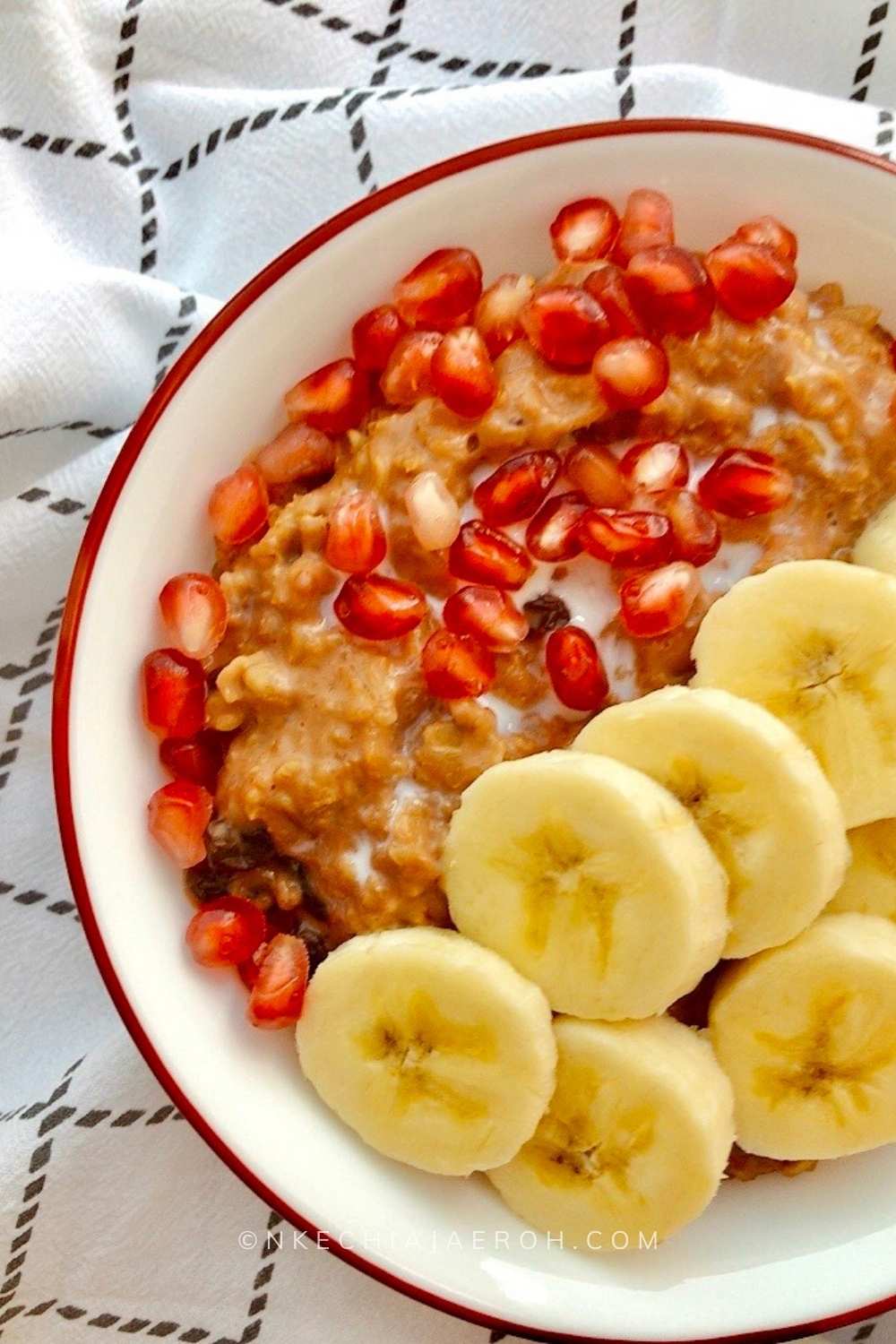 Dairy-free Gluten-free Vegan Chocolate Oatmeal Porridge
This chocolate oatmeal porridge recipe is vegan, which means dairy-free (plant-based), also, gluten-free and hella delicious! Naturally, raw cacao is vegan, so if you desire to make chocolate oatmeal with cacao powder, you are very much in line. However, if you use regular milk chocolate, your oatmeal porridge may no longer be vegan. On the other hand, there are vegan "milk" chocolates out there!
The best thing about this chocolate oatmeal porridge is that you won't know that I used plant-based milk (not that plant milk is not cool); it doesn't taste any different from other oat porridges. In Nigeria, we make oats with water! Yes, W A T E R, and guess what? It still tastes good, and yummy, and looks thick and creamy!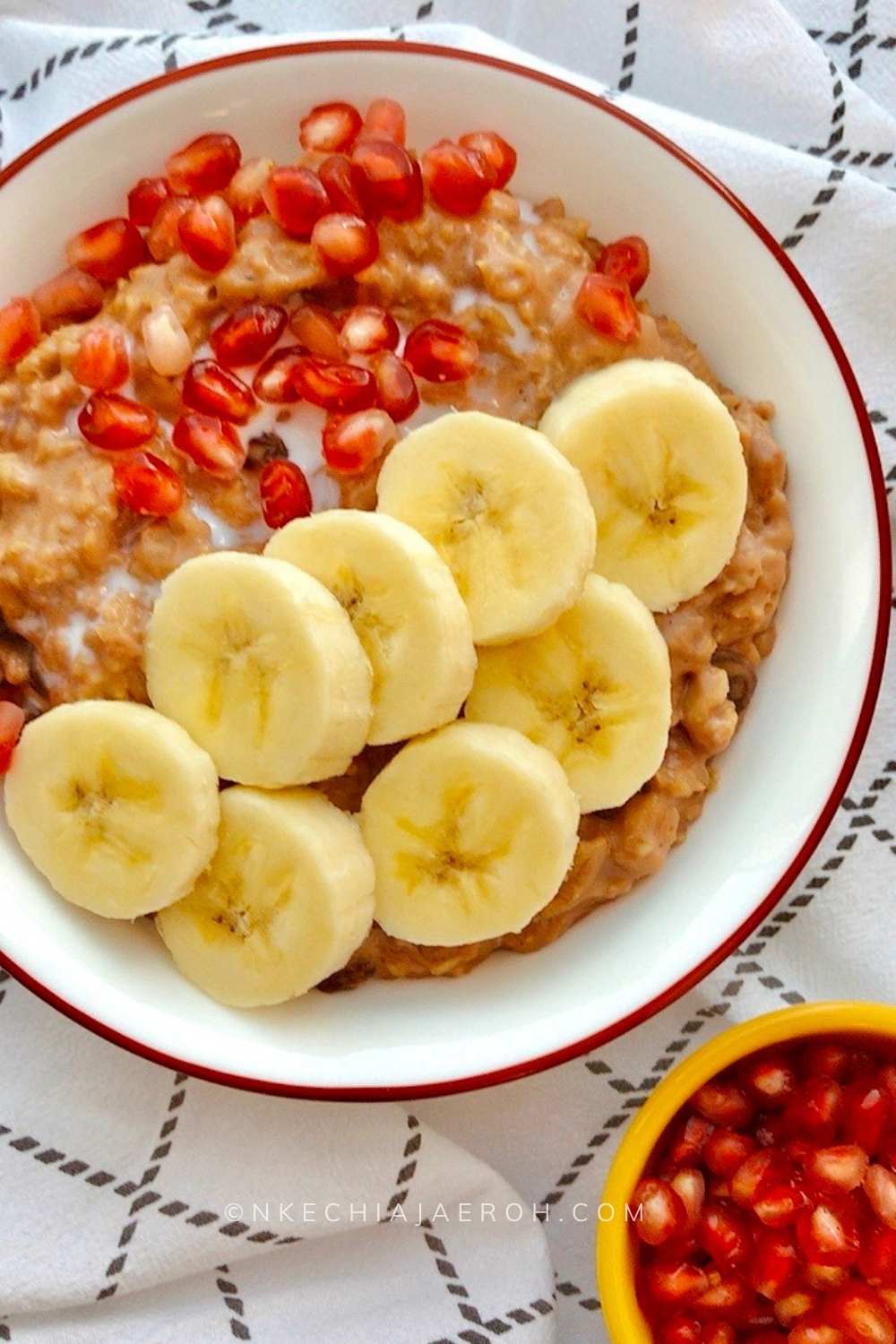 Chocolate Oatmeal Porridge Recipe Ingredients
Luckily this chocolate oatmeal porridge uses only a handful of ingredients, which includes oats or oatmeal (well, hello), raw cacao, raisins, plant-based milk, and honey. You can use another sweetener of choice, such as maple syrup if you do not like honey, and you guessed right, this recipe only needs five ingredients!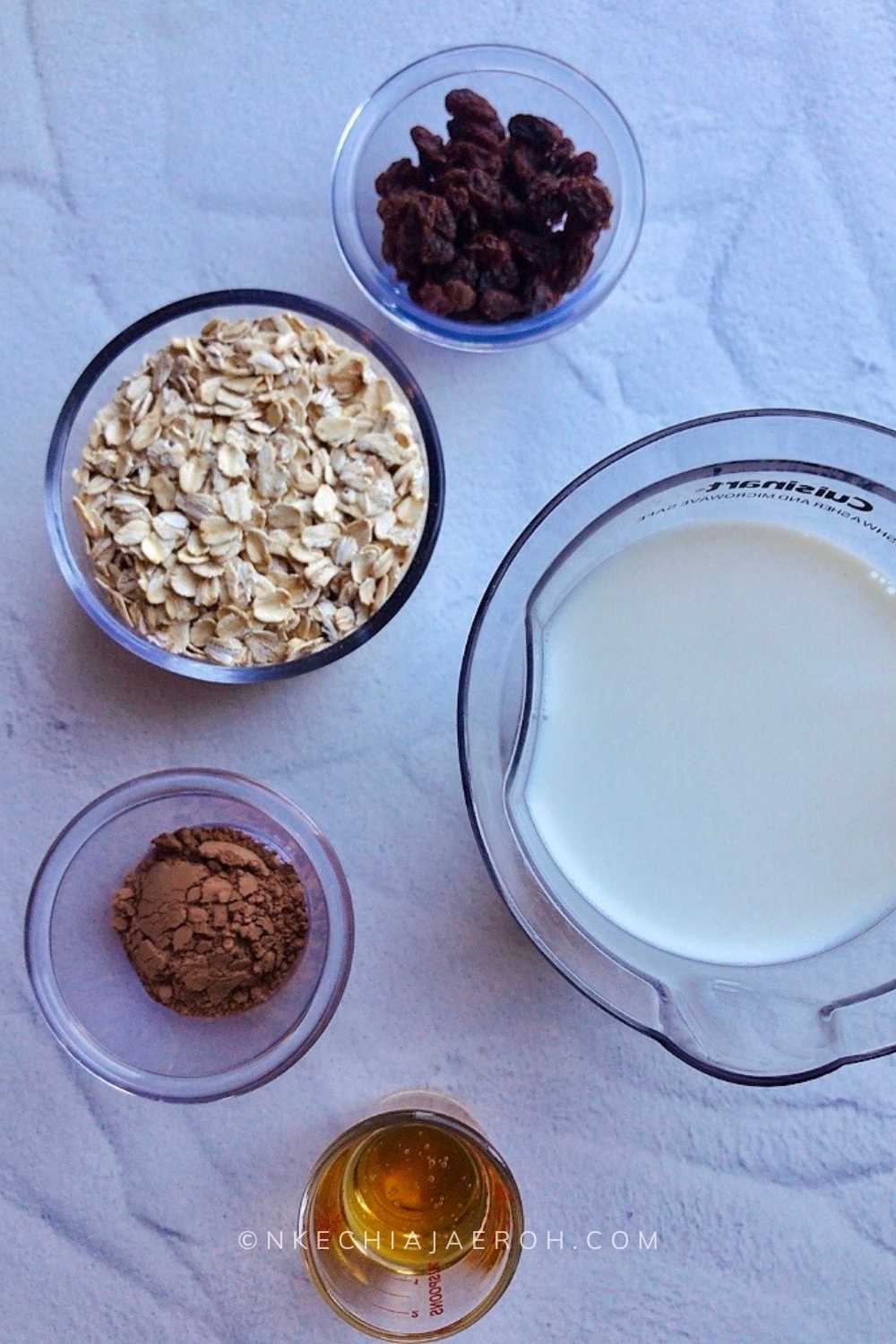 How to Make Chocolate Oatmeal Porridge
Making this choco-oat bowl is easier than you know. Add all the ingredients (raw oats, cacao powder, raisins, milk) into the bowl except the honey, then cook until your desired oatmeal porridge consistency. I used raisins, but you can use dried cranberries, also known as craisins. You can also add other dried fruits such as dried mangos, dried strawberries, etc.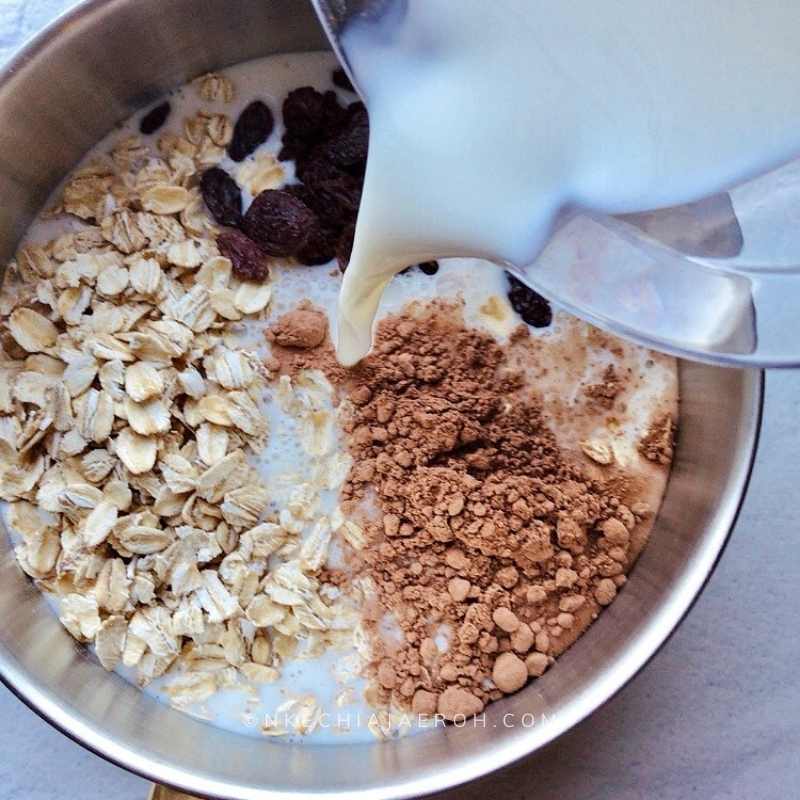 Always make your oatmeal suit you because you will eat it at the end of the day! If you love easy meals, then this vegan oatmeal porridge is for you! It gets ready in less than 10 minutes.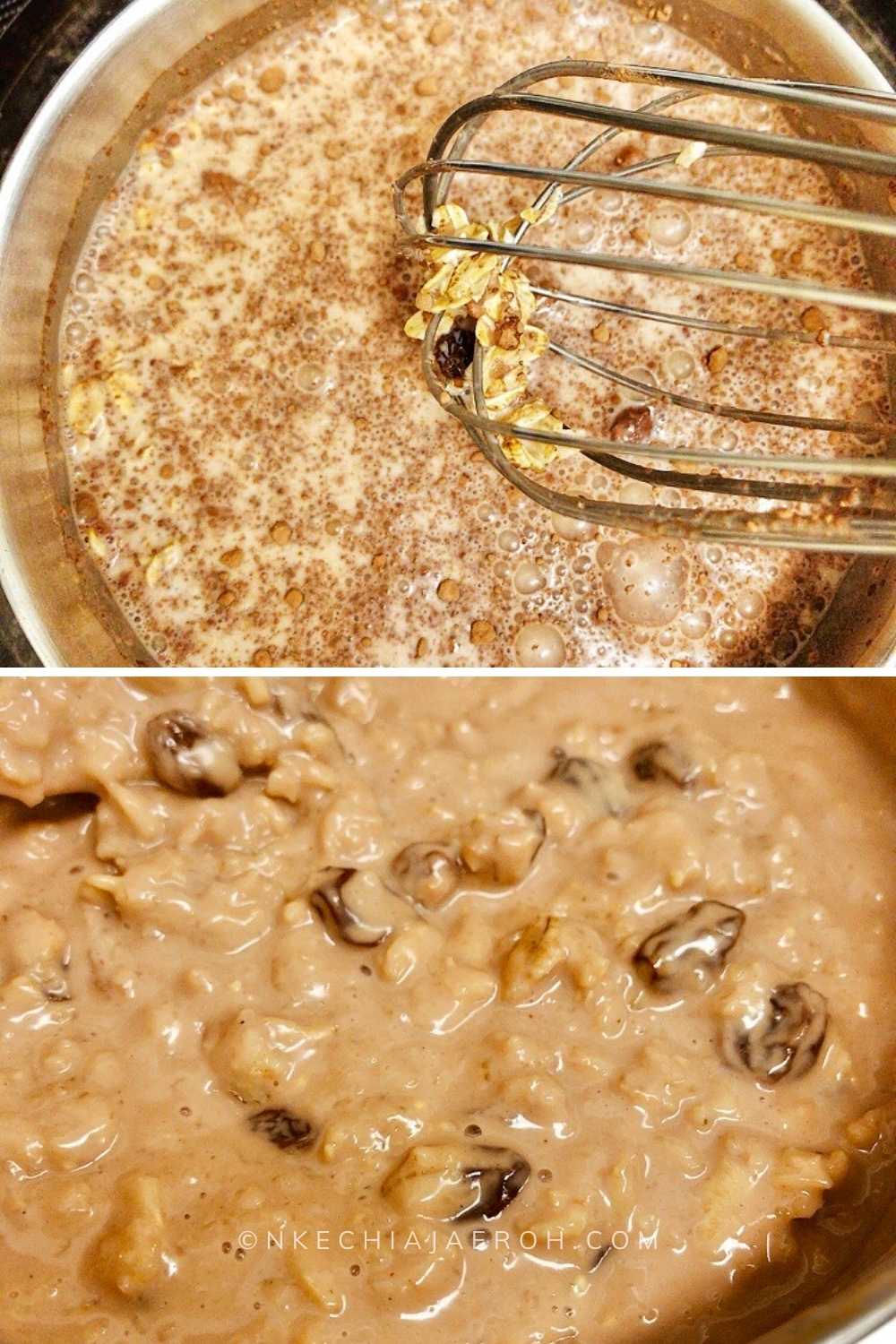 Serving Vegan chocolate oatmeal porridge
I generally love serving this porridge recipe with fresh fruits; as you can see, I added banana slices and pomegranate seeds. Always add your favorite fruits, nuts, and any other topping you desire.
Which oat is best for porridge?
Fortunately, you can use any type of oats to make oatmeal porridge. Some types of oats include rolled oats, old-fashioned oats, steel-cut oats, also known as coarse oat or pinhead oats. Minute oats are equally popular here in America and typically cooks in the microwave for only a minute or a little more.
Any of the above oat types can be cooked on the stovetop, but I prefer steel oats or old-fashioned oats when it comes to making overnight oats. For this chocolate oatmeal porridge, I prefer using old-fashioned oats or rolled oats. This Coconut milk oatmeal is another vegan oatmeal porridge that I swear by!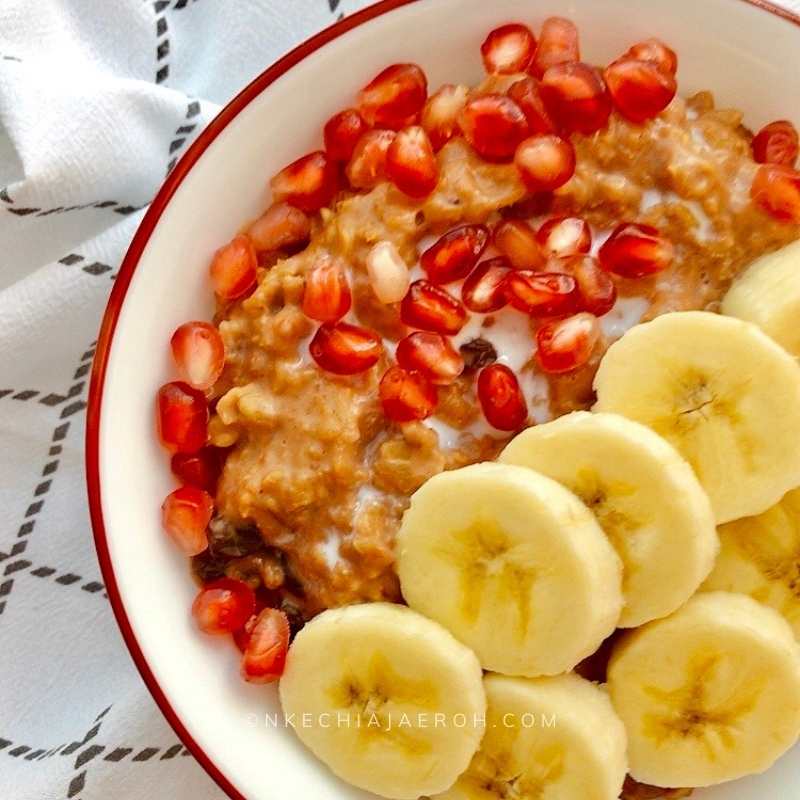 More Chocolate Oatmeal Porridge FAQs
Cacao Vs. Cocoa
Growing up in Nigeria, my friend's family had a cocoa beans farm, as kids sometimes; we would be gifted cocoa fruits. We would open them up and lick/eat the fleshy white pulp surrounding the beans. At that time, I never understood that chocolate came from those beans!
My kids fondly refer to this recipe as chocolate oatmeal, and I like to call it cacao oatmeal. I used raw cocoa as part of the ingredients for making this recipe.
What is the difference between cacao and cocoa? Sometimes cacao and cocoa are used interchangeably. Though they are related, these two words are not exactly the same, yet there are no clear lines separating the use of these two terminologies. Well, I did some research, and here's are my findings:
First, chocolate and most chocolate products are made from cocoa beans. CACAO is said to be the less processed type of cocoa beans and is, therefore, more natural. Cacao has more antioxidants.
On the other hand, COCOA powder is made by crushing cocoa beans and removing the fat or cocoa butter. This helps to develop the distinct chocolate taste. Cocoa is a little more processed than cacao.
When choosing between cacao or cocoa, please read the labels, and if possible, go for the cacao rich products. I personally love to use raw cacao powder instead of regular dark chocolate or milk chocolate for this porridge recipe.
Can I make chocolate oatmeal porridge without milk?
Though we are making this oat recipe with plant milk, yes, you can absolutely make oatmeal without milk. How about next time you make oatmeal, use water instead of milk and see if anything changes. Ever heard of oat milk? Well, oats by themselves can produce "milk," so if you try to make oatmeal without milk, it will still look creamy, milky, and rich because it can create its own milk.
Is Oatmeal and Porridge the same?
First, what is porridge? Porridge, also spelled porage, porrige, or parritch, is typically any grain be it oat, corn, wheat, rice cooked in water or milk until it becomes thick and creamy. On the other hand, you can make porridge with oats, or corn, millet, or rice, or any other grain or legume of choice.
Oatmeal is a porridge made from oats. For instance, this chocolate oatmeal porridge is creamy, thick, and porridgy, and I made it using oats! So, oatmeal is oats porridge made with oats as the grain, be it rolled oats, old-fashioned oats, steel-cut oats, or minute oats. The bottom line is that oatmeal is a type of porridge.
Healthy Stovetop  Chocolate Oatmeal Porridge for a Win
This quick and easy chocolate oatmeal porridge recipe is creamy, comforting, and chocolatey, a yummy breakfast oatmeal recipe that is healthy and hearty. The best part is that it cooks in no time.
Click To Tweet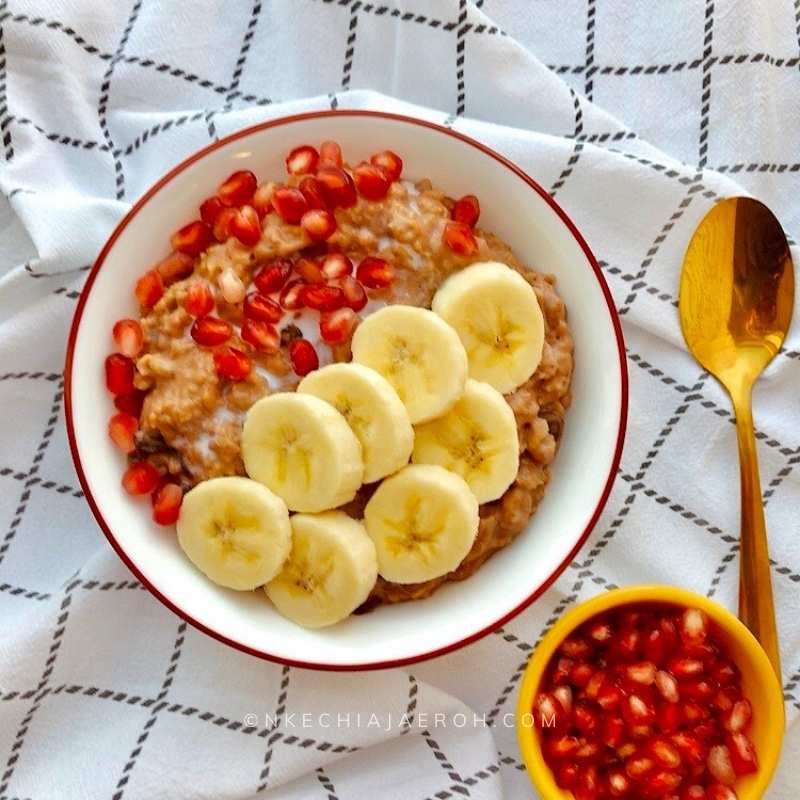 Print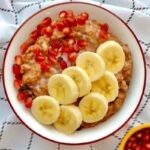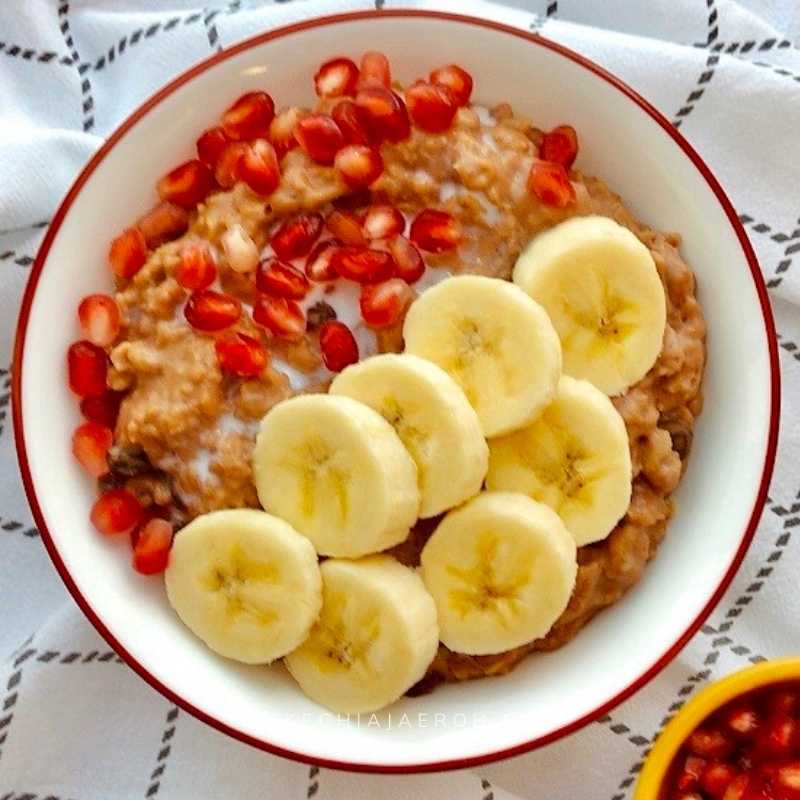 Chocolate Oatmeal Porridge (Vegan Oats Recipe)
---
Description
Learn how to make this satisfying chocolate oatmeal porridge recipe. This recipe is healthy, nutritious and can quench your chocolate craving. This cacao oatmeal porridge recipe is vegan, which means dairy-free plus gluten-free!
Making this nutritious and healthy oatmeal bowl is easy peasy because you need less than 10 minutes! Never skip breakfast again!
---
---
Instructions
Add oats to a clean pot, add plant-based milk of choice, raisins, and raw cacao powder.
Use a whisk to vigorously combine the cacao powder, if not the it may float.
Cover, and cook on medium – low until soft and cooked through, just like you would with oats porridge. Keep stirring consistently to avoid sticking to the bottom of the pot.
Feel free to add more liquid if too thick; cook this oat to the consistency you desire.
Stir in the honey at the very end, taste and adjust.
Serve warm; garnish with fresh fruits such as pomegranate seeds and fresh bananas. I also like to sprinkle a tablespoon of plant milk!
Notes
Use a whisk to vigorously combine the cacao powder, if not the it may float.
Raisins are optional; you may use other fruit of choice instead!
Pomegranate seeds was so good with this recipe, see how I seed pomegranate.
Prep Time:

2 minutes

Cook Time:

8 minutes

Category:

Breakfast

Method:

Stovetop

Cuisine:

American
Keywords: chocolate oatmeal porridge, healthy chocolate oatmeal porridge recipe, oatmeal recipe, chocolate oatmeal recipe, how to make chocolate oatmeal, how to make oatmeal recipe, healthy oatmeal breakfast, chocolate oat meals, chocolate porridge, oats recipe with milk, rolled oats, vegan porridge, oatmeal porridge, cacao oatmeal, cocoa oatmeal, chocolate oatmeal inspiration, porridge recipe, overnight oats, breakfast recipe, healthy breakfast recipes, oats recipes, breakfast porridge, dairy-free oatmeal porridge, gluten-free oatmeal recipe, vegan oatmeal recipe
Recipe Card powered by
If you like this recipe that you will totally enjoy my creamy coconut milk oatmeal right here! ⤵️

Check More Breakfast Recipes?
Some Healthy Salad Recipes for a win!
THIS POST CONTAINS AFFILIATE LINKS, you are not charged more for using these links, but I make little coins when you do.
Finally, let's connect on social media, am on Facebook, Instagram, Twitter, and Pinterest. Share this recipe post, and SAVE/PIN THIS IMAGE ON PINTEREST! ⤵️

Thanks for stopping by! 😊