Homemade Leftover Thanksgiving Turkey Pot Pie!
2020 is that year that everything is going by so fast! May I start by asking you how you spent your 2020 Thanksgiving; did you have a "socially distanced" Thanksgiving? What did you cook? Or did you order some cooked foods? Please feel free to share in the comment. Ours was small, celebrated with just the kids and the husband, no visitors, but plenty of leftovers. I am only making this leftover Thanksgiving turkey pot pie a little late because I honestly got tired of indulging in Thanksgiving leftovers. 😂Lol, so I packed away the remaining turkey in the freezer, but here we are today. Do you still have some Thanksgiving leftovers?
What a year it has been for the entire world. I pray that COVID 19 vaccines come earlier than expected and that our world will return to normalcy. Today I am excited to make this super easy and delicious turkey pot pie from our leftover turkey; I handled two bowls of this; am sure you can use a bowl yourself.😊 This pot pie recipe is the best thing to make with Thanksgiving Turkey leftover, and the best part is that you can use whatever you have! Don't fret if you don't have leftover turkey meat; you can totally make this recipe with… Click To Tweet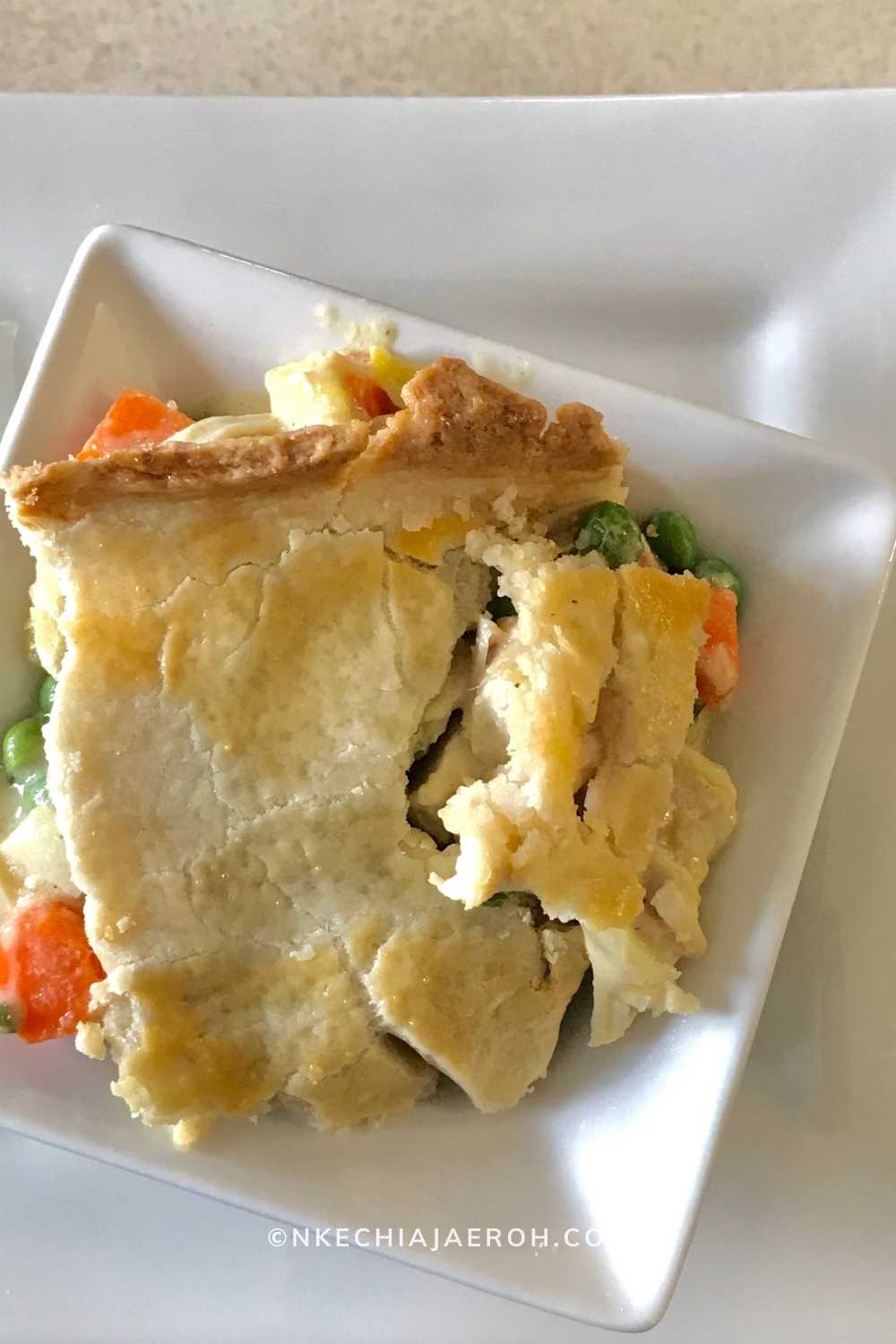 Turkey pot pie vs. chicken pot pie.
On paper, turkey pot pie and chicken pot pie may sound different, but they are the same in reality. All you need to do is that instead of using turkey, you use chicken and vice versa! Then add the veggies you like and make it as tasty as you wish.
The crust for Turkey Pot Pie.
To make the crust for this leftover thanksgiving turkey pot pie, you will need flour, butter, a little sugar, a dash of salt, and cold water. Get excited because not only that I am going to share my very easy pot pie recipe, I am also showing you how I make my crust from scratch every time. Scroll to the recipe card for full instructions.
What are the Ingredients for Making Turkey Pot Pie?
The ingredients for making turkey pot pie are leftover turkey meat, carrots, onions, peas, celery, any vegetable you love, and perhaps whatever you have on hand. Again, if you do not have any leftover Thanksgiving turkey, do not sweat over it; you can always substitute turkey with chicken.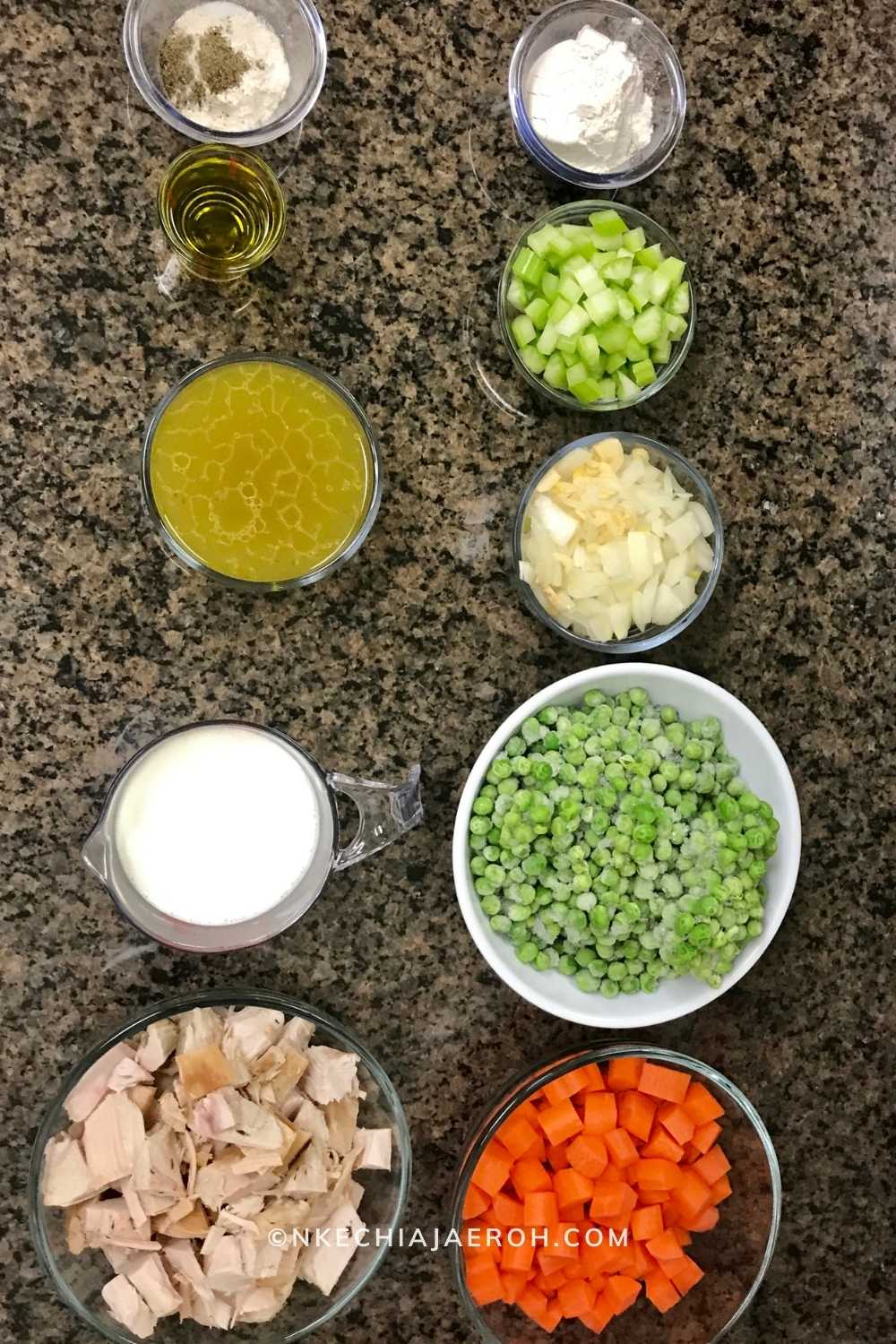 How do you Make Pot Pie from Scratch?
To make this healthy and easy leftover thanksgiving turkey pot pie from scratch, you will first of all, make the crust (you can also use store-bought crust). Second, you will make the filling with veggies, milk, butter, etc. Third, add everything to a baking dish, cover the dish with the crust, and bake. In other words, making turkey pot pie from scratch is actually easy peasy!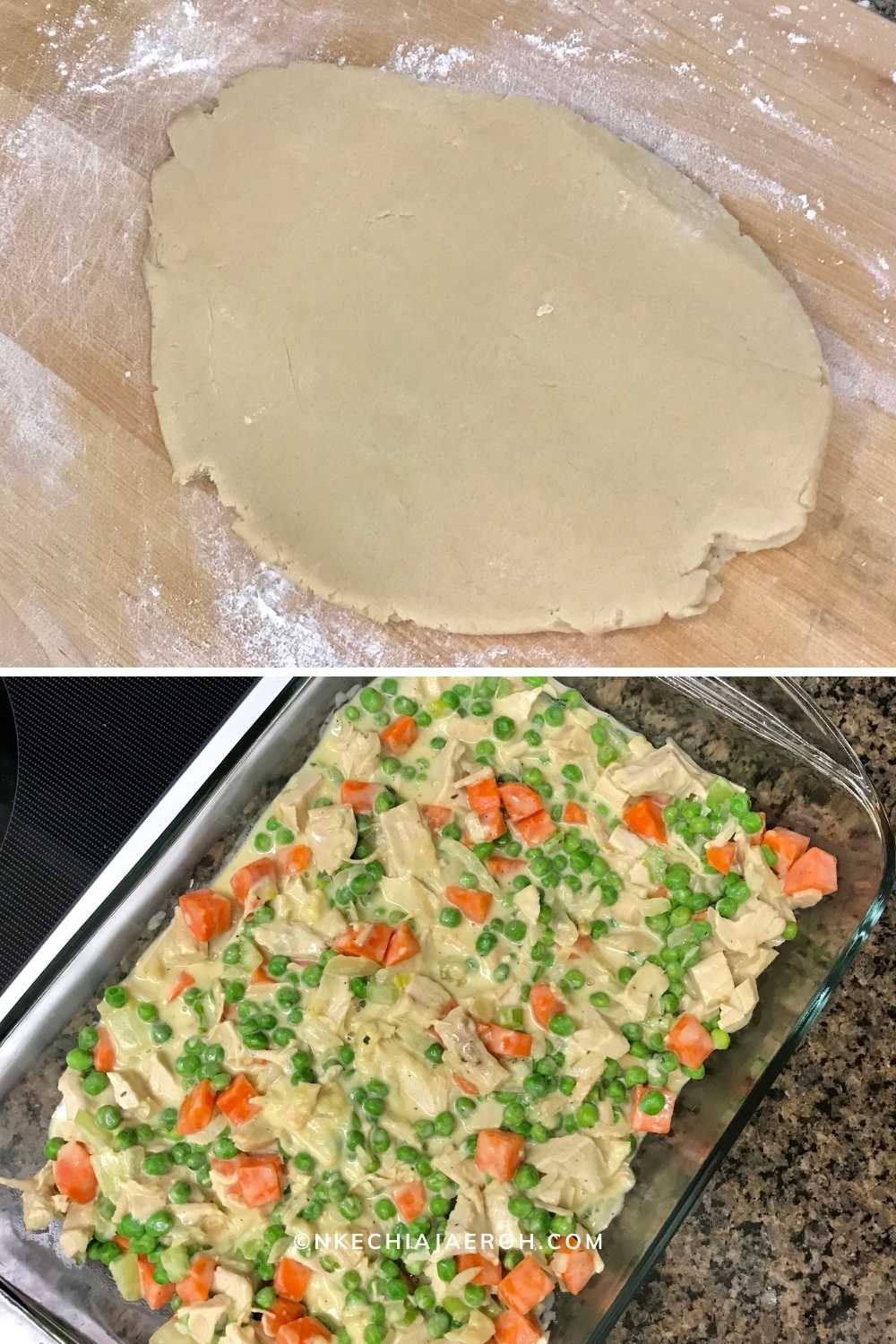 Remember to brush this pot pie with egg wash, I kinda went a little overboard.🤦🏾‍♀️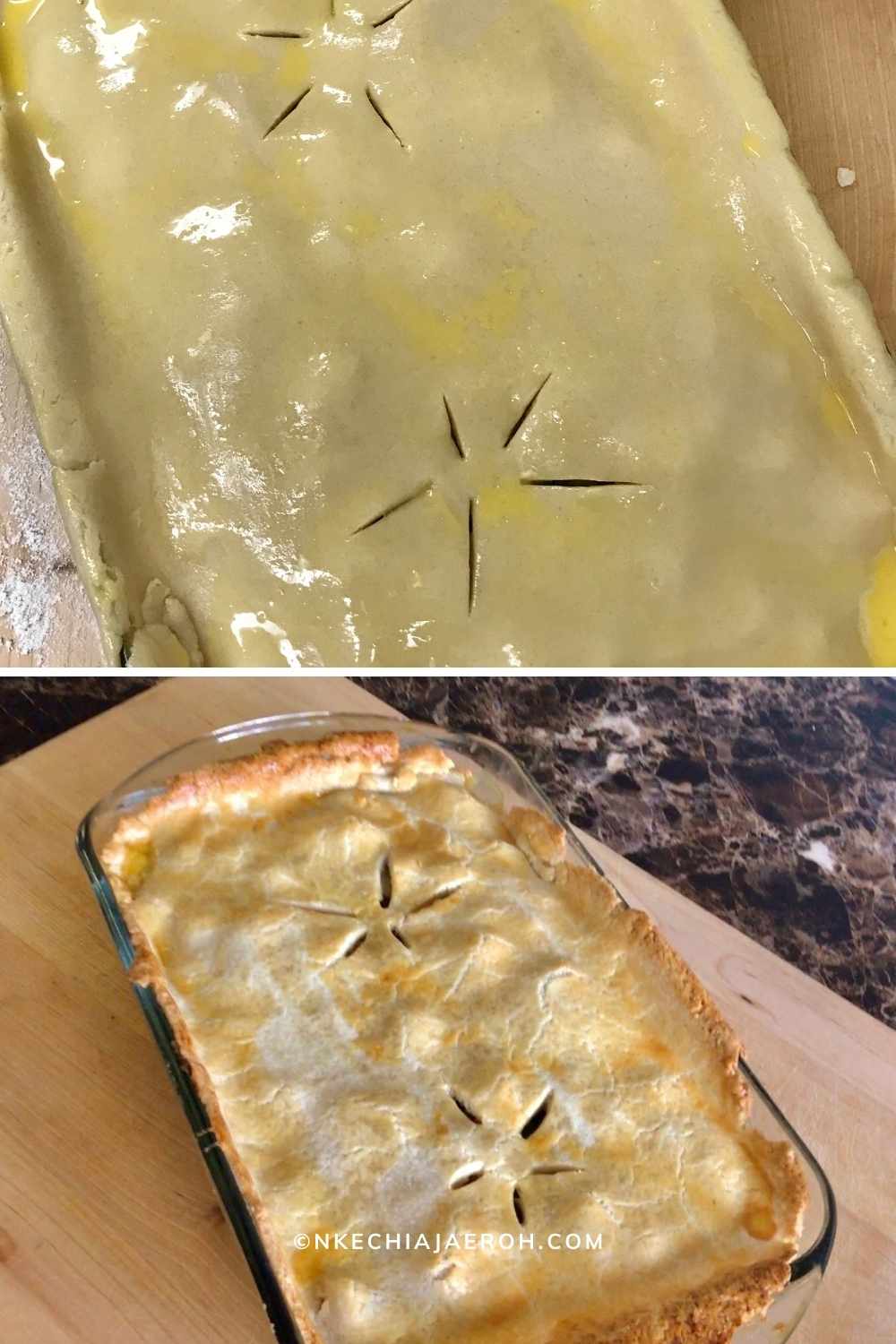 Can you Refrigerate Unbaked Turkey Pot Pie?
Oh, absolutely, you can freeze unbaked turkey pot pie in the freezer whenever you are ready to use it, then you bake it until fully cooked.
How Long does Leftover Thanksgiving Turkey Pot Pie Last?
If you store it in the freezer, I would say as long as you want, but if you keep them in the fridge, I will say a couple of days.
What other recipes can I make with Leftover Turkey?
My next best leftover turkey recipe has to be my healthy turkey bites on keto-friendly bread (pictured below). Peppered turkey bite is a perfect appetizer that I suggest you seriously check out!

Relatively, you can make Nigerian meat pie with your leftover Thanksgiving turkey. So yummy!
Print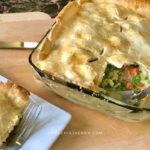 Leftover Thanksgiving Turkey Pot Pie Recipe
---
Description
This homemade leftover Thanksgiving turkey pot pie is flavorful and insanely delicious, and every family member will enjoy it. This turkey pot pie casserole can make a great lunch or dinner, and you can always make it ahead, and freeze.
---
Leftover turkey meat (about 3 – 4 cups cut/chopped)

1 cup

of onions, garlic, and green onions (chopped)

1 cup

of 'half and half.'

1 cup

of broth

2 cups

of frozen peas

2 cups

of chopped carrots

½ cup

of celery stalks (chopped)

¼ cup

of flour

1 teaspoon

of salt

1

Maggi (or

1 teaspoon

of seasoning powder)

1 teaspoon

of onion powder

¼ teaspoon

black pepper

¼ teaspoon

of ground ginger or

½ teaspoon

of fresh ginger

2

-tablespoon olive oil

1

egg (for egg brushing the pie before placing in the oven)
Piecrust Ingredients:
2 tablespoons

of pure organic cane sugar

½ teaspoon

of salt

1 cup

of butter (or

two

sticks)

¼

(or less) cup of cold water
---
Instructions
Wash and cut all vegetables and set aside.
Place a clean pot on the stove, add olive oil, and allow to warm up. Add some salt and chopped onions, continue to stir for the next 2 minutes, or until softened.
Then add carrots, and celery, add seasoning powder, onions powder, black pepper, ginger, and stir together to combine.
Stir in the flour and cook for 2 – 3 minutes, then add the broth and half & half.
Add the peas and turkey meat, stir everything together, taste for flavors, and adjust as needed. Cook for another three to five minutes to thicken. Allow cooling before the next step.
Preheat oven to 375. Spray the baking dish and scoop all the sauce into the baking dish.
Then place the piecrust on top and gently close/lock. Use your hands or a fork to press down to secure and brush some egg wash.
Use a knife to create incisions on the pie to allow air to evaporate; Bake in a preheated oven for 35 – 40 minutes (or until the crust turns golden brown and the dish is bubbling hot). Set this aside to cool before serving; enjoy warm.
Instructions for making the Crust:
Cut the butter into small cubes and put in the freezer to chill; I would usually chill for about 30 minutes before use.
In a clean mixing bowl, add the flour, sugar, salt, and combine well by hand or with a fork or food processor.
Then add the chilled butter and start incorporating until the outcome looks like a bread crumb.
Add cold water; barely combine this dough, then mold into a ball, divide into two (for top and bottom; I do not do top and bottom. So I end up using only half of this dough.
Wrap each dough separately and put it in the fridge for 30 minutes before use or put in the freezer for 10 minutes.
After the said time, remove from the freezer, spread a little flour unto a board, place dough, and roll out to cover the size of your baking sheet.  Sprinkle more raw flour if needed.
Notes
You can make this recipe with chicken.
I only put the dough on top of the filling. But this dough recipe would be enough if you intend to lay the dough on the baking sheet before filling and then cover with the remaining dough. I personally like to add on top.
Egg in the crust is optional: I didn't use egg to make this crust, but you can definitely add an egg to yours.
Prep Time:

55 minutes

Cook Time:

40 minutes

Category:

Entree

Method:

Baking

Cuisine:

American
Keywords: Turkey, Turkey recipes, Thanksgiving recipe, pot pie, Recipe for leftover thanksgiving turkey pot pie, Turkey pot pie recipe, Easy turkey potpie, Chicken pot pie recipe, Thanksgiving recipes, Leftover thanksgiving dinner potpie, Turkey pot pie homemade, turkey pot pie pioneer woman, turkey pot pie Pillsbury, turkey pot pie casserole, turkey pot pie from leftover thanksgiving turkey
Recipe Card powered by
Check out some of my other healthier holiday recipes:
And these healthy breakfasts will keep you drooling.
While you are still here, grab my FREE (5) spinach salad recipe bundle would be a great addition to your dinner table if you like salads or you are wanting to eat healthier. Get the recipes here.
THIS POST CONTAINS AFFILIATE LINKS, you are not charged more for using these links, but I make little coins when you do.
Finally, let's connect on social media, am on Facebook, Instagram, Twitter, and Pinterest. PINTEREST PIN! ⤵️
Stay well and safe.