Super Easy Homemade Guacamole Recipe.
Guacamole, as we all know (well, I assume you do), is simply mashed or smashed avocado with some other ingredients, mainly vegetables such as onions, tomatoes, cilantro, and some fresh lime. In recent times the eating of guacamole recipe has seen a rapid increase because many cultures have embraced this "healthy lifestyle." Besides just using it as "dips," many people, including myself, now use it in sandwiches, alongside using it to serve my baked ripe plantains, white rice, as well as adding it to my tacos, and salad bowls. Today I am excited to share my quick and easy homemade guacamole recipe with you!
Growing up in Nigeria, avocados were rampant. We had an avocado tree in our backyard, and though we ate loads of avocado, I never remember seeing my mother make guacamole. I only started seeing guacamole here in America, loved it the first time I tried it, and have continued to enjoy it. This homemade guacamole recipe is easy to make, vegan, low carb, gluten-free, and serves as a perfect healthy dip for your vegetables such as celery, and carrots, and equally for crackers. Click To Tweet

Homemade Guacamole Recipe – Ingredients.
Making homemade guacamole is so easy, and it takes less than 10 minutes to put together. And for the most part, here are the ingredients you will need; remember that you can always customize it to suit your desire.
Cilantro; many people argue that you cannot make guacamole without cilantro. Well, I have use parsley sometimes and it worked great.
Avocado; it is essential to realize that without avocado, there won't be guacamole. Choose fresh and ripe avocado for this recipe, from your local store or farmers market there is always plenty to go around. I have yet to see a scarcity of it. lol
Tomato; I personally do like to add some fresh crisp (not soggy) tomato into my guacamole. And honestly, I do not even feel it in there when I eat it. Do not fret over this, no-tomato guacamole does not taste any less better.
Onions and green onions; I normally use purple/red onions; am sure white or yellow would work just fine. Also, I like to add green onions or scallions. Remember this recipe is for you to personalize, so add the things you want. Make it your way.
Lime; in my opinion, lime is a must in guacamole making. First, lime gives this a much-needed acidic vibrancy. Secondly, lime provides some powerful anti-oxidants. Thirdly, and most importantly, lime prevents the guacamole from browning too quickly.

By all means, the avocado is one of the most significant fruits (vegetables in my mind). It is no longer news that we love avo here! We use every opportunity to savor it. I rarely order it when we go out to eat because I always feel that homemade is the best! My homemade guacamole recipe is fresh, I mean I make it so!!! In reality, guacamole is genius and definitely more than a dip.
Some Guacamole Combos:
Like mentioned earlier, I love serving guacamole with plenty of other things. My bake ripe Plantains with guacamole – Boli carries the cake. Yum. Actually, too yummy!

Now if you are ready to let's make the healthiest, and the heartiest guacamole recipe you will ever find out there. When you make this super healthy guacamole please share with the people you love.
Print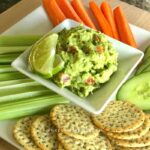 Quick and Easy Homemade Guacamole Recipe
---
Author:

Nkechi Ajaeroh

Total Time:

10 minutes

Yield:

4

-

6

servings

1

x

Diet:

Vegan
Description
Whether you are hosting your immediate family, and friends, or maybe you desire a healthy dip for your finger snacks, this homemade guacamole recipe comes in handy.
---
2

avocados

½

of big lime or

1

whole small lime

½

bulb of purple/red onions chopped

1

small – medium size tomato (remove seeds & inner membrane and chop)

2 tablespoons

of chopped green onions

2 tablespoons

of chopped cilantro (or parley)
Salt to taste
Pepper to taste (white or black pepper works, may also add spicy pepper for a spicy kick.)
---
Instructions
Cut open avocados, gently remove the seed and scope them out into a clean bowl. Add some pepper, sprinkle some salt and squeeze in the whole juice from that lime unto the avocado.
Then begin to mash, personally I do not want my guacamoles very smooth, so I would roughly mash with a fork to the consistency that I desire. It is now time to add the other ingredients: green onions, purple/red onions, tomatoes, cilantro or parsley, and a bit more salt (if it needs it). At this time you may also add some fresh habanero peppers or crushed red peppers for extra spiciness.
Taste for flavor and adjust seasoning accordingly. Serve with whatever you desire. If you are having guests, there is no limit to what you can serve with guacamole; try cucumber slices, sesame seed crackers (or any crackers), celery sticks, carrots to mention a few (just like I did). Also, roasted ripe plantains, steamed rice, grilled fish are equally fantastic with guacamole.
Notes
The lime-juice is crucial for guacamole; it helps it to stay and look green for a bit longer. Not only does lime has excellent health benefits, but it also prevents the guacamole from browning.
You would think tomatoes can cause the guacamole to be more watery, but I have always had a different experience. As long as you remove the tomato seed and inner membrane, you will be ok, and your guacamole will be excellent.
Prep Time:

10 minutes

Category:

appetizer/snacks

Method:

Mixing

Cuisine:

Mexican Inspired
Keywords: Avocado, Guacamole, mashed avocado, healthy dip, avocado dip, side dish, summertime recipe, guacamole recipe, low carb dip, gluten-free dip
Recipe Card powered by
Quick question: do you make guacamoles? How do you make yours? Please feel free to share below in the comment.
If you like this easy homemade guacamole recipe then, I am sure you will like:
Want some salads? Grab my FREE (5) spinach salad recipe bundle would be a great addition to your dinner table. Get the recipes here.
Meanwhile, let's connect on social media; well, your girl is everywhere! Instagram, Pinterest, Twitter, and Facebook. LOL, I did put starting on Pinterest and Instagram off forever, well I am there now, and I will love for us to connect! PLEASE SAVE/PIN THIS IMAGE ON PINTEREST. ⤵️

With love,