Vegan Almond Oat Cacao Cookie.
This healthy almond oat cacao cookie is a guilt-free breakfast cookie that deserves to be on your breakfast menu. My kids just like many kids want treats from time to time, so one of the major requests I get from them is usually, "mommy, I want some cookie." Most times, I will remind them that cookies are "sometimes' food." And other times I make this deliciously nutritious healthy vegan almond oat cacao cookie. It is perfectly ok to have these cacao cookies at breakfast.

The Healthiest Breakfast Cookies.
These healthy oatmeal almond breakfast cookies are no joke! My kids love them, and we the adults adore them! What's not to love, these wholesome cookies are guilt-free and delicious! They make a great snack, and they require few ingredients.
Usually, I would sweeten the dough of this cookie with two bananas, which adds to its deliciousness. This helps to make this a softer bake; as you know, oat has a firm texture. I have never tried applesauce, am sure it would work just fine.
Another significant thing I love to add to these cookies is the raw cacao, which is the more natural cocoa powder. This gives the cookies chocolatey color, and flavor. Aside from the color and taste of the cacao powder, it has numerous benefits such as: may reduce blood pressure, and lower the risk of a heart attack. Raw cacao can also improve brain function, among other things. Click To Tweet Cacao/cocoa makes you happy, hello, it's chocolate, actually, the better chocolate. It helps with mood improvement and can calm the senses. Please sign me up!
Relatively, nut butter is added to the mix alongside almond flour, which complements the oats. In fact, this whole cookie is packed with the things that would cheer you up, yet healthy. Say cheese. -) 

Vegan Cookies: To Bake or Eat Raw?
From my experience baking these helps the flavors to intensify. The baked aroma of oats, peanut butter, almond, cacao, coconut, banana are just insanely comforting! This is the before and after of the oven "process photo." Honestly, you may not see the difference, but you will surely taste the difference. 😋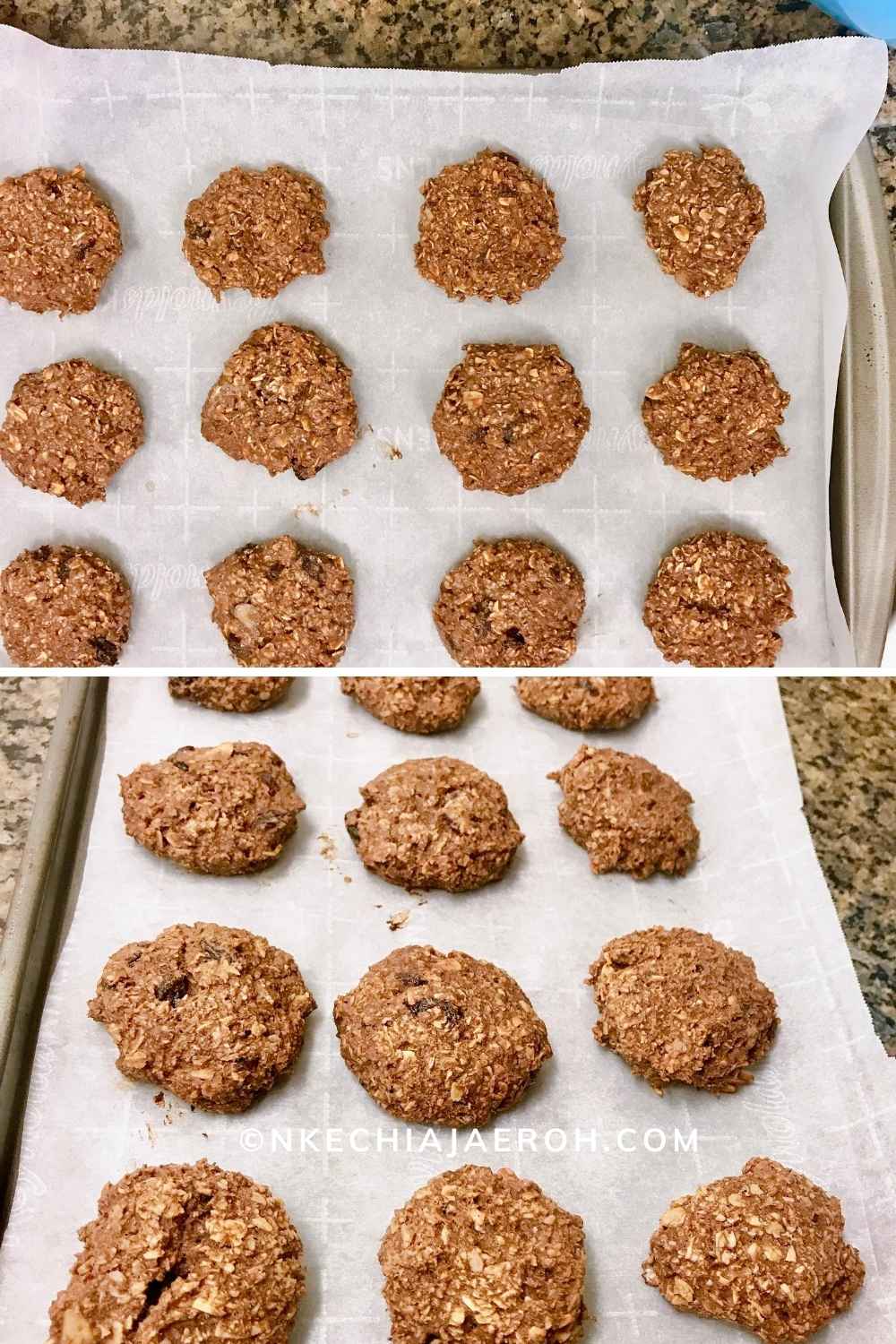 Almond Oat Cacao Cookie Deserves a Mate.
Typically I enjoy this soft bake by itself. But one of my wise kids would always desire milk, and the other kid would opt for orange juice. Now I ask, what would you rather?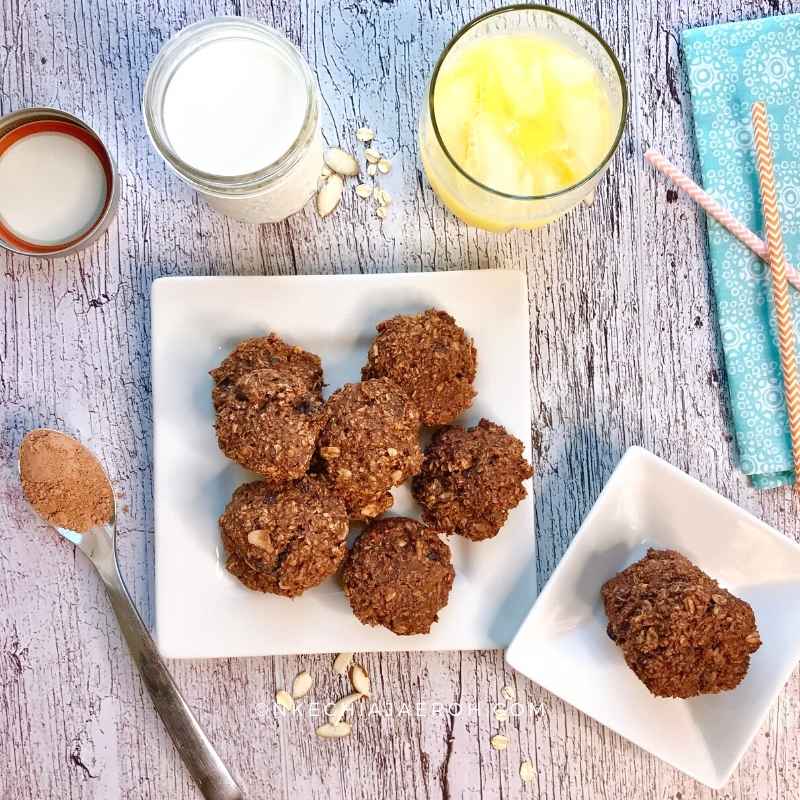 This Healthy Vegan almond oat cacao cookie is the perfect scrumptious breakfast cookie - low carb, refined sugar-free, gluten-free, paleo-friendly and vegan! The question is: how many of these can you eat at a go? -)
Click To Tweet
Please
SAVE/SHARE THIS IMAGE ON PINTEREST
under "Healthy Breakfast." ⤵️

Enough said, let's make this quick and easy healthy almond oat cacao cookie. Yipee! Are you making this today? Please let me know when you do!
Print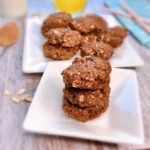 How To Make Healthy Almond Oat Cacao Cookie
---
Description
Whether you are looking for a healthy snack, dessert, or just breakfast bake, or better still breakfast cookies be sure to count on this healthy vegan almond oat cacao cookie. It will not disappoint. And remember, healthy eating should never be boring. These cookies are low carb, refined Sugar-free, gluten-free, Paleo-friendly and vegan, These are insanely delicious and satisfying! Did I mention  that they easy to make and the best banana – oat – peanut butter cookie combo!
---
2

overripe bananas

½ cup

of almond flour

2 cups

of old fashioned oats

2 tablespoons

of raw cacao

¼ cup

of nut butter (today I used peanut butter)
A dash of Salt (or 1/8 teaspoon)

2 tablespoons

of coconut sugar

1 tablespoon

of coconut oil

2 tablespoons

of sliced almonds

2 tablespoons

of raisins (optional)
---
Instructions
Preheat oven to 325, and line a baking sheet with parchment paper.
In a food processor, add the banana, cacao powder, stevia, coconut sugar, vanilla extract, pulse until almost smooth. Then add the nut butter, and coconut oil pulse a couple of times. Add the almond flour, pulse to mix, then add the oats, salt, and baking soda pulse to combine with the rest of the ingredients. If you are using sliced almonds, and raisins add them at this time; pulse a couple of times to combine. You may need to use spatula to adjust dough as you mix/pulse.
Use a tablespoon measure to scoop dough, flatten a bit with your hand and place on the already lined baking sheet. This is sticky dough; you may need to moisten your hands a bit for easy "molding." Repeat until this step until all the dough is molded and placed on cookie sheet. This recipe makes about 18 – 20 cookies.
Place on a 325 preheated oven; and bake for 17 – 21 minutes. Allow to cool, enjoy with a glass of milk or chilled orange juice or just by itself.
Notes
Though I used peanut butter for this recipe, any nut butter would work. I have used both peanut butter and almond butter. I rarely know the difference.
You can sub coconut sugar with 2 teaspoons or stevia or less.
Prep Time:

10 minutes

Cook Time:

20 minutes

Category:

Snack

Method:

Baking

Cuisine:

Universal
Keywords: Vegan cookies, breakfast cookies, oatmeal cookies, almond cookies, banana peanut butter cookies, breakfast bake, healthy breakfast cookies, healthy vegan cookies, cacao cookies
Recipe Card powered by
Am sure you can't wait to make this recipe. 🙂
If you like this healthy vegan cookie recipe, then be sure to check some of these other recipes:
Also, grab my FREE (5) spinach salad recipe bundle would be a great addition to your dinner table. Get the recipes here.
Meanwhile, let's connect on all social media, Instagram, Facebook, Twitter, and Pinterest! YAY!!! Finally, do not forget to share this post with the people you love, and thanks in anticipation. SAVE/SHARE THIS IMAGE ON PINTEREST under "Healthy Snacking Foods." ⤵️

With love,