Donuts are Delicious.
And healthy donuts are even more delicious because not only are they tasty, they are filled with real ingredients that are great for the body. Come on in, cos am about to spill the tea on these delightfully delicious baked beets donuts.👌🏾
My family, just like most families, love good old donuts, and in as much as I desire to make it for them, I also detest making it because of the amount of flour, refined sugar, and frying that regular donuts demands. So, I, therefore, decided to make donuts using my favorite thing in the world – BEETS!
These baked beets donuts are easy to make, do not require yeast, so they are incredibly time-saving. And instead of frying them in the quantum of oil, we bake them up in the oven.
Click To Tweet
Obviously, the main ingredients in this recipe are beets.
Did I mention that the benefits of beets will blow your mind?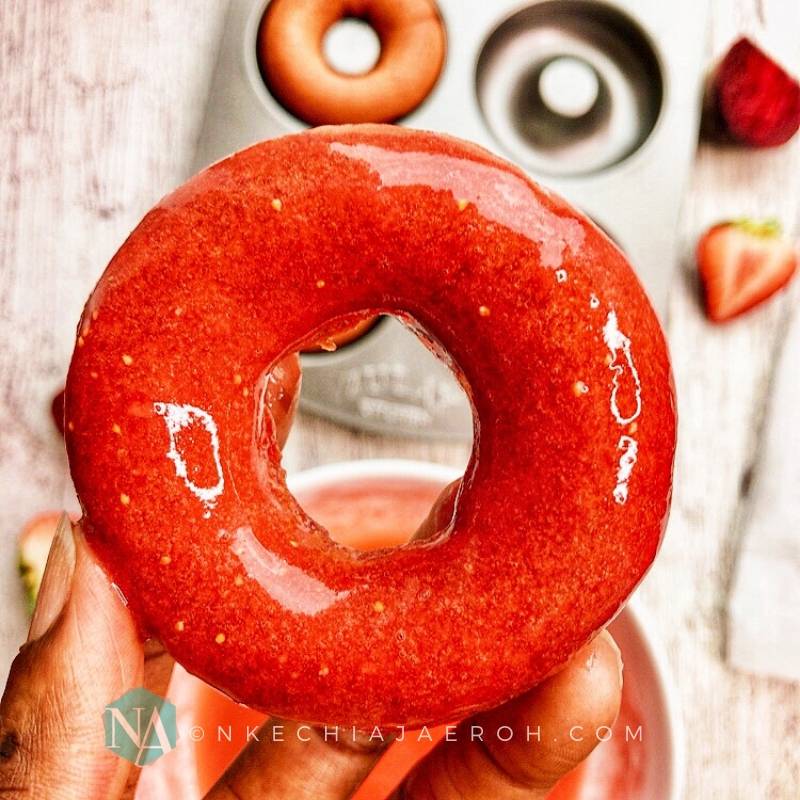 Benefits of Beets:
First of all, beet is a powerhouse when it comes to nutrients and its benefits to the entire body. Let's check out some of its benefits below:
Beets are excellent antioxidants that can reduce high blood pressure; as you know, high blood pressure is a leading risk factor for most cardiovascular diseases such as heart attack and stroke.
The superfood beets, also referred to as beetroots, are generally known to improve physical performance because of one it's a high content of nitrates.
Additionally, beets may reduce inflammation.
They contain high-quality fiber that aids in fantastic digestive health.
This vegetable may be able to support brain health because of the nitrates content.
If you are thinking of losing weight, become buddies with beets. They can support weight loss because they are low in calories, yet with the right amount of protein and fiber.
The pigmentation in beets is excellent support for detoxification. Also, its antioxidant and anti-inflammatory components give the powerful vegetable an ability to reduce the risk of certain cancers.
Lutein is a valuable carotenoid that abound in carrots (and are fantastic for eye health) is found in some beets, especially yellow beets.
It's no brainer to use beets to make donuts considering all of its benefits listed above. By all means, make these baked beets donuts your go-to donut recipe!
Moreover, share it with your family and friends.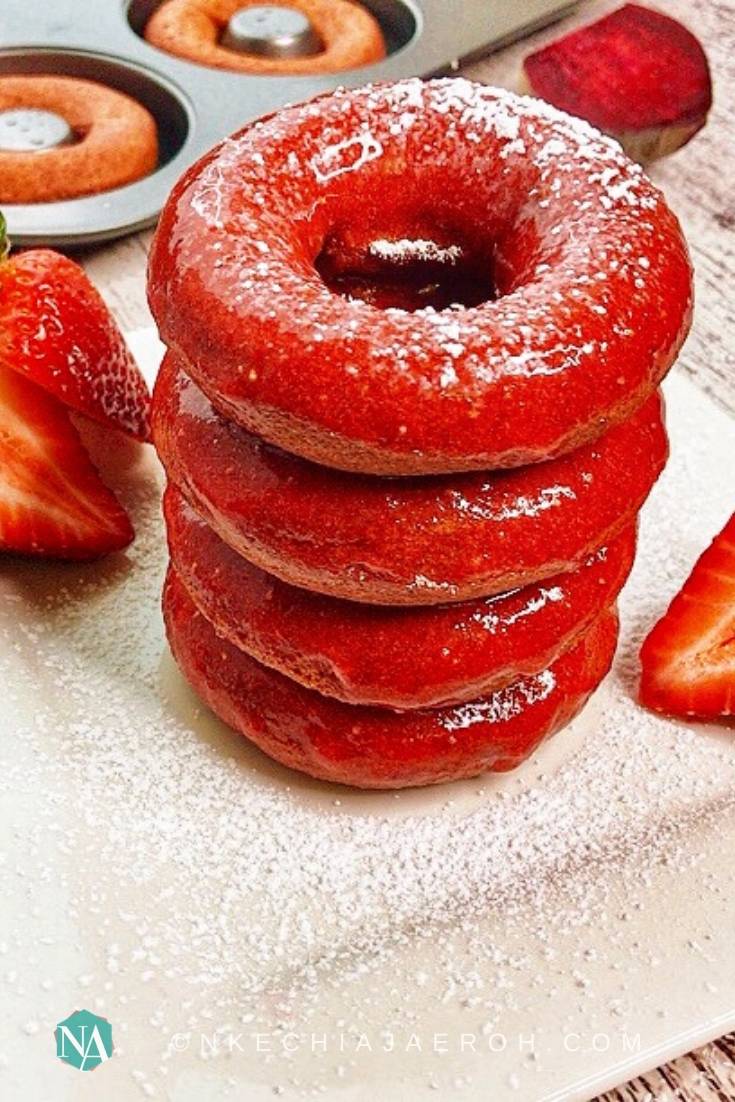 Making Healthy Baked beets donuts:
Like I mentioned earlier, this recipe does not call for yeast, and this means that a prolonged period of waiting is automatically averted. You and I know that yeast needs time, and time is everything. With loads of things going on in life, the last thing you want is waste unnecessary time begging flour to rise. 😏
Additionally, in other to make these donuts healthier, I swap regular flour with whole wheat flour. How awesome is that? 😁
First of all, grease the donut pans.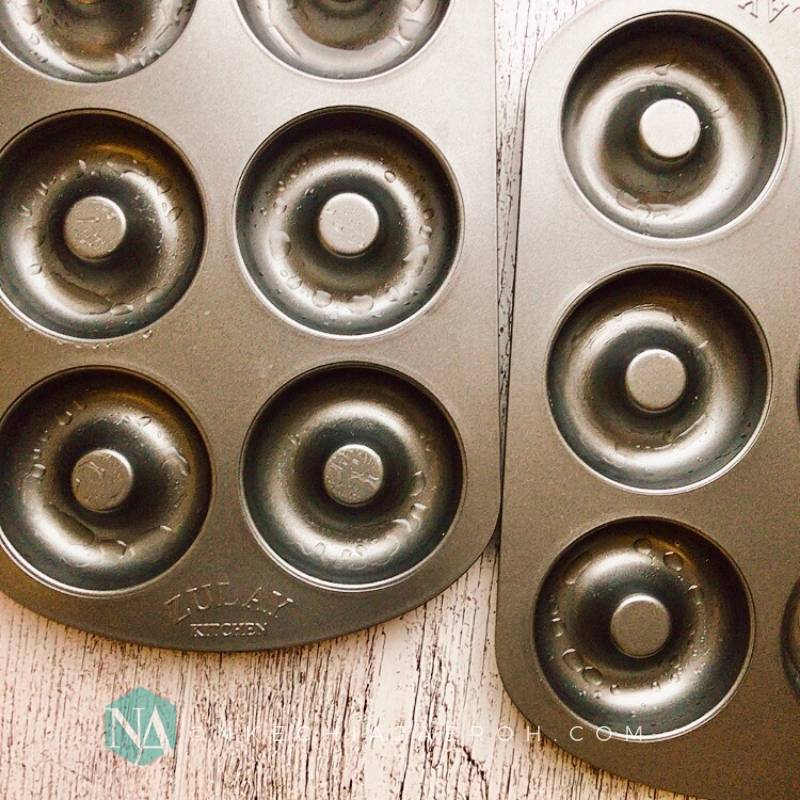 Boil and peel the beets.
Blend all wet ingredients.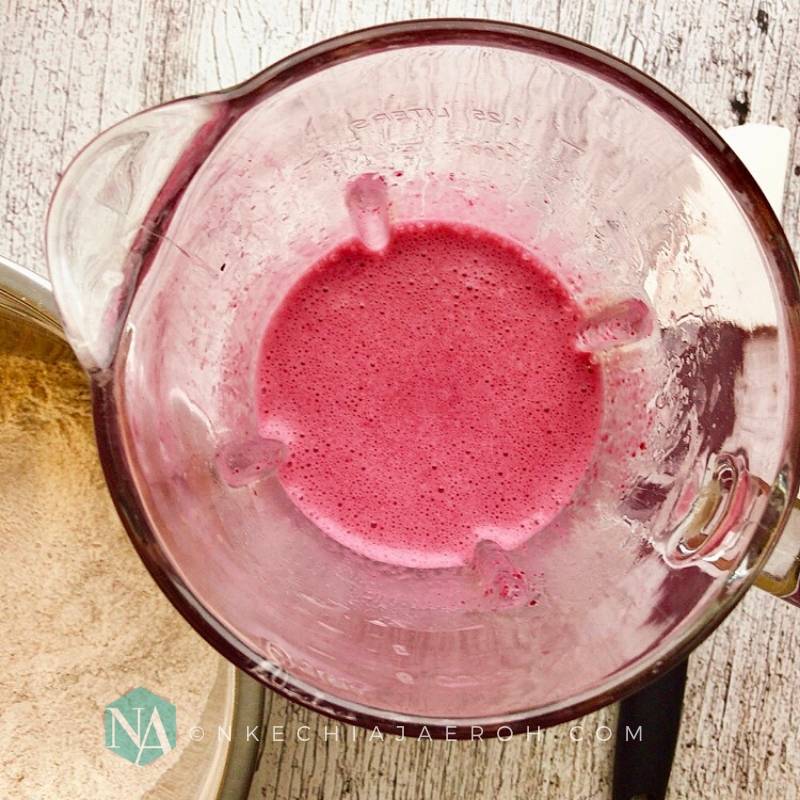 Mix the wet and the dry ingredients.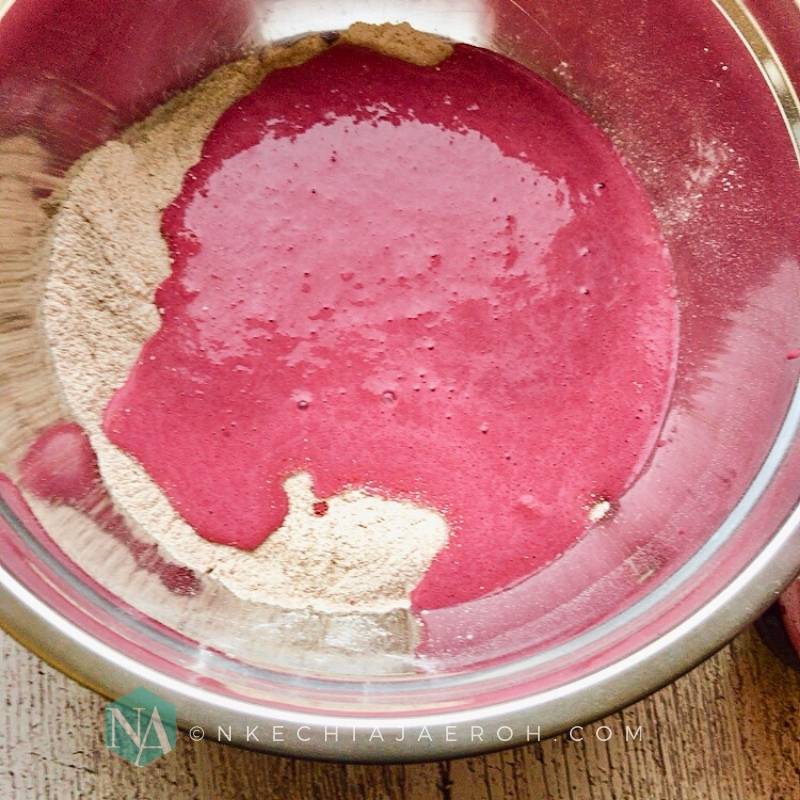 Add mixture to the greased pans.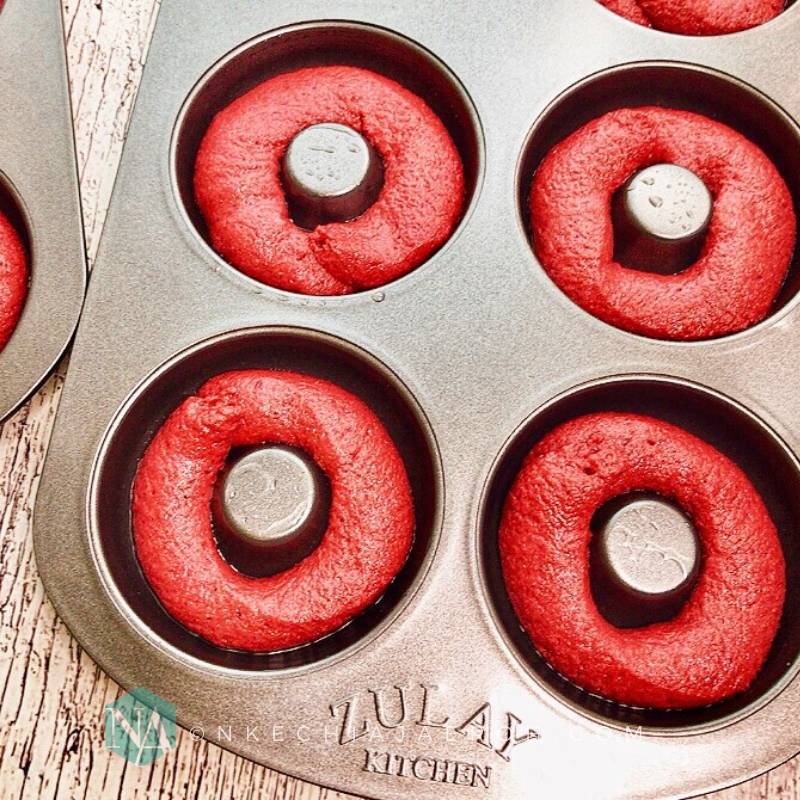 Fresh Strawberries and powdered sugar for glazing. There are great alternatives to "regular" powdered sugar.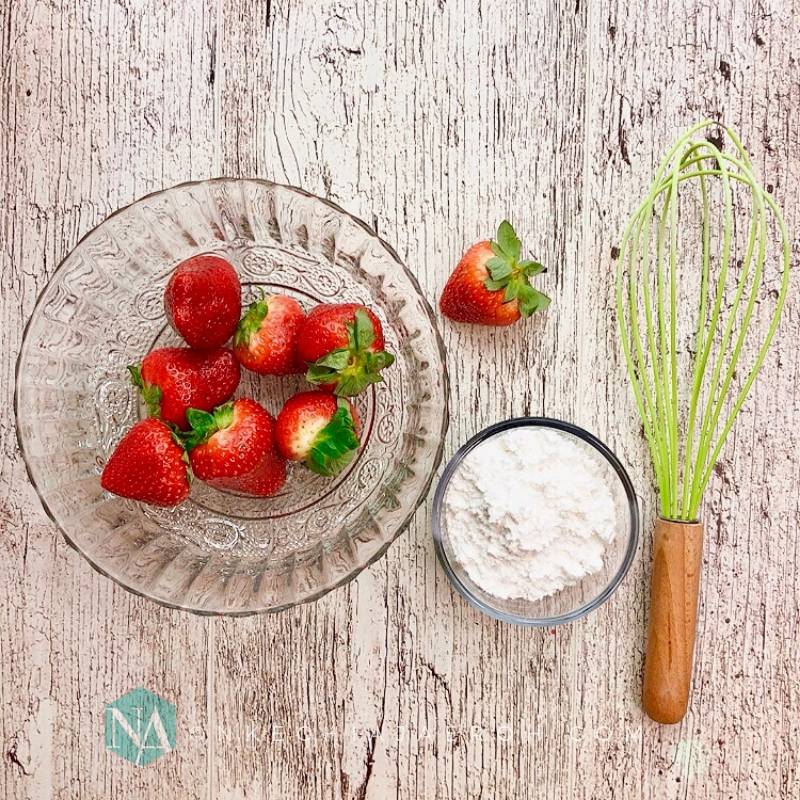 Blend the fresh strawberries.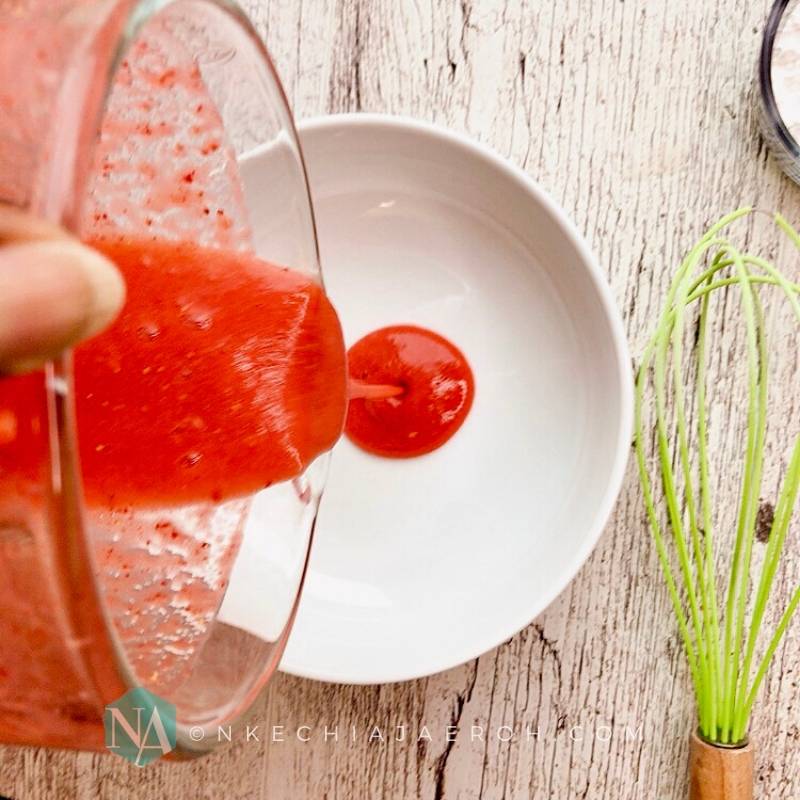 Add the sugar (or alternative), and whisk.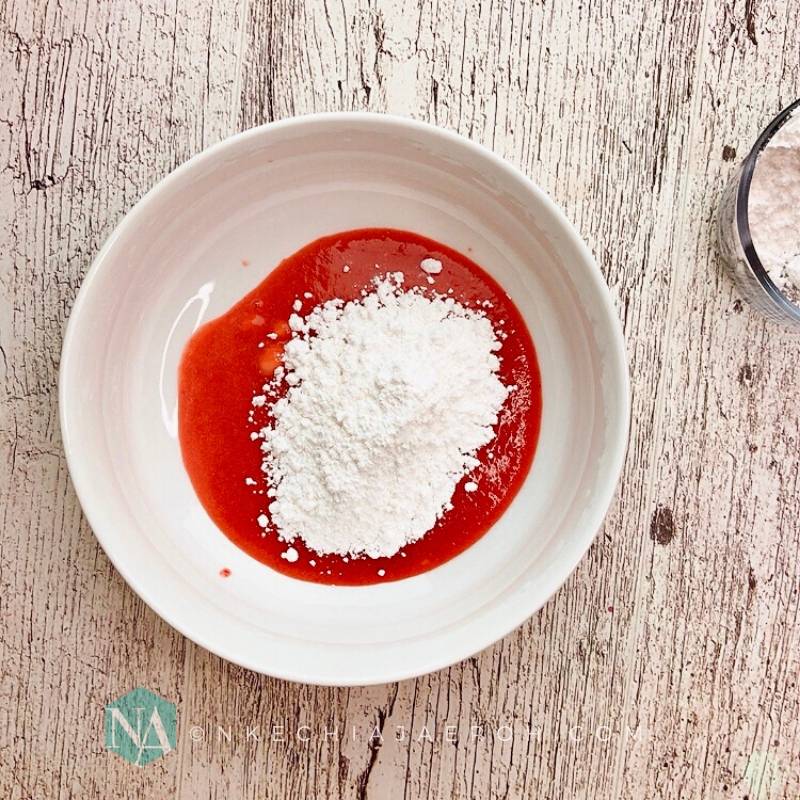 Facedown donuts to glaze.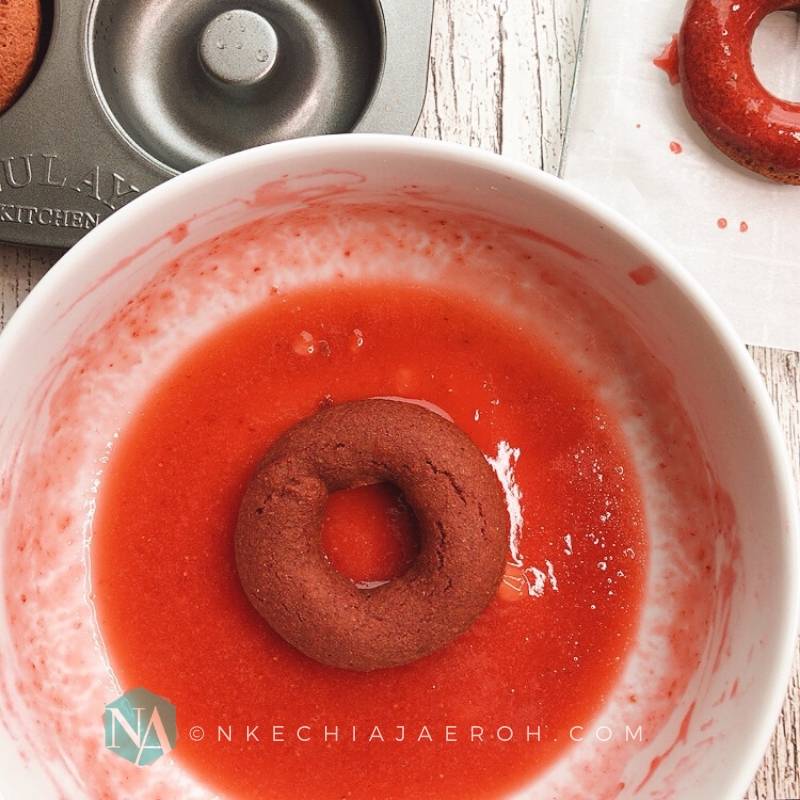 Here they go: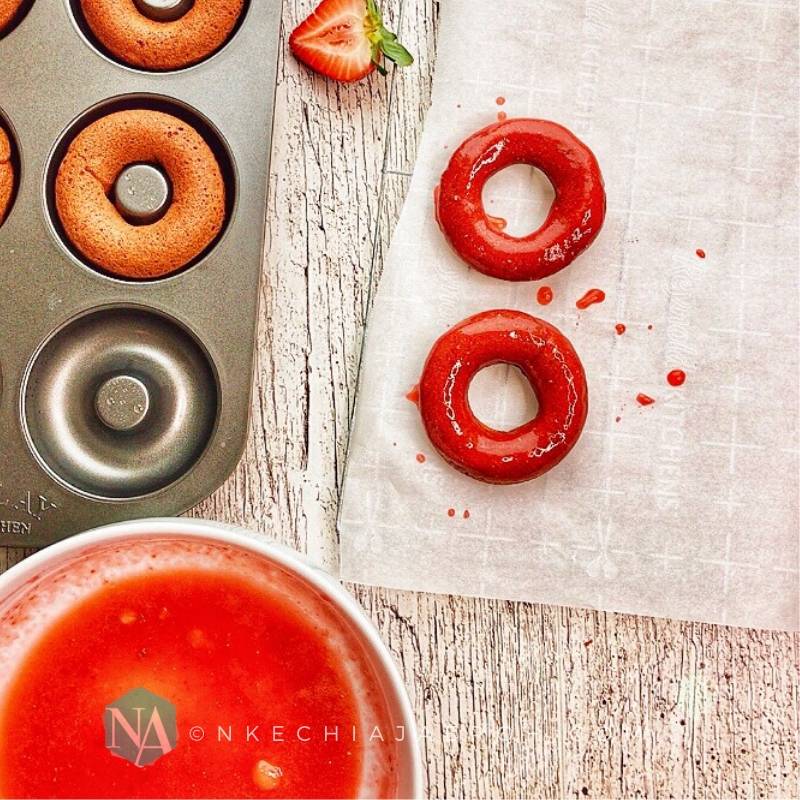 So, a few weeks ago, I received a gift of non-stick donut pans from Zulay Kitchen (thank you Zulay!), which I used to make this yummy goodness.  Remember that you will need donut pans if you desire to make these healthy baked beets donuts just like I did.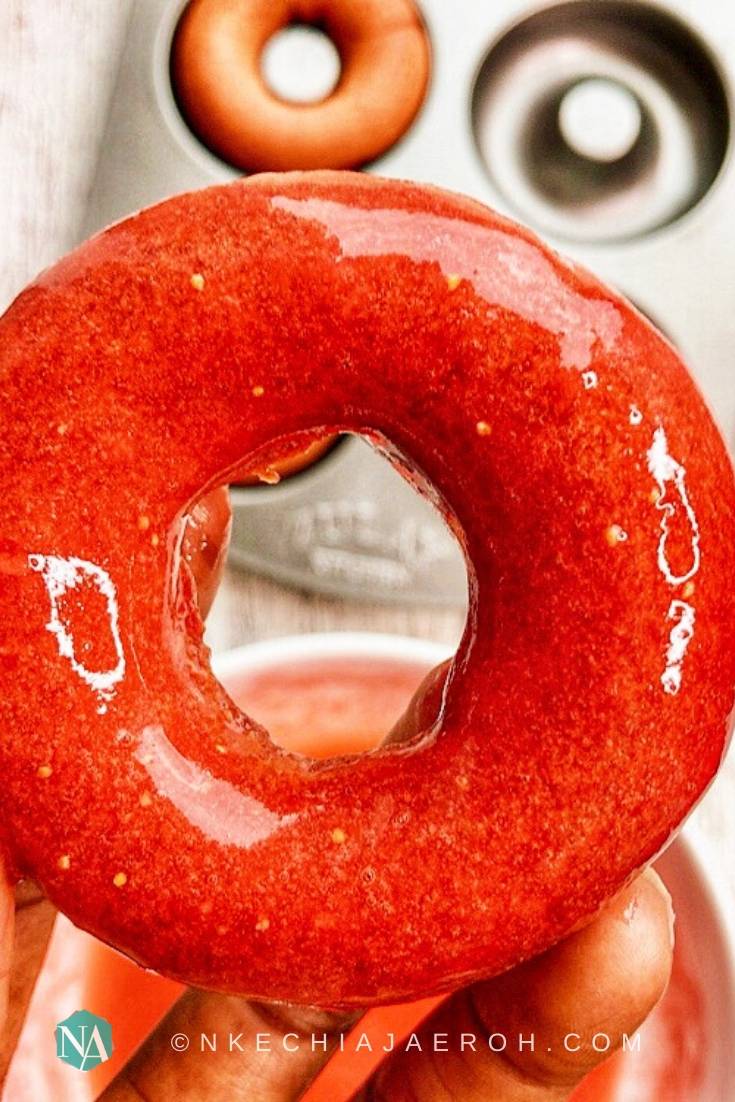 And now, if you are ready, let's bake up the world's best donuts! YUMMY!
Save to BigOven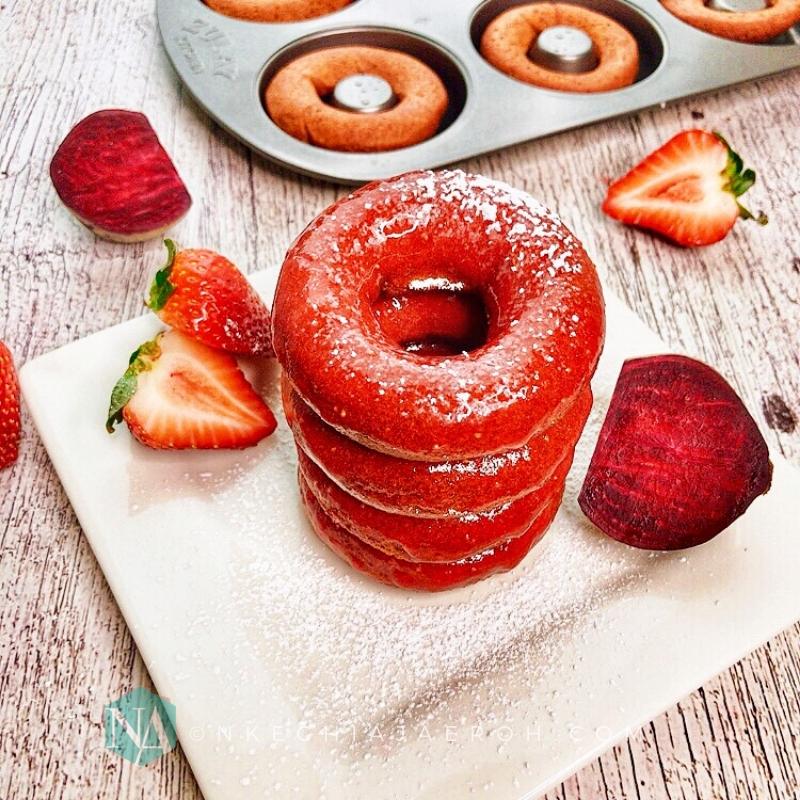 Ingredients
1 medium-size beet/beetroot (boil, and peel the skin)
1 cup whole wheat flour
½ cup almond flour
¼ cup of coconut sugar
1 - 2 tablespoons original maple syrup (I used 2)
1 egg (optional; you can make this without egg, I have made it without egg, and it was ok.)
2½ teaspoons of baking powder
¼ teaspoon salt
1 cup soymilk or any other plant-based milk
½ teaspoon vanilla extract
For the strawberry glaze:

1 cup chopped strawberries (This would make about ½ cup puree)
½ cup powdered sugar (you can make yours or use a low carb substitute.)
Instructions
Preheat oven to 350, and grease donut pans, then set aside.
Boil beet, cook till soft; use a fork to check its tenderness.
Add all the dry ingredients (whole wheat & almond flour, sugar, baking powder, and salt) in a bowl, mix well with a spatula.
Add the cooked beets, soymilk, egg, vanilla in a blender. Blend until smooth.
Pour the wet ingredients into the dry ingredients, use a spatula to combine.
Pour this dough into a piping bag, and pipe into the pans or just use a tablespoon to gently scoop it the greased pans.
Baked for 12 – 15 minutes (or until a toothpick inserted is clear)
For the Strawberry Glaze

Blend the strawberries. And add the powdered sugar and whisk well together.
To glaze the donuts, take a donut and face it down on the glaze, remove, and then place on a parchment paper-lined cooling rack. Feel free to double dip, enjoy with friends and family! Repeat this until you glaze all the donuts.
Notes
Make this recipe vegan by not adding an egg, I have made this recipe without an egg, and it worked, however, I think egg makes it lighter and fluffier, which I love LOVE!
This recipe makes 16 small donuts; I used Zulay Kitchen Donut pans.
You can sure eat these donuts as they are; however, feel free to glaze it for extra deliciousness.
Remember to always add sugar & salt according to your taste.
https://nkechiajaeroh.com/kechis-kitchen/healthy-recipes/healthy-baked-beets-donuts-with-strawberry-glaze/
© NkechiAjaeroh.com All Right Reserved.
Also, check out my truly tremendous beets smoothie. It's a definition of YUM! Want to eat more salad? YIPPEE! Grab is my FREE (5) salad recipe bundle, easy to make salad recipes to help your healthy lifestyle journey. Get the recipes here.
Meanwhile, in October 2019, I started on Instagram (finally)! LOL, I did put that off forever, well I am there now, and I will love for us to connect there!
If your friends and family are like mine, then I know they would appreciate some healthy treats, so please feel free to share this recipe with them. Thanks in advance for sharing this post!
With love,