African hibiscus tea is calling.
Zobo drink is a popular Nigerian drink that is also very well-known in other African countries. Though we fondly call this drink, Zobo, the full name native is zoborodo.  In Ghana, Gambia, and Senegal, it is known as sobolo or bissap juice. In the Caribbean, many refer to it as a sorrel drink, and others generally call it hibiscus drink or hibiscus tea. Zobo drink is typically made by boiling dry Zobo leaves or hibiscus petals. This drink has a unique flavor, and it is not naturally sweet, so you have to sweeten it. This is why a lot of people sweeten it with sugar; I have in the past seen some Zobo recipes that call for up to 3 – 5 cups of sugar! Alarming you may say, anyways, the diversity in recipe follows closely with the variety of the people that drink it; in other words, the hibiscus tea recipe differs from coast to coast amongst people who enjoy it.
Growing up in Nigeria, then, whenever we make Zobo, we would also add some "artificial flavors" to it. Zobo drink is fantastic for the body; there is no need to make this healthy food unhealthy by adding refined sugars, sweeteners, and other "flavors." Lol, my mother would always joke that Nigerians love their zobo drink just as they love their rice! Somethings never change!
My goal today is to share with you an extraordinary Zobo recipe that is sugar-free, artificial flavor-free, and full of all the things your body needs.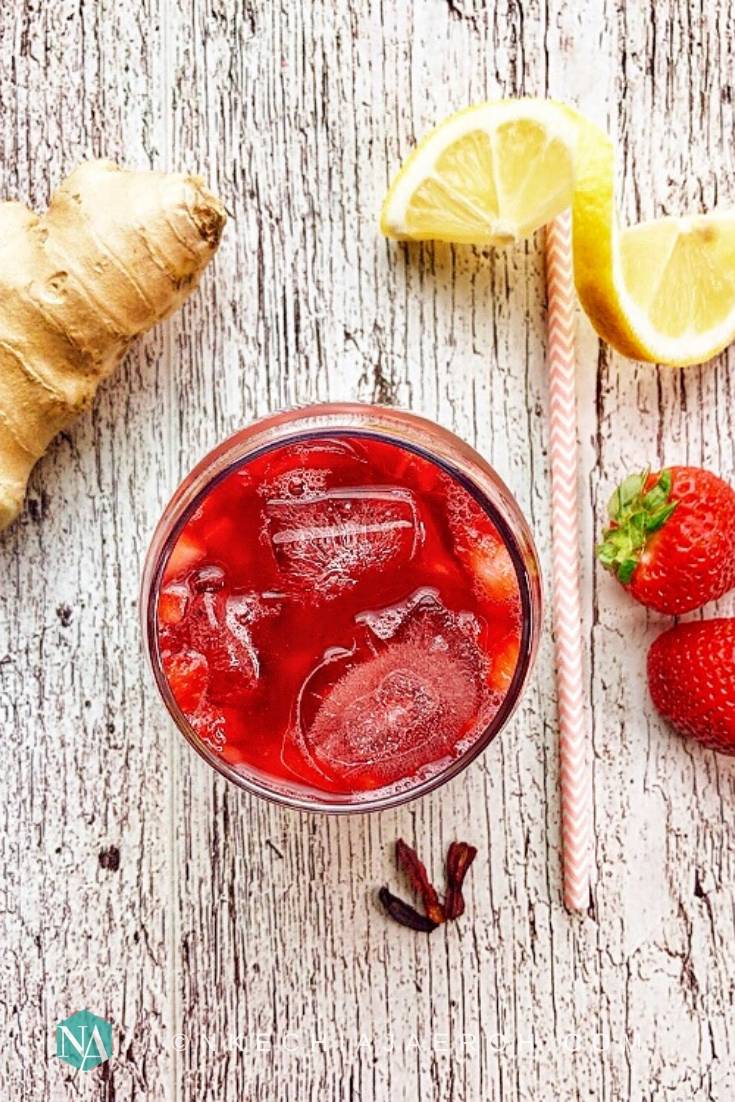 Want to make this simple drink classic? Add fresh fruits for refreshing flavors.
Intensify the flavor of the strawberry or any fruit by cutting them real tiny. Then pour your healthy drink on top.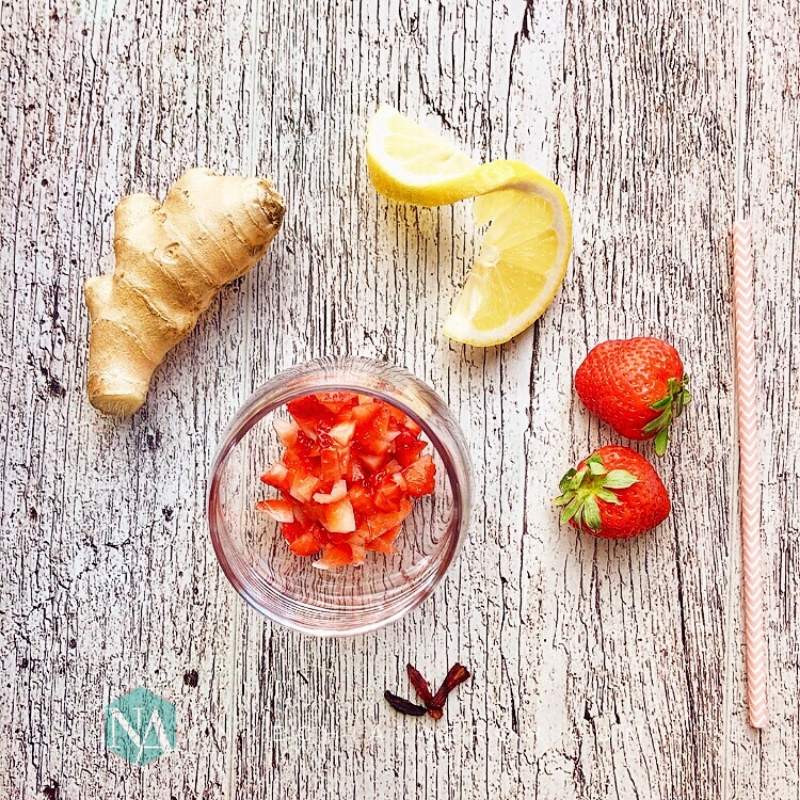 Benefits of Zobo drink (African Hibiscus Tea)
First of all, let's go ahead and check out the benefits of this heart-healthy goodness.
It can help you reduce blood pressure: Managing blood pressure is a pain in the neck with various medications that have harmful side-effects. I am NOT saying that you quit your prescription, but you can also incorporate essential nutrition that helps your situation.
Hibiscus tea is excellent for managing blood sugar. This helps you control blood sugar with ease.
Due to the soothing effect of the hibiscus plant, this drink is linked to effectively reducing menstrual cramps. Feel free to enjoy it, especially during that time of the month.
According to research, hibiscus can lift a bad mood, as well as help with depressive symptoms.
How wonderful would it be also to nourish your body while at the same time trying to lose weight? This can support weight loss, and heart health, all at the same time. For those mornings, you do not feel like eating a significant breakfast, sip on a 16 oz. Jar of sorrel drink!
Similarly, hibiscus leaves are liver-friendly. If you know that your liver needs improvement, then do not hesitate to other these leaves from amazon, and make it!
In general, hibiscus leaves have tons of nutritional value and will do your body right. As always, I encourage you to eat more of the food that will heal, and prolong your life.
Click To Tweet
This post is not enough to teach all the great things that hibiscus leave can do,
read more here.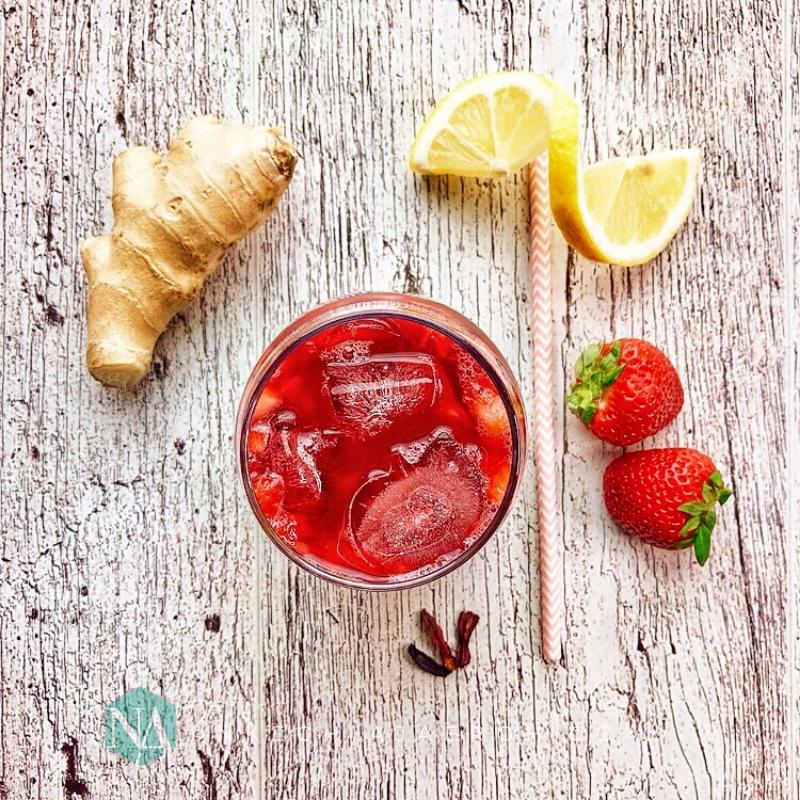 Making African Hibiscus tea sugar-free.
Raise your hands if you have had a Zobo drink before? Well, if your hand is up, then you are in for a ride. You are about to learn some tricks to improve your health; it's called – sugar-free Zobo!
Dry Zobo leaves aka African hibiscus tea leaves, or sorrel leaves.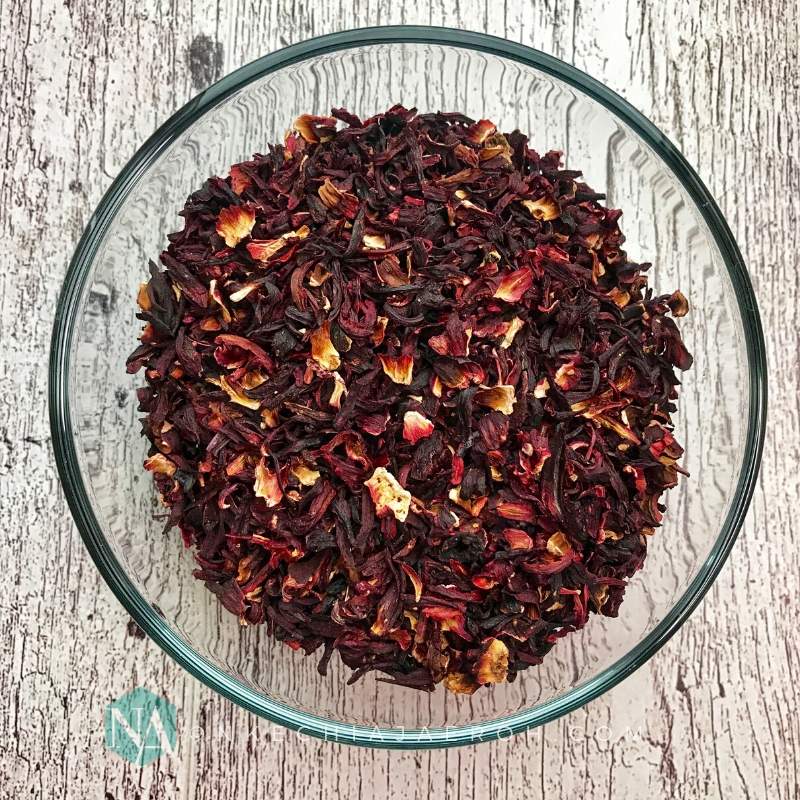 Here are goes the ingredients.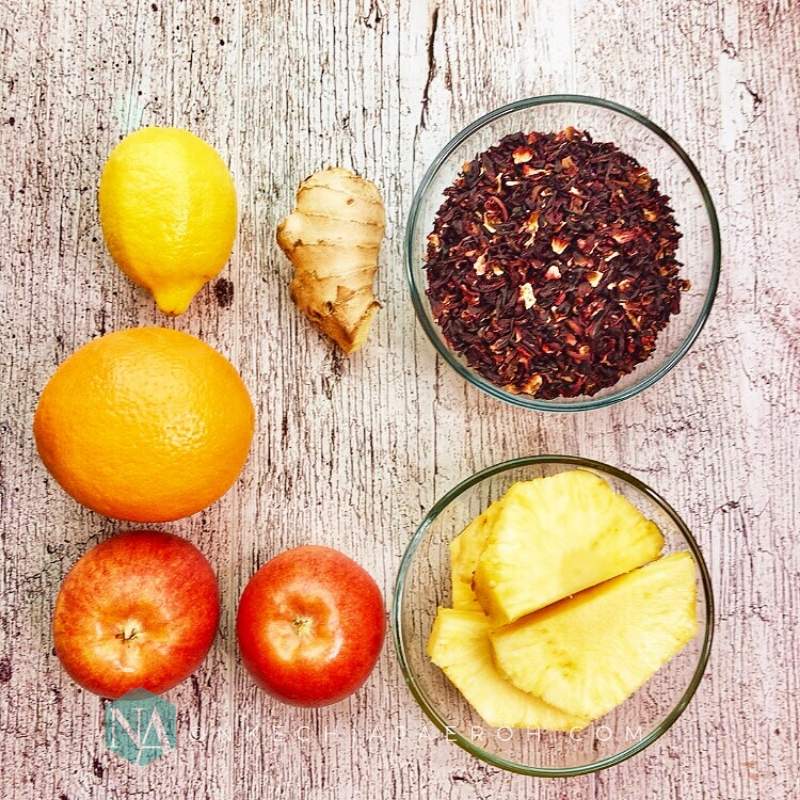 For naturally sweetening the Zobo, I have found a combination of pineapple, apples, and orange to work. You can also use honey, or, original maple syrup.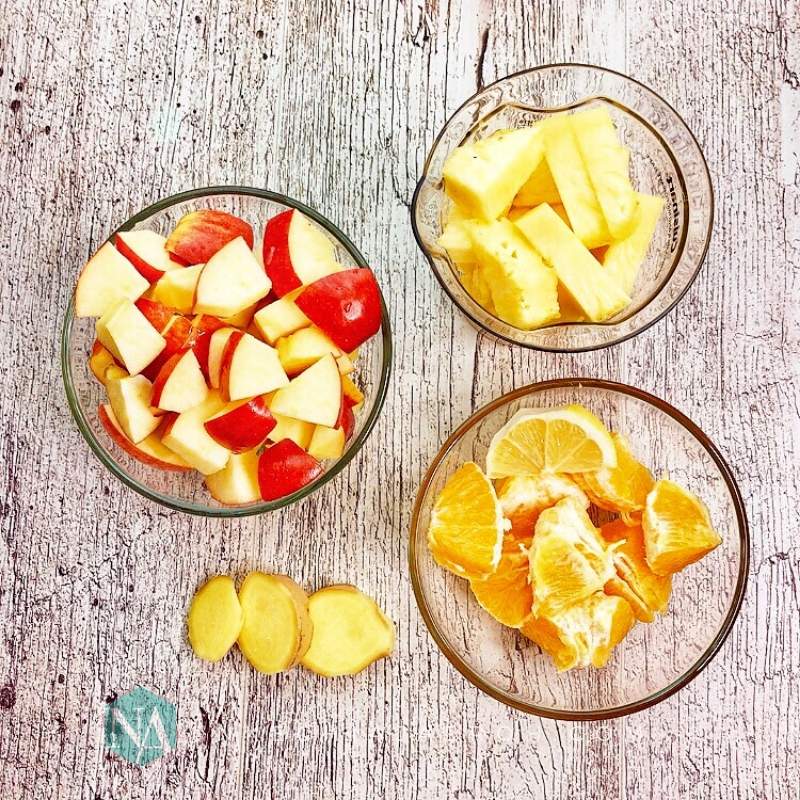 Ensure to have a big deep bowl to capture the juice while you strain it.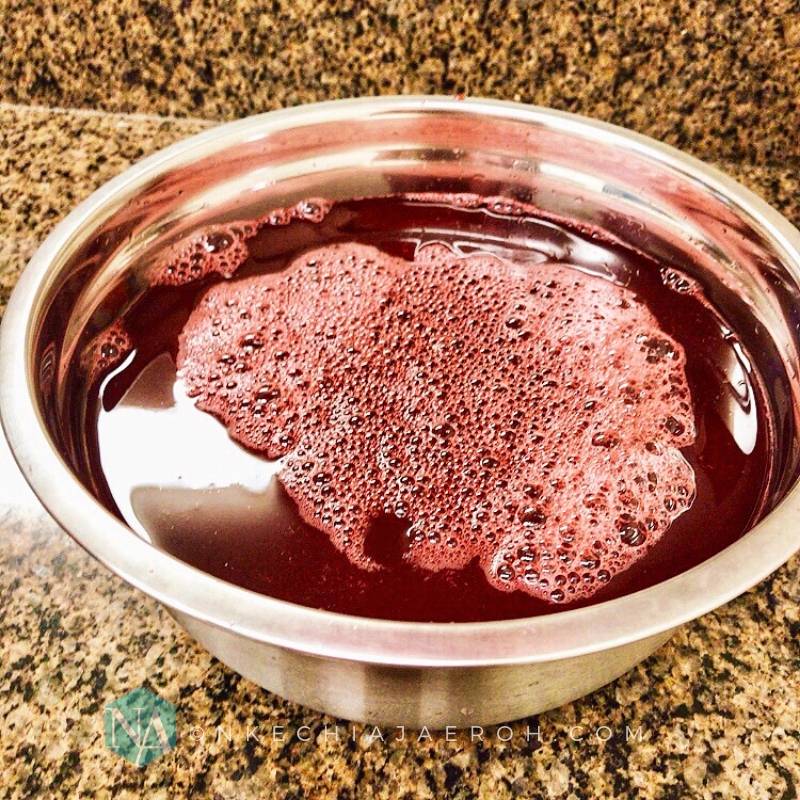 Just the color alone is everything!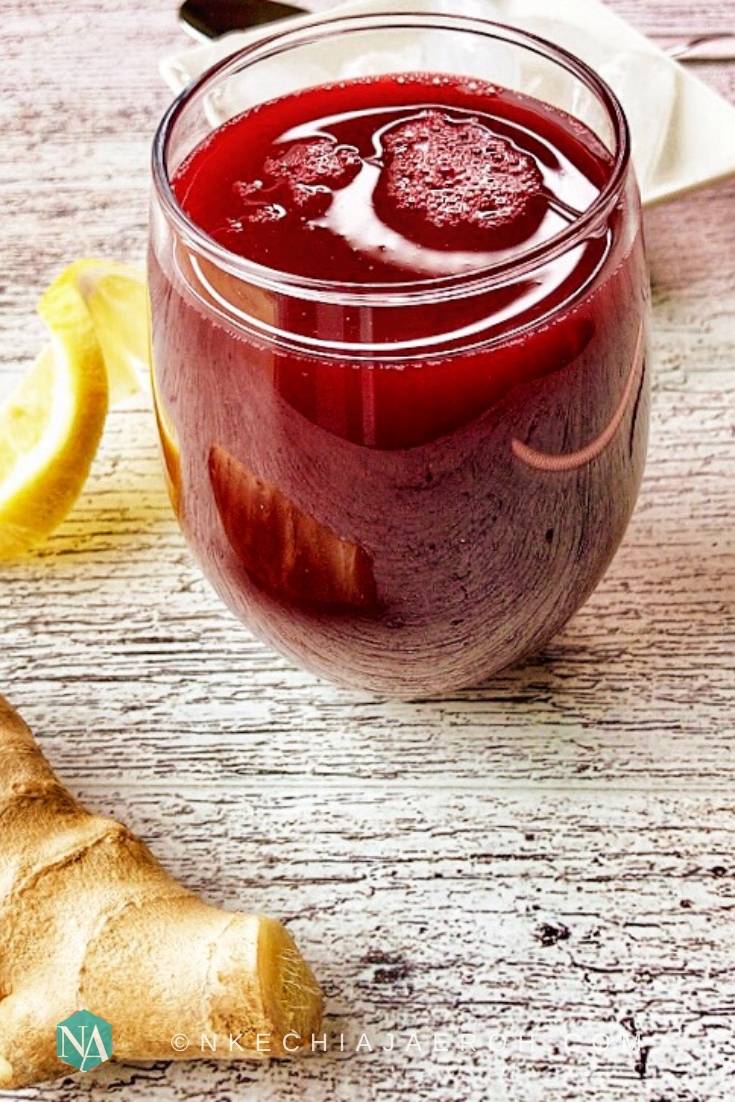 Let's go ahead and make this deliciousness!
Save to BigOven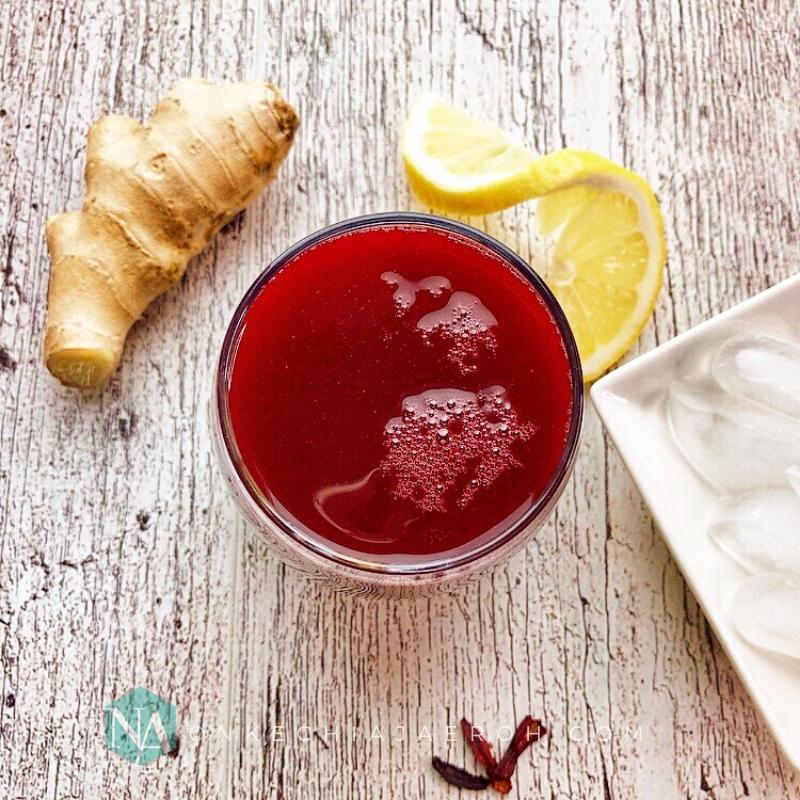 This sugar-free Zobo drink or African hibiscus tea would be great nourishment to your body, with powerful antioxidants and nutrients; this drink is a must-try. Whether you know it as sobolo, bissap juice, sorrel, or hibiscus drink, they all mean the same thing, and you are in for a treat!
Ingredients
2 cups of dry Zobo leaves (hibiscus or sorrel leaves)
8 cups of water
2 cups of pineapples (plus 1 or 2 more slices to add into the pot; you may use pineapple peels and that works perfectly well.)
3 – 4 tablespoons of fresh ginger or more (I like adding a good amount of ginger; add, you are free to reduce this amount to suit you)
¼ of a whole lemon
1 whole orange
1 teaspoon zest of lemon
2 fresh apples
1 tablespoon of organic stevia (optional)
1 teaspoon salt (for washing/rinsing the leaves before cooking)
Instructions
Add Zobo leaves to a big bowl, add some salt, and a good amount of water, and then rinse and pour it through the colander.
Add the rinsed leaves to a big deep pot, zest in some lemon back, add half of the ginger, one or two slices of pineapple, or the pineapple peels. Finally, add water to the pot.
Set on medium-high stove, and cook for 15 – minutes. Then turn off the stove.
While the leaves are cooking, make the "sweeteners."
In a clean blender, add the pineapples, and the remaining ginger plus ½ cup of water, and blend until smooth. Pour into a bowl or the same bowl it was previously before blending.
Then add the apples in the blender, remember to cut apples before adding to the blender. Peel the orange and add it to the blender as well. Add 1 cup of water, and blend until smooth, then pour into a bowl.
Place the (rested) pot of cooked Zobo drink on clean working are area and gently stir in the pineapple blend. Then lastly, pour in the apple blend as well. Stir with a wooden spoon to combine.
Then place a colander/sieve over a big bowl, and pour in the drink. Remember that because you have added the pineapple and apple blend, the liquid would be a bit thick. Use a wooden spoon to press and squeeze out all the juice.
Do not throw away the leaves after the first squeeze, add 1 cup of water, and while wearing gloves, use your hands to press and squeeze out every last of the juice.
Then place a close mesh sieve over another big deep bowl, and pour this drink over to further filter for a clearer drink. Wash the strainer without soap dry with a paper towel, and repeat the process all over again. I usually repeat this process up to 4 times to remove even the littlest particles from the pineapple or apple blends. Honestly, the number of times you may decide to filter it depends on your personal preference.
Taste, and add one tablespoon of stevia (if needed). If you still want it a little sweeter, you can add more stevia or any other healthy sweetener. My family and I love it this way. Add some ice cubes and fruits for a more refreshing taste, and enjoy.
Notes
I usually use two kinds of sieves; regular sieve, and close mesh sieve.
Rinsing the Zobo leaves before boiling is an important step that should not be skipped because these leaves are petals, and generally attract dust because they grow outdoors.
You have to add some liquid to the blender when blending the fruits.
The leaves can always make more drinks depending on the consistency you desire.
As soon as the leaves finish cooking, allow rest for at least 5 minutes before handling.
This recipe made about 14 cups of delicious Zobo drink.
If you are not able to make this drink, you can start with hibiscus tea (which is abundant in many stores such a Walmart; whether or not you are a tea drinker, hibiscus tea is worth checking out. 
https://nkechiajaeroh.com/kechis-kitchen/healthy-recipes/sugar-free-sorrel-bissap-sobolo-zobo-drink-recipe/
© NkechiAjaeroh.com All Right Reserved.
I am sure you will enjoy my minty carrots/watermelon drink as well. And if you are looking to eat more salads, then my FREE (5) salad recipe bundle, which are super easy to make, can help. Get the recipes here.
Meanwhile, in October 2019, I started on Instagram (finally)! LOL, I did put that off forever, well I am there now, and I will love for us to connect!
If your friends and family are like mine, then I know they would appreciate some healthy treats, so please feel free to share this recipe with them. Thanks in advance for sharing this post!
With love,