Description
This easy-to-make sugar-free homemade lemonade recipe with fresh lemons and sugarfree sweetener is the most refreshing, cooling, and non-alcoholic drink you ever want! It only requires three ingredients – fresh lemons, water, and monk fruit sweetener and you are off to a refreshing cup of goodness that will keep you nourished. This homemade lemonade is the perfect mocktail for every occasion, especially in summer. And summer heat will have nothing on you, and neither will you worry about the calories. 
---
6

whole Fresh Lemons

1 cup

Monk fruit sweetener 

4 cups

of Water (use

one cup

to make simple syrup and add the other

three cups

of water to the pitcher during mixing in step 3) 
Mint (for garnishing)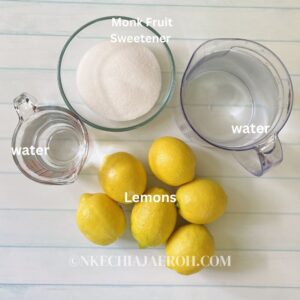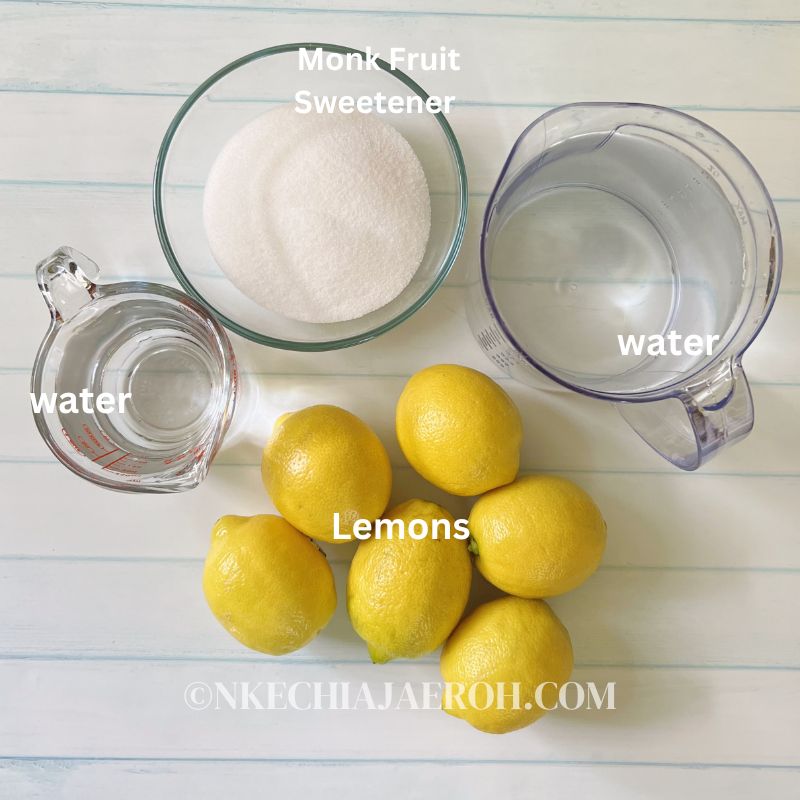 ---
Instructions
Make the simple syrup.

 To make the simple syrup, place the monk fruit sweetener in a pan, add a cup of water, stir, and place on the stove to simmer until it completely dissolves and becomes syrup. This may take about 10 – 12 minutes. Then set aside to cool until time to use.  

Squeeze the lemons.

 First, wash all the lemons, and halve them. Then place a halved lemon on the lemon juicer/squeezer and squeeze out all the juice. Granted, various types of lemon juicers/squeezers are in the market. Depending on the type you have, follow the manufacturer's instructions and juice your lemons. This recipe requires about one cup of freshly juiced lemons juice.   

Mix everything in the Pitcher.

 Add the freshly squeezed lemon juice, simple syrup, and cool water into the pitcher and stir well to combine. Set aside until when ready to serve.   

Serve and Enjoy.

 To serve this sugar free lemonade, add ice to your cup, and then pour some lemonade.   
Notes
Use fresh lemons; you better believe that the lemonade you make with fresh lemons tastes way better than the ones made with store-bought lemon juice or "lemonade powder."
Only add ice when you are ready to drink. Though ice makes our lemonade refreshing, it surely dilutes it. So be sure to only add ice when ready to enjoy it. At the time, never add ice to that leftover lemonade that you intend to store in the refrigerator. 
Add sweetener to suit you. In other words, sweeten to your taste.
Use any sweetener of choice; I substituted sugar with monk fruit sweetener.
Prep Time:

10 minutes

Category:

Drinks

Method:

Citrus Juicer
Keywords: Lemons, Lemonade, Citrus, healthy lemonade, Sugar free, Healthy drink, Easy Recipe, Sugar-free drink