The Citrus Power.
Citrus is nature's own powerful immune booster, so this immune-boosting citrus smoothie is right on point in the face of coronavirus pandemic. One of the most prominent powers of citrus is very evident in its high content of vitamin C. And, Vitamin C is essential for the prevention of infections and reinfection. Your immune system can benefit from the consumption of vitamin C now and always. That's not all; researches linked the use of oranges with a reduction in the risk of colon cancer – excellent!
One of my most memorable memories growing up (in Nigeria), was our orange trees. We had up to ten orange trees in our compound in the village, and we ate a whole lot of oranges every single day, especially when it was in season.
Click To Tweet
I also remember the chewable vitamin C that's tastes like orange and how it was also a thing. My mama will give it to me from time to time.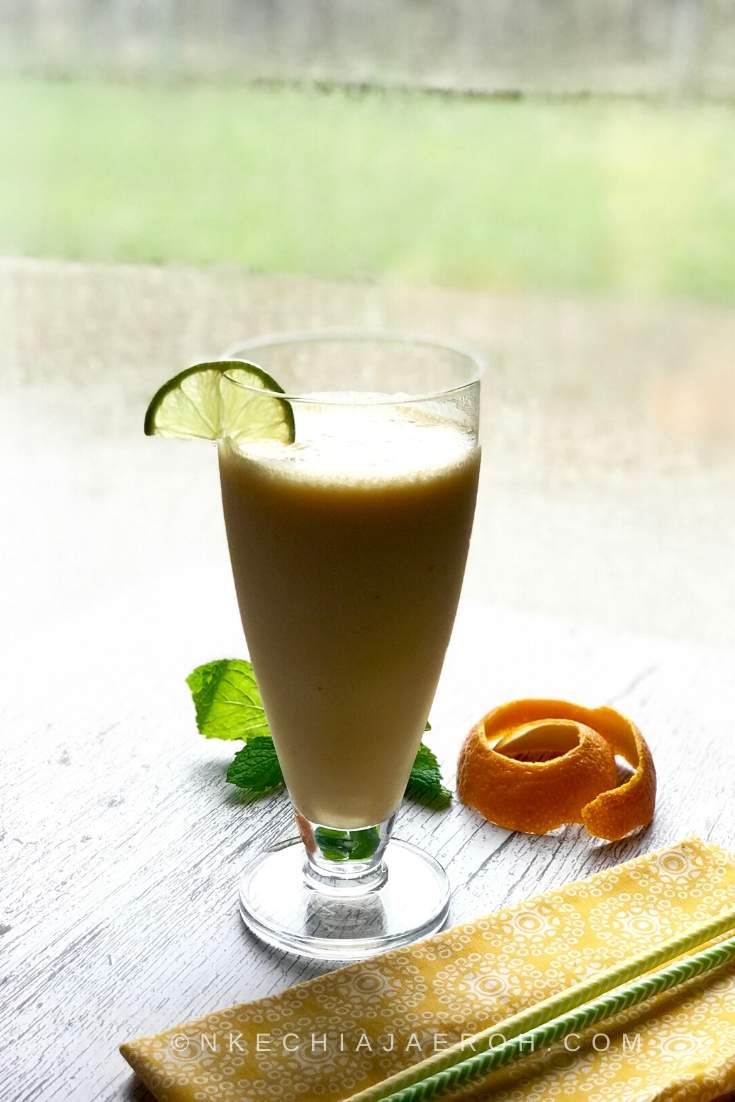 Immune-Boosting Citrus Smoothie.
With everything going on in the world right now (well, I am talking about the coronavirus pandemic), eating more of the food that would boost your immune system is definitely a welcome development. So, today, I will like to share with you one of my go-to immune-boosting citrus smoothie. This recipe is light and refreshing, as well as nutritious and delicious. May I ask you to please share this recipe with your friends and family. As well as members of your community. This is the time to come together and support each other when you see anything that can help please share.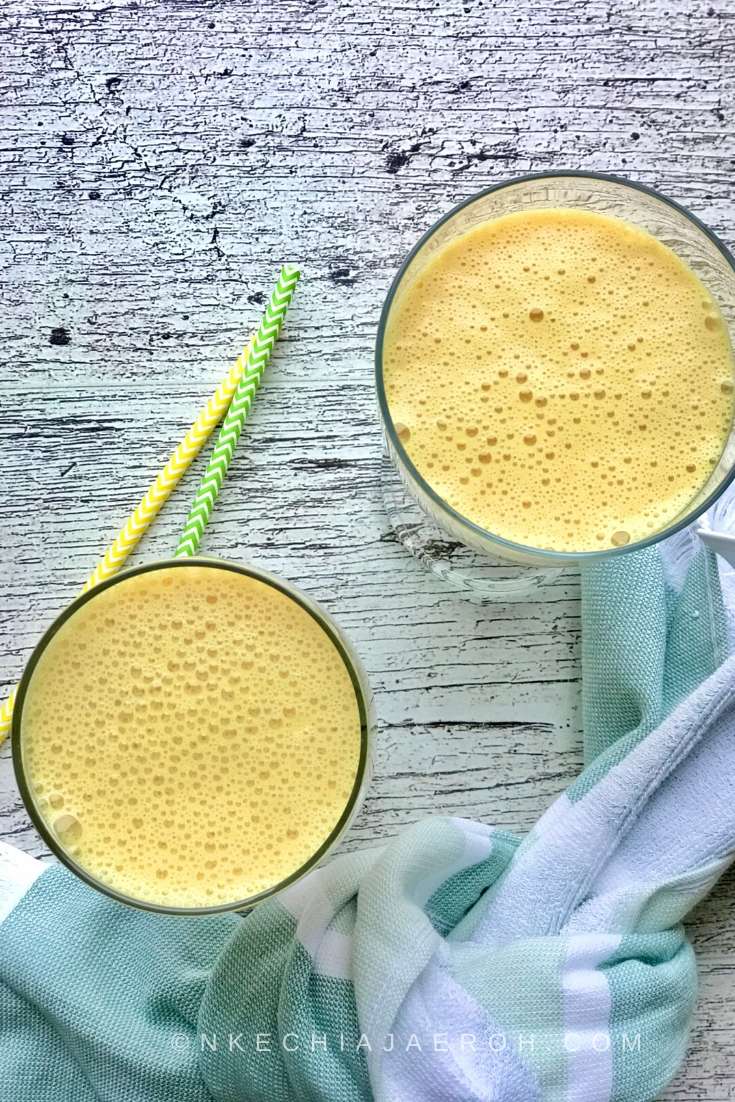 Ingredients for the best immune-boosting citrus smoothie.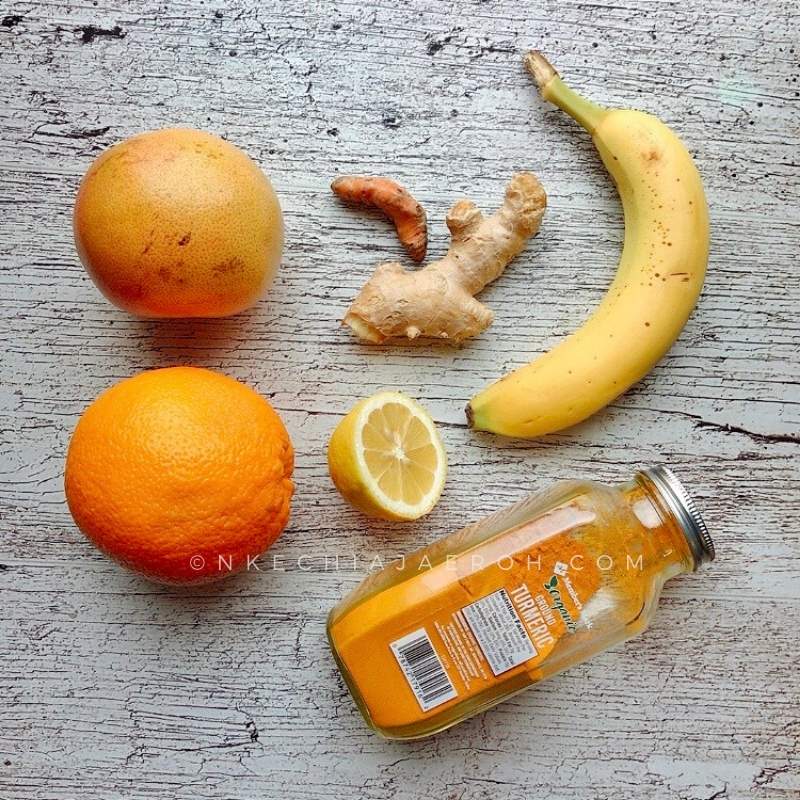 You can use ground turmeric or the fresh one. However, when it comes to ginger, I prefer fresh. Please do what you can with what you have.
Citrus Blast.
Citrus.
I will be adding three different kinds of citrus fruits to this sunshine smoothie, namely – orange, grapefruit, and lemon. First of all, citrus is classic fruits that never go out of fashion. Their uses are so necessary, if you don't like oranges, then you may like grapefruit, and if you do not like grapefruit, perhaps you use limes and lemons to make salad dressings. And did I mention that citrus helps with the absorption of iron? For instance, when you add lemons or limes to make salad dressing, they would help your body absorb the salad leaves say, spinach. There is always a use for citrus!
Citrus has excellent antioxidants that can improve/repair the skin while keeping it younger. Look no further for younger-looking radiant skin! Citrus peels (aka the back of orange, lemon, lime, tangerine, clementine,) are not just…
Click To Tweet
Not to mention that citrus can effectively help lessen the burden of cold due to the high content of vitamin C. You and I know that there is gazillion ways to enjoy citrus, I eat an orange every day. My daughter loves tangerines and clementine. And of course, this immune-boosting citrus smoothie is a way to go! And into the blender, everything goes…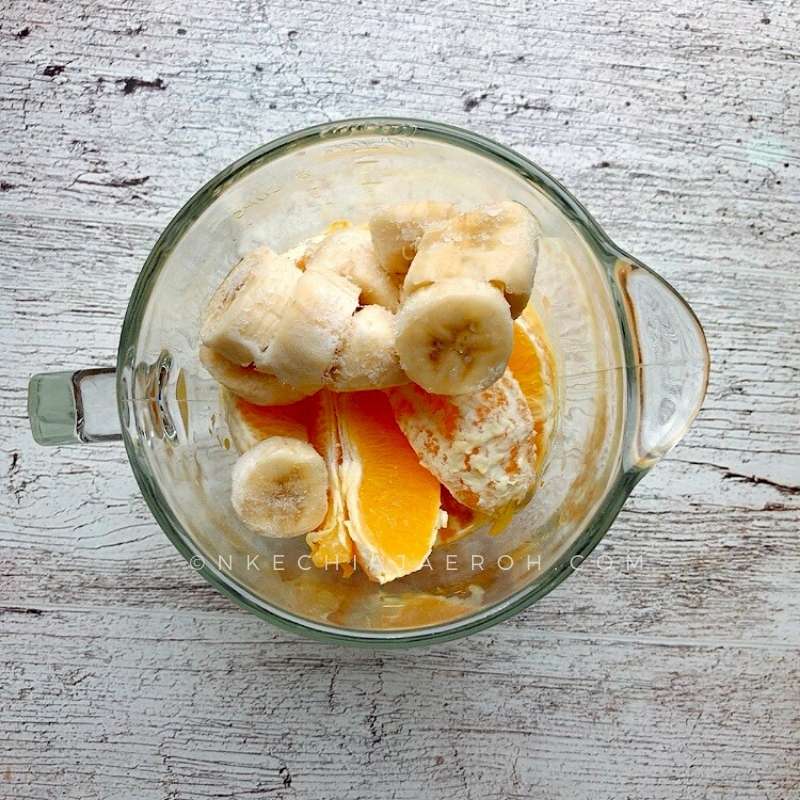 Ginger.
Ginger is a powerhouse when it comes to immune defense. It also helps to reduce the risk of heart disease as well as lowering blood sugars. Additionally, if you are serious about heart-healthy, then you need some ginger without question; it is an excellent herb that promotes heart health. Ginger help the cholesterol. Equally, it can help with chronic indigestion!
For all the ladies in the room that have a painful menstrual cycle, please ensure that you ginger up. Or at least use ginger powder. Use ginger during the period your cycle is on to soothe pain. By the same token, researches linked specific properties in ginger to have the ability to prevent certain cancers.
More Immune-boosting Citrus Smoothie Ingredients.
Turmeric.
Believe it or not, turmeric is a sister of ginger! First, the FACT: turmeric was used in India for centuries to treat breathing problems. Fortunately, it is not too late to embrace turmeric, and the same result can still apply today. In general, turmeric is a superfood that greatly supports your health.
Specifically, turmeric can soothe depressive moods, add the powder to your cacao drink or smoothie like I did in this immune-boosting citrus smoothie. Furthermore, turmeric can help the body fight off infections. Be it the cold, flu, herpes, as well as re-infection. It is worthy to note that turmeric alongside ginger (her sister) is anti-inflammatory.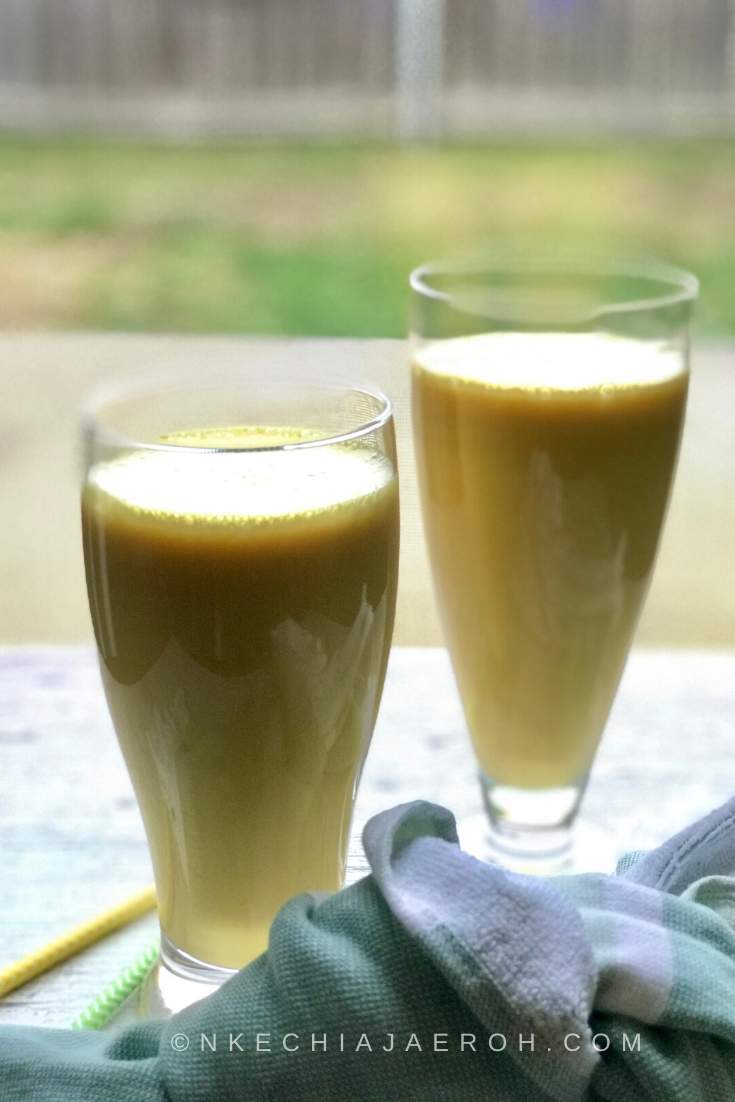 Enough said let's make the drink.
Print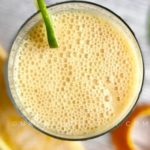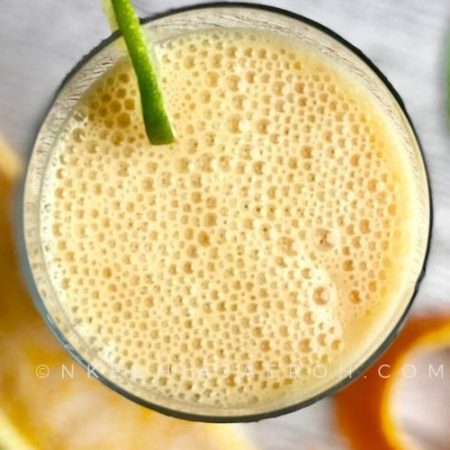 Immune-Boosting Citrus smoothie
---
Author:

Nkechi Ajaeroh

Total Time:

15 minutes

Yield:

2

Persons

1

x

Diet:

Low Calorie
Description
This immune-boosting citrus smoothie is a blast! It is made with citrus, ginger, turmeric, yogurt, and other health-improving ingredients that your body needs. This cup of goodness hopes to keep you stay safe from viral infections.
---
½

–

1

whole orange

¼

whole lemon (if small then use up to ½)

¼

of whole grapefruit

½ cup

of plant-based yogurt (but any yogurt works. I have used both dairy and dairy-free before)

½ cup

of plant-based milk (I used almond)

1

small banana or half of big one; (frozen)

1 teaspoon

fresh ginger

½ teaspoon

of ground/powdered turmeric or 1 teaspoon of fresh turmeric (this can also be optional)
A dash of black pepper (necessary if you are using Turmeric; helps with its absorption)

1

clove of garlic (optional; ignore if you not keen about raw garlic)
---
Instructions
Wash all fruits (except the banana that is, of course, frozen).
Peel the orange, grapefruit, and lemon. Dice into cubes to make them easy to blend.
Start by adding the liquid first, almond milk or any plant-based milk, yogurt, then the orange, grapefruit, lemon, and banana. Add the ginger, turmeric and garlic as well.
Blend on high until smooth and creamy.
Garnish with a slice of lime, or mint leaves, share with a loved one, and enjoy.
Notes
This recipe makes 2 cups or 16 oz
Feel free to add ice blocks as you wish.
You can also add garlic. I make it with garlic from time to time.
This smoothie is kid-friendly because my kids love it.
You may likely feel the pulp in this drink, and that's ok.
This is a light, refreshing drink, if you desire for it to be thicker, please add more banana, and reduce plant-based milk. Also, double the recipe to make as much as you want.
Prep Time:

15 minutes

Cook Time:

0 hours

Category:

Smoothie

Method:

Blender

Cuisine:

American
Keywords: Orange smoothie, summer smoothie, Immune support food, Citrus smoothie, Healthy Smoothie Recipe, Vitamin Smoothie, Immunity support, healing Smoothie
Recipe Card powered by
Do you have tips when it comes to boosting your immune system? Please share in the comment, below.
PLEASE SHARE THIS POST. If you like this Citrus Smoothie recipe, then you should check out some other healthy smoothie recipes:
And some healthy and easy weeknight dinner recipes such as:
Be sure to grab this FREE (5) spinach salad recipe bundle; this would be a great addition to your lunch or dinner table. Get the recipes here. If you are looking to start or maintain a healthy lifestyle, I will like to invite you to join my healthy lifestyle online Community, find out more about it here!
If we haven't already, lets connect on social media; am on Instagram, Facebook, and Twitter. Let's be friends!Do not forget to share this recipe post with people you love. SHARE/SAVE THIS IMAGE ON PINTEREST under "healthy smoothies." ⤵️

Stay well and safe.