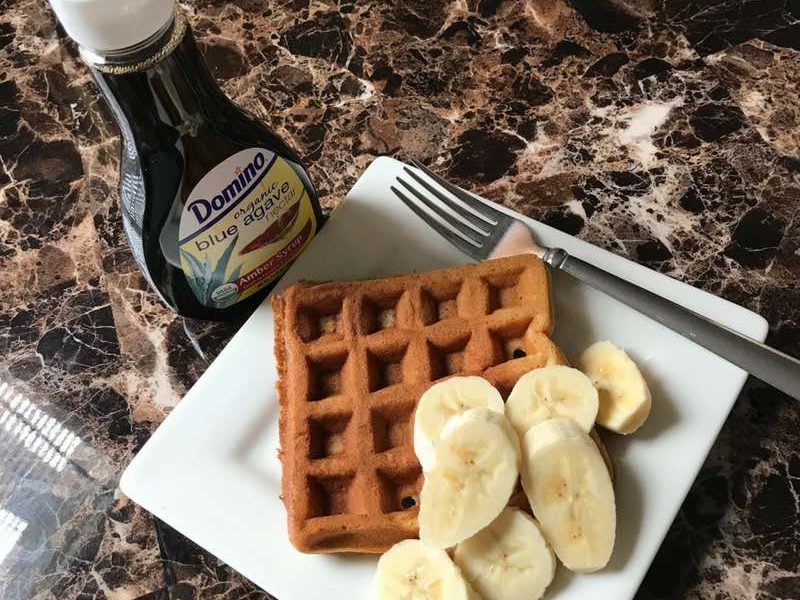 Are you a banana or oat fan?
This recipe will ultimately sweeten your life, well not literally. For the longest time, I have wanted to share this recipe with you.
And today seem to be a good day to do just that, it is summer, and most kids are out of school or soon to be. And as a result of that most families now spend more mornings together. Why not make sweet banana-oat waffle together as a family? See what I mean?
This dish seems like a perfect easy summer breakfast recipe for you and your family.
Growing up back home in Nigeria my mother would always make banana pancakes. In fact, it remains one of my fondest childhood memories. On the one hand, it's pancake, hello!
On the other hand, it's made with banana!
Yum!
Well, let's get on this sweet banana waffle ASAP before you change your mind!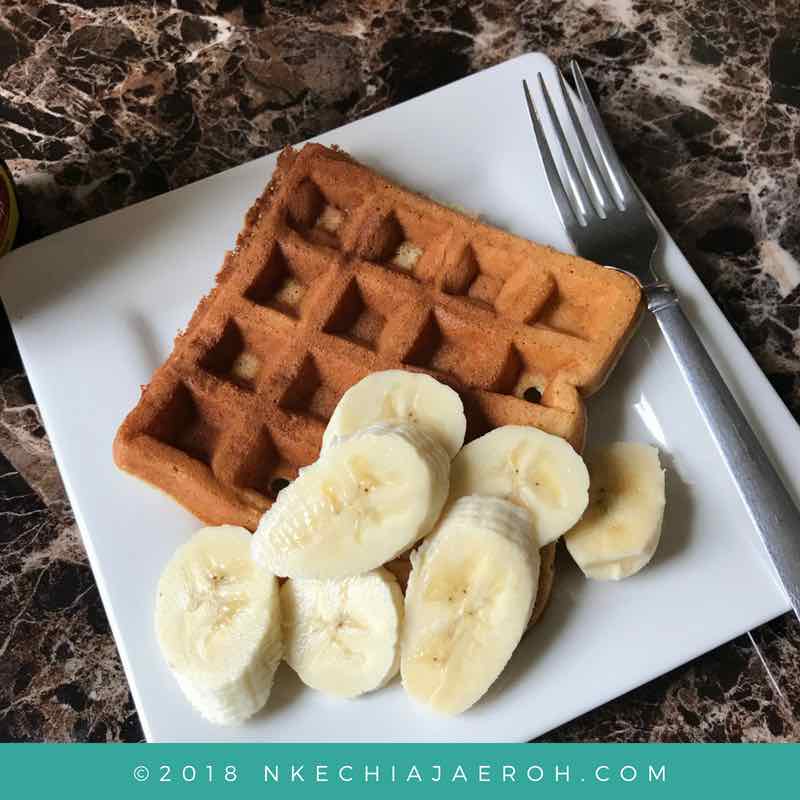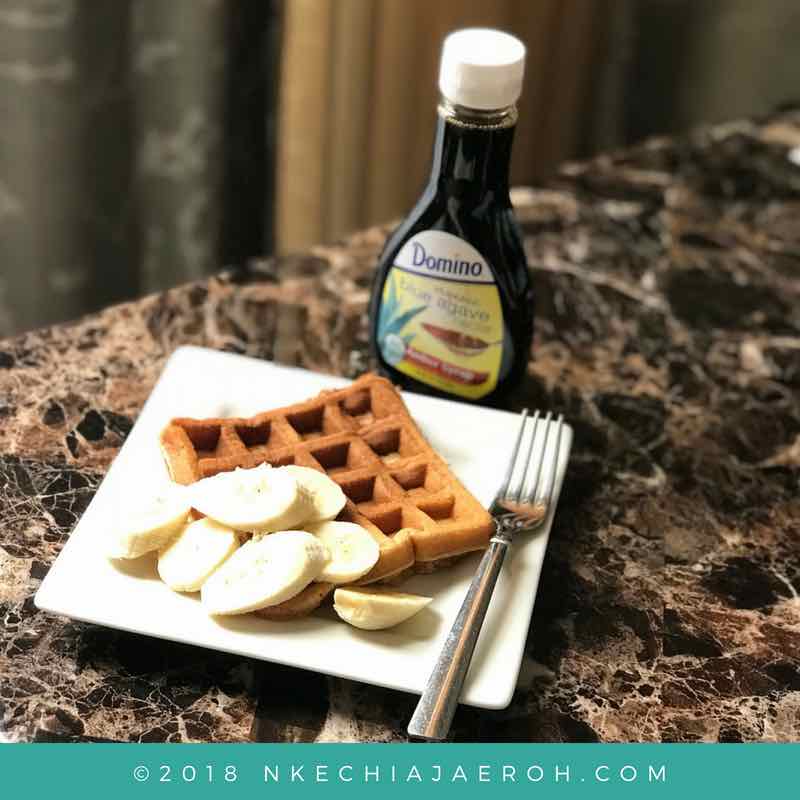 Here's what you need for sweet banana-oat waffle:
Banana.
Banana is a must-have for this dish because it is called "sweet banana-oat waffle, hello! Banana is great for you; it contains a right amount of fiber plus other antioxidants.
Additionally, it contains vitamins C, and B6, potassium, magnesium, copper, fiber and a minimal amount of fat.
Oats.
in other to make this dish, you will need the desired amount of ground old fashion oats. I usually grind the oats myself but am sure there is some retailer out there that sells ground oats.
The nutritional composition of oat is well balanced; it contains good carbohydrates, fiber, vitamins, mineral and other essential compounds as well. Additionally, oats can lower your cholesterol.
Given all the benefits of oats mentioned above, I love making this recipe with oats instead of regular flour.
Eggs.
Everyone knows eggs and hopefully eats it. Despite being labeled as "bad" because of its high cholesterol content, eggs are right for your health, and the cholesterol in eggs is good cholesterol. It is important to realize that eggs contain high-quality protein and other antioxidants.
Milk.
Use the type of milk that works for you. I eat dairy so I would generally use whole milk and because I primarily make the sweet banana-oat waffle for my kids; hence the whole milk. I think 2% milk will work just fine as well as plant-based milk. The nutritional components of dairy milk essential to the human body; milk has a high content of protein, fat, vitamins and other minerals.
Besides, you would need some sugar, vanilla extract, baking powder, nutmeg, ground cinnamon, a pinch and vegetable oil or butter.
Make this goodness this weekend and win your entire family over. Also, do not forget to share this recipe with your social media besties😃
And if you like this meal then you will love my other Nigerian recipes.
Sweet Banana-Oat Waffle Recipe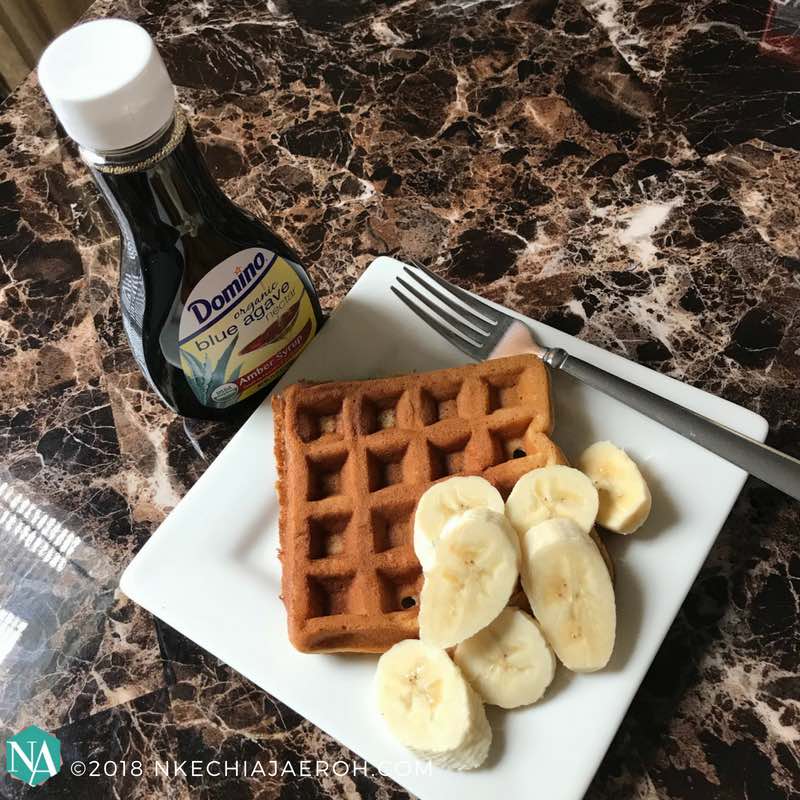 This sweet banana-oat waffle recipe is so good. If you have little ones they will love it! Top it up with more banana or some berries.
Ingredients
3-medium-size Bananas
3 cups of Oat (ground; I usually use old fashioned oats)
2 Eggs
1 cup of Milk
1/3 cup of Sugar
1 teaspoon of Vanilla extract
3 teaspoons of Baking powder
6 tablespoons of butter (melted) or any other vegetable oil like coconut oil.
1/8 – ¼ teaspoon of salt
¼ teaspoon Ground cinnamon (optional)
½ teaspoon nutmeg (I love the smell of nutmeg)
Instructions
Turn on your clean and ready to use waffle maker to warm up as you get ingredients ready.
Get a large bowl and add all the dry ingredients (ground oats, sugar, baking powder, nutmeg, cinnamon, and salt) into it. You may avoid adding salt if you are using salted butter.
Peel and roughly cut 3 medium size bananas and add into the blender. Also, into the same blender throw in all liquid ingredients (milk, eggs, vanilla extract and melted butter or vegetable oil), blend on high speed for less than a minute.
Pour your liquid blend unto the dry ingredients. Use a wooden spoon to gently combine. Ensure all ingredients are well combined, however do not over mix. Use a good scoping spoon to scoop your mixture into the waffle maker, cover and then watch out for the green light. Give your mixture the required time to cook; as soon as the light on your waffle maker goes from red to green, then, your sweet banana-oat waffle is ready. Gently remove from the waffle maker and place on a cooling rack. Enjoy with more fresh bananas, syrup or both as you wish. 😁
Notes
You can substitute oats with regular flour if you so desire. But I do love this combo.
This waffle would be a little lighter than most of the waffles you make; please be cautious while removing it from the waffle maker to avoid tearing it apart☺️
This recipe Makes about 12 waffles for 5-6 people (2 waffles per person), also this actual quantity may differ depending on the type of waffle maker you are using. There are many varieties of waffle makers. Not even a joke!
You can use coconut oil instead of butter and it will still turn out perfect, I have used both!
https://nkechiajaeroh.com/nigerian-kitchen-plus/sweeten-your-summer-mornings-with-this-sweet-banana-oat-waffle-recipe/
© 2018 NkechiAjaeroh.com All Right Reserved.
*Some links on this post are affiliates. Meaning I (don't) make tons of bucks when you make a purchase using them, just so you know:)
With love,