What do tomato and avocado have in common?
Deliciousness, (my answer).
But, while you think about your answer, I tell you why you must make this salad a stable in your household.
Salads are one of the easiest food to make because it merely requires throwing a couple of veggies or fruits together depending on the type of salad you are making. For instance, you can put a salad together from the vegetables that you love. If you are currently not a regular salad eater, I would want to encourage you to start with the veggies you really like and gently expand to others.
Salads are a great way to get the vegetables and fruits your body needs.
Click To Tweet
Fortunately, tomato avocado salad is straightforward to put together and healthy to savor.
Go for it and get creative along the way.
How to get your tomato avocado salad yummy ready:
Tomato.
Tomato is kind of a must for this salad. I mean can we still call it tomato avocado salad without including tomatoes? I seriously doubt it.
Tomatoes are great for the body. Generally classified as a vegetable, tomatoes provide high quality antioxidant in addition to vitamins C & K, potassium and folate. Tomatoes come in different colors of red, green, orange, yellow, etc.
Also, tomatoes are good for the heart, great for the skin and can reduce incidences of inflammation.
Given these points, there is no doubt that tomatoes are indeed good for you😊
For this recipe, I love using different colors of "grape tomato." In case you don't know what grape tomatoes are, they are small size tomatoes that appear in grapelike shapes. They are small and delicious.
Avocado.
I love avocado, and I know you do too because we are the same kind of people. We love good healthy food.
First of all, avocado has been getting a lot of buzzes lately as if the whole world suddenly discovered its goodness. I remember growing up, and we had an avocado tree in our compound.
Avocados are often called "superfood," they are high in healthy fats, high in fiber and have higher potassium than bananas. Subsequently, there are different sizes of avocado; they are small ones that weigh less than 8 ounce and huge avocados weighing up to 3 pounds. Some avocados are round in shape while others may appear more pear-like in form. The official serving size of avocado is 1/3 of a medium-size avocado, and that readily assures you of 254 mg of potassium, and entirely cholesterol free.
I usually eat more the serving though, but I feel it is important to let you know about the serving size so you can make the best decision for you.
In the meantime here are some other nutrients that are abundant in avocado; vitamins K, C, B5, B6, E as well as small amount of mineral such as iron, zinc, magnesium, phosphorus, etc.,
I would typically use ½ an avocado for this recipe.
Cabbage.
Cabbage is good for the body; I consider it a must-have either raw or cooked. And it extraordinarily compliments this salad.
There are so many nutritional values of cabbage, the majority of which I would not be able to go into on this short post but I urge you to read about it here.
By and large, both green and red cabbage would be great for this recipe, though I always prefer using red because I love the color. It is important to realize here though that red cabbage has more nutritional value for instance anthocyanin, an antioxidant is found only in red cabbage.
Cabbage can protect your immune system, promote healthy bone and improve a healthy gut.
Finally, you get to spread some good old dry and sliced almonds to complete this heavenly deliciousness. On the one hand, I wanted to say that this step is optional, but on another side, I am quietly begging you not skip it. Almonds are heart-healthy nuts.
They provide the body with high-quality protein. Equally, it adds a little more to this salad. Almond nuts are packed with healthy vitamins and minerals as well, and they are great for you. Only skip this step if you have a nut allergy or you do not like almonds.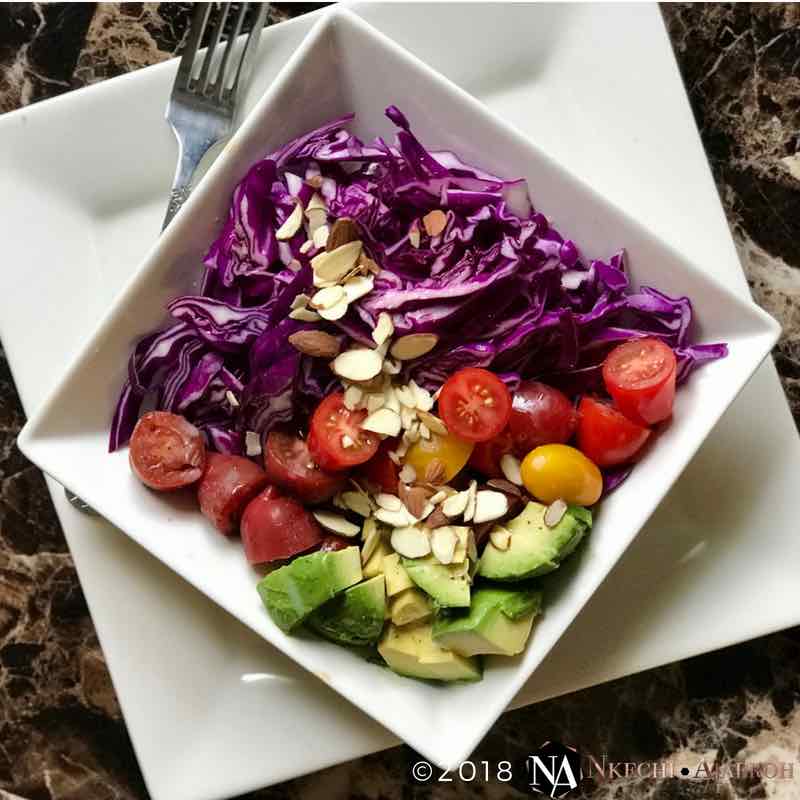 Please share and let your friends and family know about this recipe. Do not forget to check out other recipes in my Kitchen.
Super Simple Tomato Avocado Salad Recipe With Coconut Oil Vinaigrette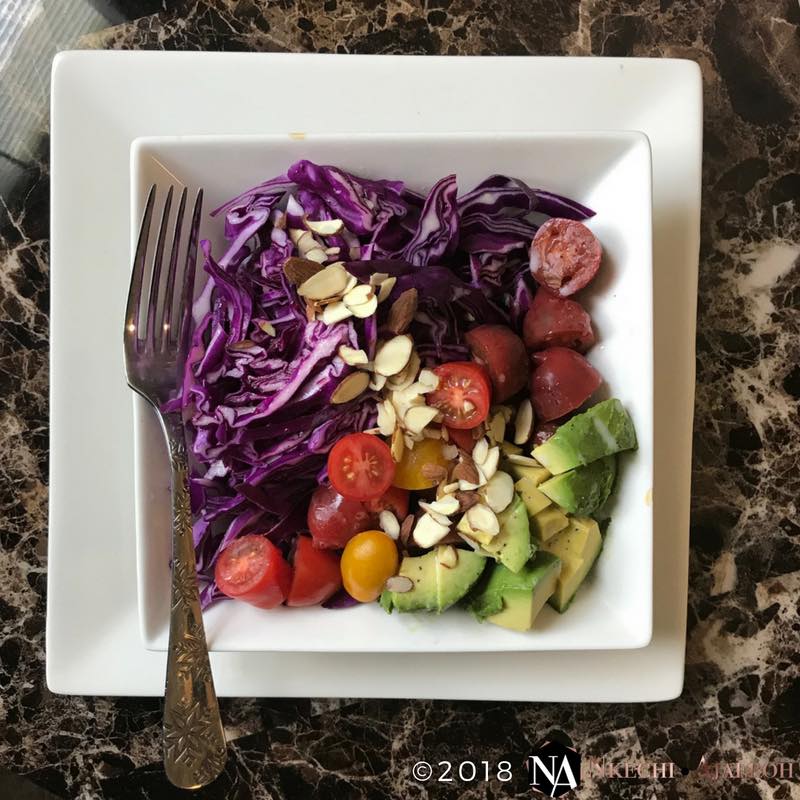 Ingredients
1 cup of tomato (cut; I prefer to use grape tomato)
½ of a medium size avocado.
2 cups of purple cabbage
1 tablespoon sliced dry almonds
For the vinaigrette

1-tablespoon coconut oil (melted)
I teaspoon white vinegar
A pinch of salt (I use ¼ of a teaspoon. I suggest you add salt according to your taste)
A dash of ground black pepper or ¼ of a teaspoon
Instructions
Get a clean salad bowl.
Add cabbage, tomatoes, and avocado.
In a small mixing bowl add the ingredients for the vinaigrette (coconut oil, vinegar, salt, back pepper and whisk together.
Pour/sprinkle the vinaigrette on the salad and garnish with almond.
If you do not like almonds, that's ok. Feel free to replace it with any other nuts that you like. In my head though, almonds make this recipe more delicious.
Enjoy your tomato avocado salad by yourself or with a loved one.
Notes
Feel to use green cabbage to make this recipe if that is your preference. Add some meat or chicken if like those in your salad. Read more about the power of cabbage especially the red cabbage in this post
https://nkechiajaeroh.com/kechis-kitchen/super-simple-tomato-avocado-salad-recipe-with-coconut-oil-vinaigrette/
© 2018 NkechiAjaeroh.com All Right Reserved.
Do you eat salad regularly? What is your best salad recipe?
Hope to see you again soon.
With love,