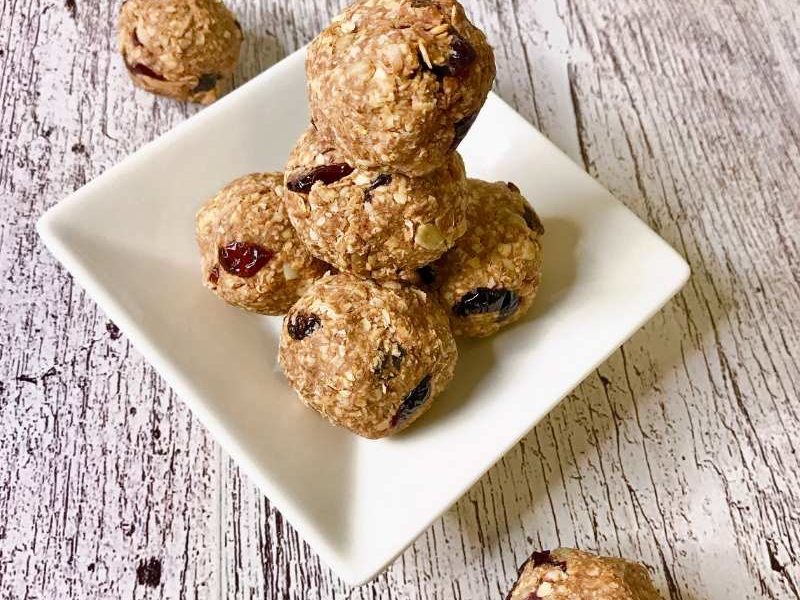 Delightfully Delicious Healthy and Nutty Bites.
Here's the fact: my snacks and I are like sisters.
I am not kidding.
This is because I have to really REALLY love my snack. It has to be something I enjoy eating, and seeing around, if not so, am not going to snack on it, NOPE! And am sure I am not alone.
If you are someone that value your snacks, and know that they (snacks) can save life sometimes, then this post is for you. For every other of my friends, let's keep it moving.
Just kidding again. ☺
As human beings, we eat up to three different snacks in a day. Yes, we do. Growing up in Nigeria, we would easily snack on groundnut (peanut), palm kernel nuts, pear, avocado, pawpaw, oranges, guava, etc. Those were the foods (things) that grow in the compound. However, there was a slight change in my snacking when I started secondary school and had to live in the dormitory in the school. How can I forget my mother sending me back to school with some cabin biscuit, indomie noodles, and some other snacks that can stand the test of time.
These days, I would instead make some of the snacks that I enjoy eating, (not all of them), and am happy with that. It is fulfilling and rewarding to make your food your way. All it takes are planning (obviously), some time to prepare it. Click To Tweet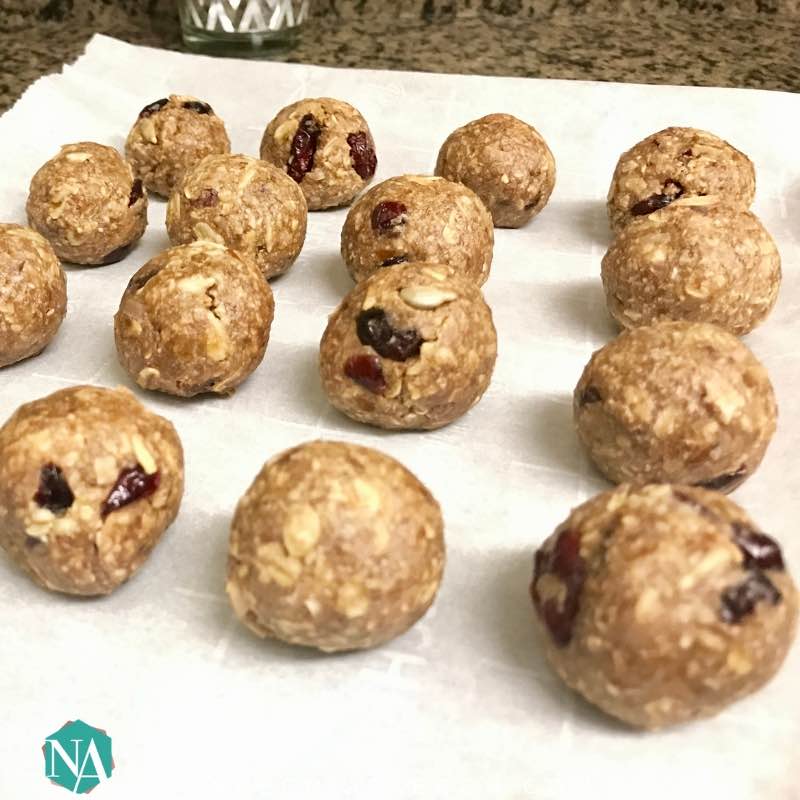 Healthy nutrition is reachable.
By all means, this healthy and nutty granola bites are the kind of food that does the body good. The base is oats and oats flour (the same as ground oats) versus using regular white flour. Then followed by all your favorite nuts and dried fruits. Such as sunflower seeds, almonds, dates, dried cranberries, coconut flakes, and ground flaxseed. Also includes a small amount of coconut oil, pure maple syrup, and Nutella chocolate spread. In other to combine all the ingredients very well, some tablespoons of water is necessary.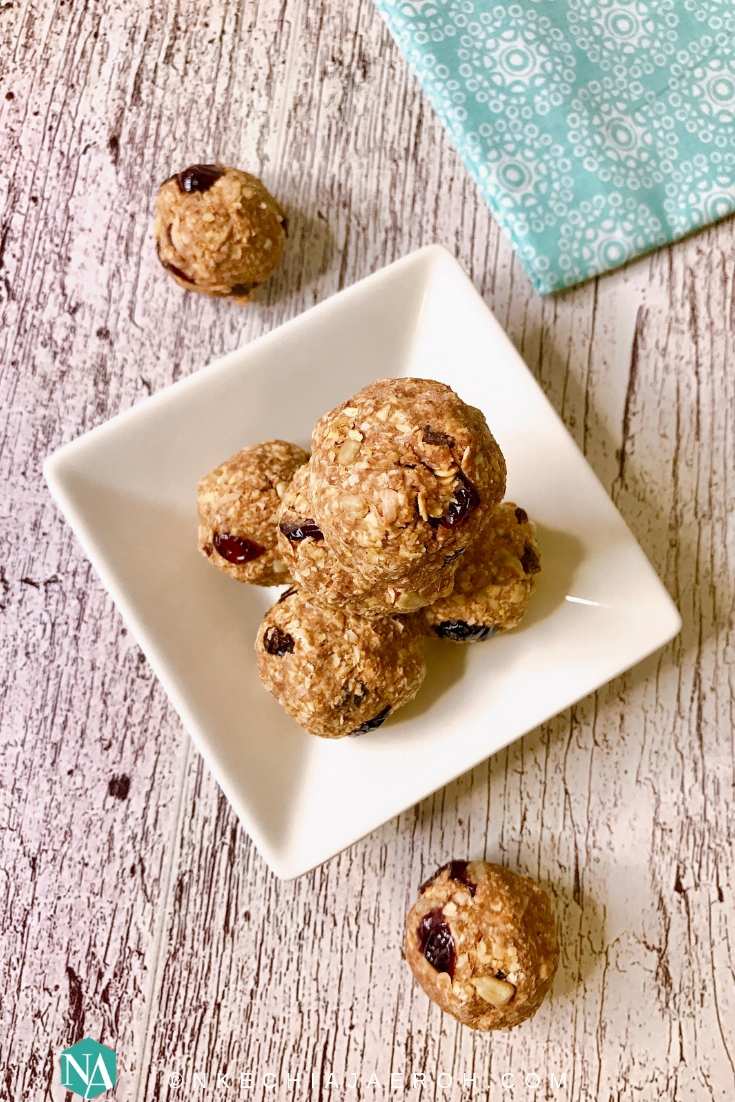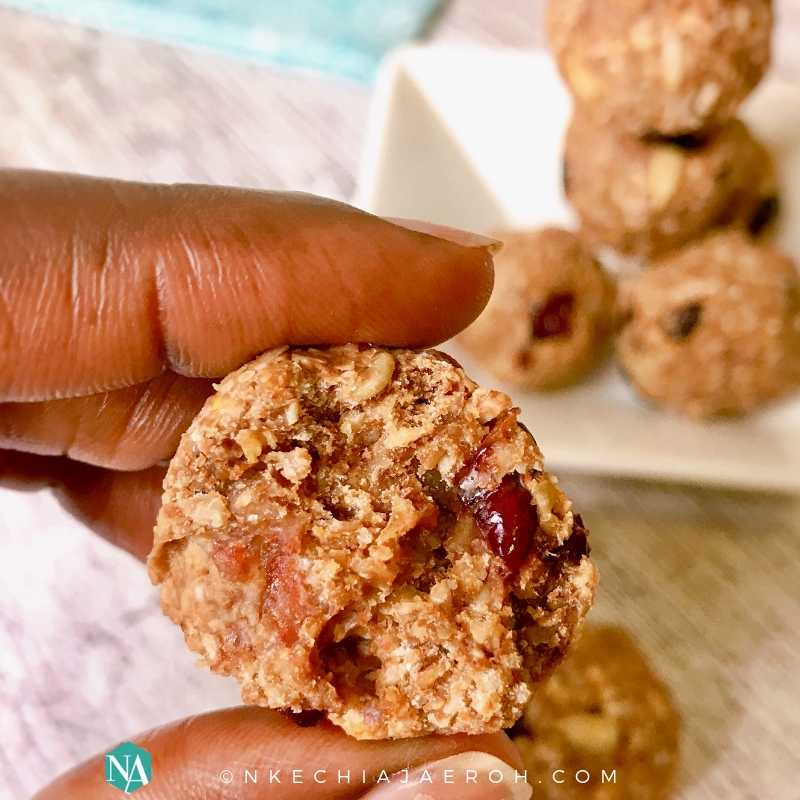 Pack up and save for later.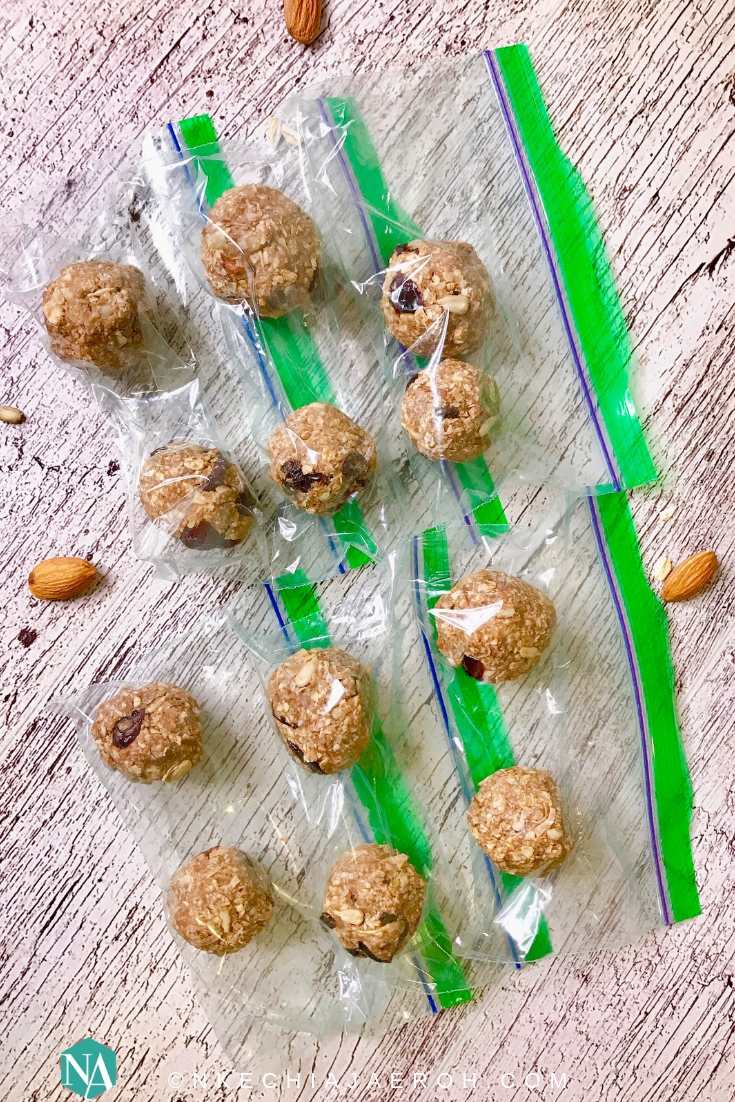 One more thing; I actually did a live video on periscope and FB showing my friends how to make this goodnesses. Feel free to check out the videos as well.
And now if you are ready to let's make the most deliciously yummy healthy and nutty granola bites.
How to Make Quick and Easy Healthy an Nutty Granola Bites
These healthy and nutty granolar bites are just out of this world delicious. Easy and quick to make; add your favorite nuts and dried fruits and say hello to YUM!
Ingredients
¾ cup of old-fashioned oats
1 cup of oats flour (or ground old fashioned oats)
2 tablespoons of sliced almonds (chopped into tiny pieces)
2 tablespoons of sunflower seeds
2 dates (chopped into tiny pieces)
2 teaspoons of ground flaxseed
2 tablespoon of coconut oil (or nut butter)
2 tablespoons of original pure maple syrup
1 tablespoon of organic raw cacao (or 2 tablespoons of nutella spread (or homemade chocolate spread)
3 tablespoons coconut flakes
2 tablespoons dry cranberries
A pinch of salt (optional)
2 – 3 tablespoons of water
Instructions
Preheat over to 250 degrees. Wash, pit and chop the dates in small pieces. Gently combine all the ingredients with your hands (ensuring that you have a glove on). Or roughly combine everything in a food processor; do not blend. I like to see some pieces of ingredients. Add or sprinkle some water to equally ensure that the dough fully combines. (Actually, some people may prefer to eat this deliciously cold without baking, but I love baking them up softly, I think they are yummier that way.)
Line a baking pan with parchment paper put on your cooking gloves, and then use a 2-teaspoon or 1 tablespoon measuring spoon to scoop and mold and then place on the baking sheet. Repeat until all the entire dough is molded placed on baking sheet. Bake at 250 for 10 – 15 minutes for that perfect soft bake. YUM!!!! Allow to completely cool and then pack away in zip lock bags or airtight containers. They can stay averagely 7-10 days or more. Enjoy and thank me later.
Notes
I love baking them to the 15 minutes maximum time.
https://nkechiajaeroh.com/kechis-kitchen/light-and-lovely/how-to-make-quick-and-easy-healthy-and-nutty-granola-bites/
© 2018 NkechiAjaeroh.com All Right Reserved.
Now your turn, what do you think about these goodies? Are you going to make them? Let me hear all about in the comment below.
My goal is to serve through food. And my mantra is eat and live long. And here in my kitchen we inspire each other to live our best healthy live without judgment and resentment. Become part of my culinary journey inside my private Facebook community. And if you prefer light and lovely recipes, I got you, too!
Please share this post with your friend and family, you never know who may wanna try this out?
With love,