The Best Berry Blast Smoothie Ever!
Let's face it life is busy.
You know it.
I know it.
Everyone knows it. Therefore is it not news.
And sometimes we are busy too busy taking care of everything else that we forget to take care of the most important thing – ourselves.
At the same time that is the most important thing though, since there is only one you and there is only one me. There is only one of each of us. Well, that's a talk for another day, but you know what I mean. Wink.
One of the easiest, wisest, cheapest, and coolest way to take care of ourselves is to eat healthy breakfast.
Click To Tweet
First, healthy breakfast can help to decrease appetite, well obviously.
Secondly, healthy breakfast like my berry blast smoothie bowl can boost your performance, and make you feel good. In other words, you can now focus on the task at hand because your tummy is not growling every other minute.
Thirdly, healthy breakfast is good for blood sugar.
Breakfast is unarguably the most important meal of the day. If you have been skipping breakfast, don't worry with this protein-packed berry blast smoothie recipe, there is absolutely no reason why you should.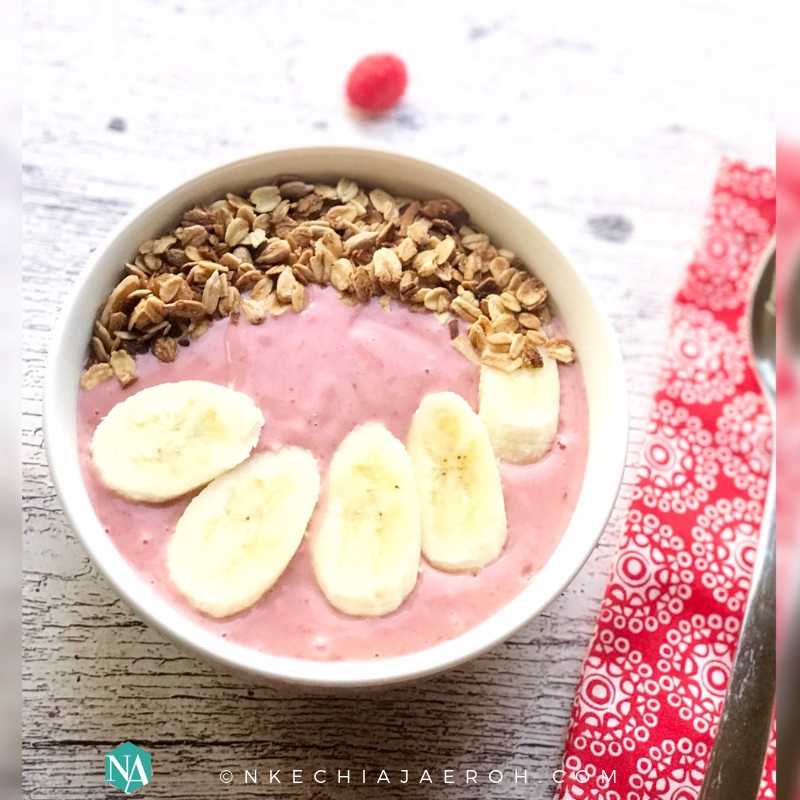 Bring on the beautiful day.
Not only will this smoothie help you start your day right, it can equally bring a perfect ending to a busy day. Perhaps you had a challenging day, and do not have time to cook; I got you, because, under 10 minutes, this bowl of goodness is ready. Having this in a bowl, not working? Don't fret over it; quickly pour it into your on-the-go smoothie cup and enjoy while you are out on a mission. Also, to point out, you may not need the toppings as well if you plan to have it in a (smoothie) cup with a straw.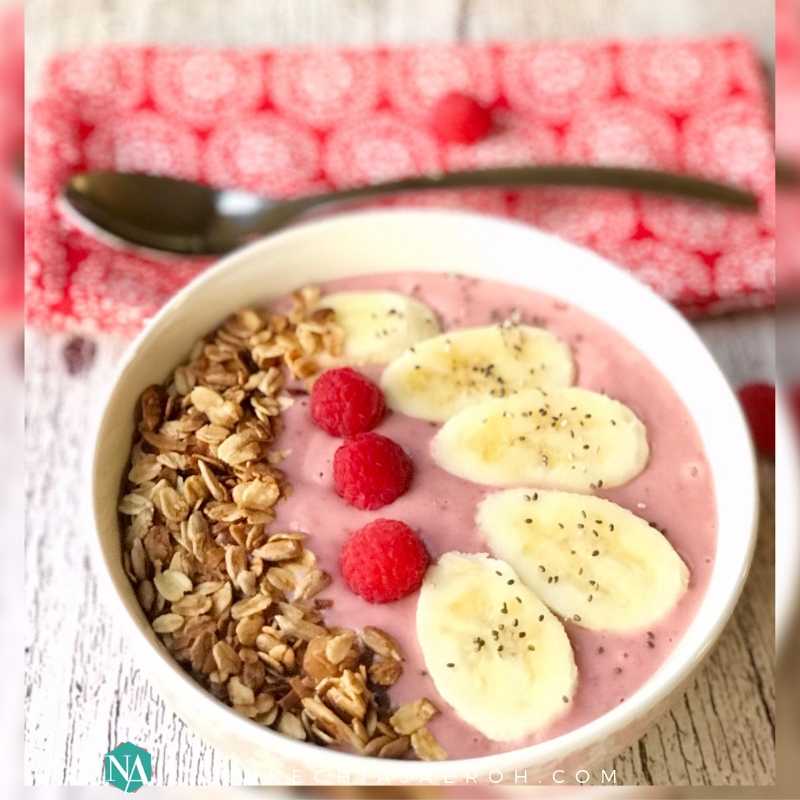 Now if you are ready, let's make this protein-packed berry blast smoothie bowl.
Save to BigOven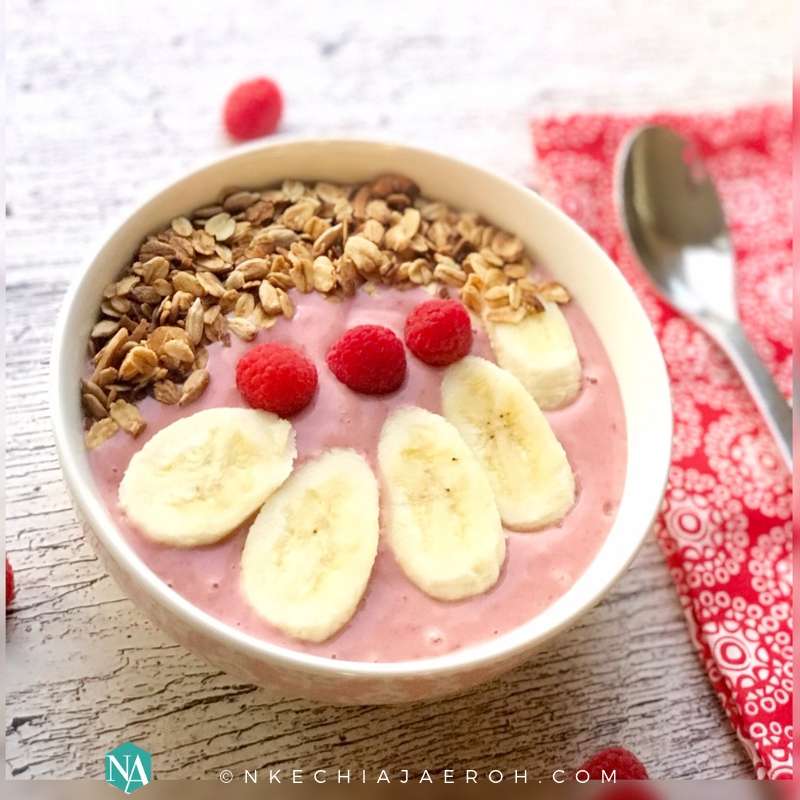 This is the perfect breakfast made easy – healthy, hearty, and delicious. Top this up with your favorite nuts and dried fruits and you will be in food heaven.
Ingredients
½ cup of cut strawberry
½ cup of raspberry
½ cup of Greek yogurt (you can use plant based yogurt)
½ cup of soy milk (any other plant-based milk works just fine)
1 small/medium size frozen banana
1 tablespoon of natural peanut butter (for more protein)
1 soft date (optional; and for extra sweetness.)
For topping (optional):
½ fresh banana
Homemade granola
Chia seeds
Instructions
Wash and cut the vegetables. Add all the ingredients into the blender starting with the liquid first; milk, yogurt, (this helps for more effortless blending).
Blend on high; you may have to pause and continue a couple of times to push everything down. Depending on your blender. It is ready when the mixture is very smooth. Serve in a bowl with your favorite toppings such as more bananas, berries and homemade granola. Enjoy.
Notes
This smoothie bowl is still excellent without the date. Alternatively, you can add a teaspoon of honey to substitute it. You can use plant-based yogurt, and it works as well. Use plant-based milk of choice; I like the taste of soy. You can also use dairy milk. I used fresh berries; you can use frozen if that's what you have. You can substitute peanut butter with any other nut butter such as almond butter. You can also make this without nut butter.
https://nkechiajaeroh.com/kechis-kitchen/healthy-recipes/perfect-protein-packed-berry-blast-smoothie-bowl/
© NkechiAjaeroh.com All Right Reserved.
Wait, here are some more smoothie recipes I know you will totally love; blueberry, peach, avocado, beets smoothie and my over the top amazing tropical smoothie.
And please let me know which one you end up making 🙂 And if you have a smoothie recipe; please feel free to share below in the comment.
I want to extend a special invitation to you to join me inside my Facebook private community. We are friends that treat each like family. I provide free tools, resources, and recipes that are so irresistible. I can't wait to see you there!
Also, I have excellent light and lovely recipes you will enjoy.
One More Thing: Please share this post with your friend and family, and everyone you know, and love.
With love,